Thais nieuws mei
De berichten op deze pagina zijn doorgaans ontleend aan Bangkok Post en een enkele keer aan andere bronnen. Voor de betrouwbaarheid steek ik mijn handen niet in het vuur.
Op de pagina Dossiers 2019 geef ik een toelichting op begrippen, organisaties enzovoort die regelmatig in berichten voorkomen.
De paginaverwijzingen hebben betrekking op themapagina's. Dat zijn pagina's waarop alle berichten over een bepaald onderwerp zijn gebundeld. Alle themapagina's staan opgesomd op de pagina Leeswijzer.
Voor de betekenis van de gebruikte afkortingen, klik hier. Het handigst is deze pagina in een nieuw tabblad te openen, zodat je gemakkelijk kunt terugkeren naar het nieuwsoverzicht.
Voor het nieuws van voorgaande jaren zie de zwarte menubalk bovenaan de pagina onder het kopje Buitenland. Voor het nieuws van 2022 klik hier: 1-15 januari, 16-31 januari, 1-15 februari, 16-28 februari, 1-15 maart, 16-31 maart, 1-15 april, 16-30 april, 1-15 mei, 16-31 mei , 1-15 juni, 16-30 juni, 1-15 juli, 16-31 juli, 1-15 augustus, 16-31 augustus, 1-15 september, 16-30 september, 1-15 oktober, 16-31 oktober, 1-15 november en 16-30 november.
Overpeinzing
31 mei – Gisteravond verveelde Mono29 me met The lost hero of ayodhya. Dat doet het tv-kamaal wel vaker, maar deze keer waren alle beschrijvingen op internet in het Thais, dus had geen idee waar de film over ging. Zoals vaak bij Thaise films maakten de acteurs zich schuldig aan overacteren terwijl de vechtscènes in de verste verte niet de kwaliteit hadden van gevechten op Koreaanse en Chinese films.
Om negen uur schoof Beyond skyline voor, een Amerikaanse sciencefiction-actiefilm uit 2017, geschreven, gecoproduceerd en geregisseerd door Liam O'Donnell in zijn regiedebuut.  Het is een vervolg op de film Skyline uit 2010, die zich gelijktijdig met de gebeurtenissen in de eerste film afspeelt.
De film werd uitgebracht op 15 december 2017 in de Verenigde Staten door Vertical Entertainment. In tegenstelling tot zijn kritisch ontvangen voorganger, ontving Beyond Skyline gemengde recensies, waarbij verschillende critici het een verbetering noemden ten opzichte van het origineel.
Beyond Skyline volgt een rechercheur die na een buitenaardse invasie op pad gaat om zijn zoon te redden van de aliens met de hulp van overlevenden.
De belangrijkste opnamen begonnen in december 2014 in Yogyakarta en Batam, Indonesië en Toronto, Ontario, Canada. De finale van de film werd opgenomen in het Indonesische Prambanan-tempelcomplex, hoewel het script suggereert dat het zich in Laos bevindt.
Per december 2020 had de film op de website van de review-aggregator Rotten Tomatoes een goedkeuringsscore van 67%, gebaseerd op 21 beoordelingen met een goedkeuringsscore van 5,50 op 10. Op Metacritic had de film een gewogen gemiddelde score van 46 van de 100, gebaseerd op 8 critici, wat duidt op 'gemengde of gemiddelde beoordelingen'.
Een nieuwe dag, een nieuwe krant
31 mei – Om 5:09 uur bracht de nachtwaker BP naar mijn kamer nadat ik kort tevoren wakker was geworden. De krant opent onder de kop MFP's Pita prepares for power met een vrolijke foto waarop Pita en Peu Thai partijleider Cholnan lachend een hartvorming gebaar maken (Smiles and wiles).
De alliantie van acht partijen onder leiding van de Move Forward Party (MFP) heeft een commissie gevormd om zich voor te bereiden op de machtsoverdracht maar premier Prayut bestempelt die als 'ongepast'.
De voorpagina bevat verder twee berichten Senate chief denies PM vote meddling en Speaker rift 'won't impede' new govt.
• Senaatsvoorzitter Pornpetch Wichitcholchai ontkent senatoren te hebben geïnstrueerd op wie ze moeten stemmen bij de verkiezing van een nieuwe premier. De MFP had hem ook niet benaderd om MFP partijleider Pita te steunen, zegt hij. 'De druk komt alleen van de sociale media.'
• Volgens MFP-leider Pita Limjaroenrat zullen de Move Forward Party (MFP) en de Pheu Thai Party het wel eens worden over de post van House Speaker.
Ik maak nu even pas op de plaats want zowel de opening van het Business katern als die van Life zijn nog niet geplaatst op de website. Amado shopping maakt nu op Mono29 reclame voor Immu Collagen, een stofje waar je heel gezond van schijnt te worden. Over vier minuten begint Good morning Thailand, het eerste live journaal van de dag, zoals altijd met drie enthousiaste presentatoren.
7:46 uur Update. Business opent met VAT refunds surge after reopening. De teruggaven van de value-added tax (VAT, in Nederland BTW) zijn omhooggeschoten sinds Thailand in juni vorig jaar volledig heropend is, zegt directeur-generaal Lavaron Sangsnit van het Revenue Department. In 2022 gaf het departement 423.000 toeristen in totaal 1,2 miljard baht terug.
Life opent met het paginagrote verhaal Cool designs. Blue Bangkok 3D-koelkastmagneten herscheppen klassieke Thaise architectuur. Thapanut, de ontwerper voor Blue Bangkok, is getalenteerd in het vastleggen van opvallende kenmerken van oude gebouwen, zoals betonnen luifels, gebogen boogdeuren, raamkozijnen en stucwerk, en hij verwerkt deze kenmerken in het ontwerp van zijn modelgebouwen. Hij zegt: Onze magneten dienen als een herinnering aan de sfeer van Bangkok. Het artikel bevat tientallen voorbeelden van zijn creaties.
Tot zover een eerste kennismaking met het 'papieren' nieuws van vandaag. Meer in BP in vogelvlucht na Nieuwsflitsen met de websiteberichten.
Nieuwsflitsen 31 mei
Prayut to MFP: Don't step out of line
Just because it won the election doesn't mean Move Forward Party should be meeting representatives of state agencies before it forms a government, says caretaker PM Prayut. Foto PM cautions MFP
Driving monk in accident was flouting ban
An accident on Monday has prompted a public reminder that monks in northern provinces are banned from driving under an existing regulation issued by the Northern Sangha Admistration.
The announcement by Chiang Mai Office of Buddhism director Monthian Khammee on Tuesday followed an incident on Monday, when a monk put a pickup in reverse gear by mistake and hit and damaged several other vehicles behind him.
The monk was identified as Phrakhru Pornchai Piyawanno, 56, the abbot of Wat Phra Phutthabat Siroy in tambon Saluang of Chiang Mai's Mae Rim district.
Mr Monthian said although the Supreme Sangha Council does not prohibit monks from driving, the Northern Sangha Administration has its own regulation, under which monks are not allowed to drive.
Great Wall plans $30m local battery venture
China's Great Wall Motor is finalising plans to invest up to $30 million to set up a new battery pack assembly plant in Thailand, where it will start making a compact electric car next year, according to a company executive.
April export value falls 7.6%
The dollar value of Thai exports fell for a seventh straight month in April, down 7.6% from a year earlier, the Ministry of Commerce said on Tuesday, as global demand remained slow.
Malaysia: 1MDB fugitive Jho Low in Macau
Malaysia believes that fugitive financier Low Taek Jho is hiding in Macau, along with others wanted in the multibillion-dollar 1MDB scandal, Al Jazeera has reported, citing the national anti-graft body.
Lawyer petitions to gag Move Forward on lese majeste law
A lawyer has asked the Office of the Attorney General to forward a petition to the Constitutional Court requesting that it order Move Forward leader and aspirant prime minister Pita Limjaroenrat and his party to cease their campaign to change the lese majeste law.
Japan: Disallowing same-sex marriage 'unconstitutional'
A Japanese court ruled on Tuesday that the government's failure to recognise same-sex marriage is unconstitutional, the second such verdict among five similar lawsuits brought to district courts in the country.
Court rejects petition from accused ex-national parks chief
The Central Criminal Court for Corruption and Misconduct Cases on Tuesday rejected the complaint of a former national parks chief against police who arrested him over a bribery scandal in December last year.
Student fatally stabbed in classroom
A teenage boy was stabbed to death and three others injured in a classroom at a school in Si Sa Ket's Sri Rattana district on Monday afternoon.
EC rejects petitions against Pheu Thai's B10,000 digital handout
The Election Commission has dismissed petitions asking that it examine whether the Pheu Thai Party's policy of a 10,000-baht digital handout to everyone aged 16 and over violates Section 73 of the law on the election of MPs.
China's largest EV maker eyes SE Asia dominance
BYD Co, China's largest electric vehicle manufacturer, has begun to penetrate the Southeast Asian market to challenge the stronghold held by Japanese automakers in the region.
Singapore starts trading in Thai depositary receipts
The Singapore Exchange (SGX) on Tuesday started trading in depositary receipts (DR) of three securities listed on the Stock Exchange of Thailand (SET).
Trio unite to build digital workforce
The Digital Economy Promotion Agency (Depa), TBN Corporation and Kasetsart University have partnered to help develop a skilled digital workforce to bridge the demand gap for personnel in the country.
Hajj tour organisers confront hefty losses
Tour operators face major losses for Hajj trips because of additional charges for pilgrim travellers and high airfares driven by limited seat capacity.
Consumers eager to spend on health
Some 70% of consumers in Asia-Pacific are willing to increase their spending on health and wellness as they become more health-conscious following the pandemic, according to a recent survey.
Asian Sea, AAI consider relocation if wages rise
SET-listed Asian Sea Corporation, a Thai frozen food producer, and its subsidiary Asian Alliance International (AAI) are ready to move their production base to Vietnam or the Philippines if the new coalition government raises the daily minimum wage to 450 baht.
Planning unit touts revamp of labour force
The decoupling of global supply chains following trade conflicts between the US and China could benefit Thailand in the automotive, electrical appliances, and electronics industries.
Food event transactions increase by 81%
The food and beverage trade event Thaifex-Anuga Asia 2023 ended on Saturday and generated up to 120 billion baht in transactions, outstripping the original target of 70 billion baht
DBSV gauges impact of proposed tax hike
A proposal put forward by the Move Forward Party to hike the corporate tax rate could cause the profitability of large-cap companies on SET to fall 3.5-3.7%.
Lisa of Blackpink selected as TrueID's envoy

Entertainment platform TrueID has appointed Lalisa "Lisa" Manobal, the well-known Thai rapper, singer and dancer in the Korean girl group Blackpink, as TrueID's latest brand ambassador. Foto
Kingdom ready to face champions Italy
The Thai women are ready for a tough assignment against defending champions Italy in their opening match in the Volleyball Nations League in Turkey on Tuesday.
Exhibit honours Thai role models
A list of 100 role models honoured for their inspiring innovations to change the world sustainably is presented in an online exhibition titled "100 Faces Of Thailand's Innovation Inspirers 3".
This virtual showcase is based on a book of the same title launched under the theme "Sustainable Innovation" by the National Innovation Agency. It compiles the stories of 100 Thais from various professional fields who have created innovations that play a role in developing society in a sustainable way. They are categorised into three groups, Planet, People and Profit, which cover six branches in total — environment; city networks; health and well-being; privacy, rights and equality; security and inclusiveness.
BoT urges upgrade of Thailand's durian production
Thailand needs to improve its durian production to remain the top exporter amid tougher competition over the next five years, according to a Bank of Thailand report.
Buriram part ways with 'uncontrollable' Bolingi
Treble winners Buriram United have axed forward Jonathan Bolingi after he helped the Thunder Castle beat Bangkok United 2-0 in the FA Cup final on Sunday.
Stark shares return from SET suspension for one month
Shares of Stark Corporation (STARK) return to trade for a period of one month starting on Thursday for cash accounts, but the suspension (SP) sign will be reposted on the stock from July 1 if the company fails to submit its complete financial statements by that date, says the Stock Exchange of Thailand (SET).
Efforts to help parts producers evolve
The Thailand Automotive Institute (TAI) plans to equip Thai auto parts producers with electric vehicle (EV) technology know-how.
Catch women's volleyball live in Bangkok
Top-tier international women's volleyball is returning to Bangkok with eight of the world's most exciting and highly-ranked teams in the Sponsor Women's Volleyball Nations League Thailand 2023 Pool Phase – Round 3, which will take place at Indoor Stadium Huamak, Ramkhamhaeng Road, from June 27 to July 2.
Thailand Coffee Fest 2023 creates a buzz
Under the theme "Good Coffee For Everyone", the much-awaited Thailand Coffee Fest 2023 will be held from July 13-16 at Impact Exhibition Hall 5–8 in Muang Thong Thani.
China to send first civilian astronaut to space station
China will send three astronauts to its Tiangong space station on Tuesday, putting a civilian scientist into space for the first time as Beijing pursues plans to send a manned mission to the Moon by the end of the decade.
Homebuyer shot dead by angry owner refusing to move out
A woman who bought a house from a bank shot dead by the angry former owner, who was refusing to move out, at a housing estate in Pathum Thani. Police at the scene.
Pita comments on censoring of BBC
Move Forward Party leader Pita Limjaroenrat on Tuesday expressed concern about media freedom after a local pay-TV provider blocked a BBC profile about him.
Chevron, PTTEP granted licences in Gulf
The Department of Mineral Fuels has awarded petroleum exploration and production licences to increase gas supply from the Gulf of Thailand and reduce power bills over the long term.
Coalition sets up transition team
Coalition parties set up a transition team to pave the way for governing, with seven urgent issues identified. Move Forward and Pheu Thai, meanwhile, say they'll discuss the House speaker issue separately.
Chalermchai to step down as Democrat secretary-general
Chalermchai Sri-on, the caretaker minister of agriculture and cooperatives, said yesterday he had decided to step down as secretary-general of the Democrat Party when it selects its new leader and executives on July 13.
BP in vogelvlucht
31 mei – BP telt vandaag bruto drie maar netto 2,375 binnenlandpagina's in het eerste katern met elf nieuwsberichten en -verhalen en de rubriek In Brief met vier kortjes in een paginalange kolom.
De voorpagina behandelde ik al, dus begin met pagina 2, netto een halve pagina met drie berichten en een fotobericht met een foto van een Move Forward Party staflid die een ingezakte weg in het district Bang Pa-in (Ayutthaya) onderzoekt. De weg is over een afstand van 100 meter ingezakt, waardoor hij onbegaanbaar is.
De pagina opent met Deal to allow alien workers to stay, work. Het kabinet heeft ingestemd met de verlenging van arbeidsovereenkomsten waardoor meer dan 200.000 arbeidsmigranten in ieder geval hun baan kunnen behouden tot de nieuwe regering aantreedt.
Verder op de pagina EC rules Pheu Thai's B10,000 cash handout pledge was legal. De Kiesraad heeft verzoekschriften afgewezen waarin wordt gevraagd te onderzoeken of de belofte van de Pheu Thai-partij van een digitale hand-out van 10.000 baht voor iedereen van 16 jaar en ouder in strijd is met artikel 73 van de wet op de verkiezing van parlementsleden.
Het derde bericht meldt Covid case rate 'is getting worse'. Covid-19-infecties zijn de afgelopen maand verergerd in de eilandprovincie Phuket, zegt het Provincial Public Health Office, daarbij verwijzend naar een gestage toename van het aantal zaken.
Pagina 3 telt vijf berichten en een groot fotobericht van vier kolommen in het hart van de pagina. De foto toont een floodgate (stuw) in de provincie Phichit die is geopend om te zorgen voor voldoende water op de aangrenzende akkers. De regenval in de upstream provincies zorgt voor voldoende water.
De pagina opent met Push on for rail 'missing link', geïllustreerd door een infographic. Op de exploitanten van de groene en gele metrolijn van Bangkok wordt druk uitgeoefend om een ontbrekende schakel van 2,6 kilometer tussen de twee lijnen aan te leggen.
De overige berichten noemde ik al in Nieuwflitsen met uitzondering van het bericht RTP agrees on Interpol centre initiative. De Royal Thai Police (RTP) gaat samenwerken met Interpol om een coördinatiecentrum op te richten dat mensenhandelbendes in Zuidoost-Azië aanpakt.
Einde Nieuws uit Thailand, althans op dit moment want het nieuws stopt nooit.
---
Overpeinzing: Good kill
30 mei – Keek gisteravond op Mono29 geboeid naar Good Kill, een Amerikaanse dramafilm uit 2014, geschreven en geregisseerd door Andrew Niccol met in de hoofdrollen Ethan Hawke, Bruce Greenwood, Zoë Kravitz, Jake Abel en January Jones.
Een gevechtspiloot uit Las Vegas die dronepiloot is geworden, vecht 12 uur per dag op afstand tegen de Taliban, gaat dan naar huis en maakt ruzie met zijn vrouw en kinderen in de andere 12. Maar de piloot begint de missie in twijfel te trekken. Creëert hij meer terroristen dan hij doodt? Voert hij een oorlog zonder einde? Ik citeer één reactie:
Wow! Wat een geweldige film. Ethan Hawke, January Jones en anderen spelen de hoofdrol in een verhaal over drone-operators en de emotionele gevolgen van doden op afstand. Ik heb nooit het gevoel gehad dat hij prekerig was, zoals veel van deze films over de moraliteit van oorlog (en de uitvoerende arm) vaak zijn.
Het tempo is uitstekend en je voelt echt de spanning in die snelkookpan van een situatie waarin Hawke's personage zich bevindt en je blijft maar wachten tot hij het verliest. Briljant geacteerd en geproduceerd.
Dit is het soort film dat we allemaal moeten bekijken als we ook maar een idee willen krijgen van hoe moderne oorlogsvoering werkelijk is. Het is één ding om het nieuws te lezen over gruwelijke dood en verderf, maar het is iets heel anders om met hun vingertoppen in de hoofden te kruipen van degenen die met de dood te maken hebben… om nog maar te zwijgen van die van de slachtoffers, en hun opties te begrijpen. Bekijken!
Good Kill kreeg positieve recensies. De film heeft een goedkeuringsscore van 75% op Rotten Tomatoes, gebaseerd op 124 critici met een gemiddelde score van 6,38 op 10. De consensus van de critici op de website luidt: 'Zeer tot nadenken stemmend, actueel en verankerd door een sterke prestatie van Ethan Hawke, is Good Kill een moderne oorlogsfilm met een gekweld geweten.'
Een nieuwe dag, een nieuwe krant
30 mei – Wakker om 4:55 uur bij een temperatuur van 26° en een zwaar bewolkte hemel. Een aangename temperatuur om bij te werken maar op dit moment valt er nog niets te doen. Als maximum geeft mijn Phone 33° aan maar als het zover is hoop ik klaar te zijn met Nieuws uit Thailand.
Om 5:31 uur brengt de nachtwaker de krant naar mijn kamer, die opnieuw opent met het gekissebis over de post van House Speaker onder de paginabrede openingskop Stage set for speaker showdown. In de opening is een fotobericht opgenomen met een foto van het spitsuur gisteren. Op de achtergrond is het verlichte parlementsgebouw te zien.
Naar verwachting begint de nieuwe vergaderperiode op 25 juli en wordt een dag  later de nieuwe House Speaker gekozen. De nieuwe premier wordt op 3 augustus gekozen.
Het Business katern opent met Arkhom coy on diesel excise tax cut. Minister Arkhom Termpittayapaisith (Financiën) wil geen standpunt innemen over de vraag of de verlaging van de accijns op diesel moet worden verlengd, omdat dit afhangt van de wereldwijde olieprijzen.
Het kabinet van de vertrekkende premier Prayut verlengde de accijnsverlaging op diesel van 5 baht per liter tot 20 juli om de kosten van levensonderhoud te verlagen. 'Laten we, als die dag aanbreekt, de kwestie opnieuw bespreken, aangezien de wereldwijde olieprijs nu aan het dalen is.'
De maatregel draagt bij aan lagere consumentenprijzen, met name voor brandstof- en transportkosten. Er moeten echter ook andere factoren worden overwogen, waaronder de wereldwijde olieprijzen en het State Oil Fund, dat een leningenkader heeft om de liquiditeit van het fonds te vergroten, zegt hij.
Life is er snel bij want het openingsverhaal Another thriller from Down Under is al wel beschikbaar evenals de foto van een halve pagina. Tatat Bunnag praat met Run Rabbit Run-producer Anna McLeish over wat het betekent om met Netflix te werken.
Over de film wordt gezegd dat het een van de meest opwindende horrorfilms is die griezelig doet denken aan eerdere Australische horrorfilms. Van wat tot nu toe bekend is, draait het verhaal om de relatie tussen een alleenstaande moeder en haar zeven jaar oude dochter.
Tot zover een eerste kennismaking met het 'papieren' nieuws van vandaag. Meer in BP in vogelvlucht na Nieuwsflitsen met de websiteberichten.
Nieuwsflitsen 30 mei
Pita would face cabinet dissolution petition
As Move Forward leader Pita Limjaroenrat struggles to form a coalition government, serial petitioner Ruangrai Leekitwattana is already plotting the destruction of any cabinet he forms. Foto: Dissolution threat
Myanmar rapper arrested for criticism of junta
A popular rapper in Myanmar who criticised the junta over massive power blackouts has been arrested for "spreading propaganda", the military said, the latest arrest in a sweeping crackdown on dissent.
Malaysia detains Chinese ship linked to illegal salvage of British WW2 wrecks
Malaysia's maritime authorities on Monday said cannon shells believed to be from World War Two have been found on a China-registered bulk carrier ship detained at the weekend for anchoring in its waters without permission.
Plastic pollution: treaty talks get into the nitty-gritty
French President Emmanuel Macron on Monday warned that global plastics pollution was a "time bomb", as diplomats began five days of talks in Paris to make progress on a treaty to end plastic waste.
Uganda's president signs anti-gay bill into law
Ugandan President Yoweri Museveni on Monday signed into law a controversial anti-gay bill, his office and the country's parliament said, introducing draconian measures against homosexuality that have been described as among the world's harshest.
1.2 tonnes of crystal meth seized in Songkhla
Narcotics police seized 1.2 tonnes of crystal methamphetamine, known as ice, and a convoy of three vehicles at a house in Na Mom district, Songkhla province.
Thai golf star Pajaree beats Japan's Furue in LPGA Match-Play final
Thailand's Pajaree Anannarukarn defeated Japan's Ayaka Furue 3&1 in Sunday's LPGA Match-Play final to capture her second career tour title.
Thailand must raise revenue to boost spending: World Bank
Thailand must bolster its revenue collection in the long term to meet growing public spending needs stemming from an ageing population, according to the World Bank.
Thai economy resilient, on path to full recovery: Arkhom
Thailand's economy is on a solid path to recovery and showing resiliency, helped by good revenue collection and a normalisation of its tourism sector, while inflation should come in below 3% this year, the finance minister said on Monday.
Covid deaths dropping
Covid-19 related deaths are declining as humans and the virus adapt to co-existence, but annual vaccination is still recommended, says top health official.
Thaksin 'flabbergasted' by Chuvit's secret-coalition claim
Fugitive former prime minister Thaksin Shinawatra says he was left flabbergasted by the allegation by whistleblower Chuvit Kamolvisit of a "secret deal" for the Pheu Thai Party to form a coalition government with former parties in the government bloc.
Probe ordered into overweight-truck bribe-paid stickers
National police chief Pol Gen Damrongsak Kittiprapas has ordered highway police to investigate an allegation that drivers of overloaded trucks displaying special bribe-paid stickers are not being arrested.
'Superpimp'-turned-whistleblower won't give up fight
Chuvit Kamolvisit, who says Thailand is corrupt to the core, advocates legalising gambling and sin taxes to top up junior police salaries.
Naga Cave set to reopen on June 1
The Naga Cave in Bueng Kan's Phu Langka National Park will reopen to tourists on June 1, according to the Department of National Parks, Wildlife and Plant Conservation.
No glory for bullies: South Korea's school violence epidemic
Pins hidden in her shoes, head forced down a toilet, kicked in the stomach: Korean hairdresser Pyo Ye-rim suffered a litany of abuse from school bullies, but now she's speaking out.
Car sales suffer amid uncertainty
Car sales in Thailand are expected to continue a decline this month amid domestic political uncertainty about a new government and its policies, says Toyota Motor Thailand.
Business groups back 'fair growth' principle
Key business groups welcome the Move Forward Party's campaign promises to tackle economic inequality, but wonder if it can solve a problem that has long plagued the country.
A tall order for the new government
Voters wonder if the Move Forward Party can deliver on its campaign promises.
Putting clean energy in pole position
Efforts to reduce carbon dioxide in Thailand are gathering momentum as the government and businesses forge ahead with clean energy development projects.
Thai duo back in winners' circle
Mixed doubles stars Dechapol Puavaranukroh and Sapsiree Taerattanachai claimed their first title of the year at the US$420,000 (approx 14,600,000 baht) BWF Malaysia Masters 2023 in Kuala Lumpur on Sunday.
Modi inaugurates grand new Indian parliament
Flanked by priests, Hindu nationalist Prime Minister Narendra Modi inaugurated a new Indian parliament on Sunday in a ceremony steeped in religious symbolism but boycotted by opposition parties.
Palang Pracharath resolves internal row over canvassing money
The Palang Pracharath Party (PPRP) has resolved an internal rift stemming from its former election candidates' complaints they did not receive enough financial support in the lead-up to the May 14 election, according to the party's election strategy panel for the North.
Foreign visitors to Surat Thani surpass 1.5m this year
International arrivals to Surat Thani have exceeded 1.5 million, up 155% so far this year, according to the provincial governor.
Nam partners with PTT to drive global expansion
Namwiwat Medical Corporation (Nam), a Thai sterilised medical equipment maker and seller, aims to become a key manufacturer on the global stage by partnering with national oil and gas conglomerate PTT Plc following a successful expansion in Southeast Asia.
Japan, US, Philippine coast guards to hold first 3-way sea drill
Japan, the United States and the Philippines will hold their first trilateral maritime exercise off the Southeast Asian country's coast, Philippine officials said Monday, a move that will showcase their interoperability near the South China Sea, where Beijing is making assertive territorial claims.
BP in vogelvlucht
30 mei – Bangkok Post telt vandaag bruto maar netto 2,5 binnenlandpagina's in het eerste katern. Op de voorpagina resteren drie berichten die u nog niet kent. Dat zijn Srettha denies rumoured 'secret deal' to usurp MFP, Court 'may act on' Pita share issue en Canadian mobster hit suspect brought to Thailand.
• Srettha Thavisin, een van de drie premierskandidaten van Pheu Thai, ontkende maandag in een tweet geruchten over een 'geheime deal' om een andere coalitie te vormen onder leiding van Pheu Thai.
• Het Constitutionele Hof kan Pita Limjaroenrat, de leider van de Move Forward Party (MFP), schorsen als het ermee instemt de zaak over zijn media-aandelen te behandelen, zegt vice-premier Wissanu Krea-ngam.
• De vermeende huurmoordenaar Matthew Dupre, gezocht voor het neerschieten van een Canadese gangster in Phuket op 4 februari 2022, is uitgeleverd aan Thailand om te worden vervolgd voor moord.
Pagina 2 telt vijf berichten en twee fotoberichten, het grootste Looking for luck van vijf kolommen bovenaan de pagina met twee foto's van gelovigen die op de ene foto een kaarsje aansteken en op de andere een vers reciteren voor een beeld van Prae Kiak Fin in Wat Suthat Thepwararam.
De pagina opent met Police chief seeks bribe claim truth. RTP hoofdcommissaris Damrongsak Kittiprapas heeft de Highway Police Division opgedragen onderzoek te doen naar beweringen dat chauffeurs van overbeladen vrachtwagens niet worden gearresteerd omdat ze een speciale sticker tonen. De sticker geplakt op de voorruit geeft aan dat steekpenningen zijn betaald bij een controlepost.
De overige vier berichten melden Weed network fears law change, Fatalities linked to Covid drop, Dengue fever cases to rise next month en 'Ineligible' applicant 'tests negative' for meth use.
• Onder verwijzing naar onderzoek van het Ad-Hoc Committee on Systematic Hemp and Cannabis Resolution, heeft het Thaise Cannabis Future Network er bij drie alliantiepartijen op aangedrongen om de plant niet opnieuw als verdovend middel te kenmerken, omdat dat hetzelfde zou zijn als 'getting the first shirt button wrong' en leiden tot meer problemen. Ken de uitdrukking niet en kan op internet ook niet de bron vinden.
• Volgens het Public Health Department is het aantal sterfgevallen als gevolg van Covid-19 vorige week afgenomen, aangezien de dominante stam niet meer overdraagbaar of ernstiger is.
Ten slotte pagina 3, netto een halve pagina, met drie berichten en een fotobericht. De foto toont een man die in het Bangkok Art and Culture Centre naar een groot doek kijkt waarop het thema Road to Bangkok World Pride 2023 is geschilderd.
De pagina opent met Prayut mum over rumours he will stay on. Premier Prayut wuifde maandag geruchten weg dat hij premier zal blijven als er in de nabije toekomst een 'politiek ongeluk' zou gebeuren.
De overige twee berichten kent u al: het aantal buitenlandse toeristen in Surat Thani bedraagt tot nu toe 1,5 miljoen en Palang Pracharath heeft een interne ruzie beslecht over de vergoeding voor kandidaten die aan de verkiezingen van 14 mei meededen. Aldus meldt het verkiezingsstrategiepanel voor het Noorden.
Einde Nieuws uit Thailand om 9:35 uur terwijl Mono29 de film Only the brave uitzendt. De film is gebaseerd op het waargebeurde verhaal van de Granite Mountain Hotshots, een groep elite brandweerlieden die alles op het spel zetten om een stad te beschermen tegen een historische natuurbrand.
---
Een nieuwe dag, een nieuwe krant
29 mei – Wakker om 6 uur, de krant is al naar mijn kamer gebracht. Met enige tegenzin noem ik de opening want het geruzie over wie de post van House Speaker mag bekleden, begint me danig te vervelen. Pressure builds on Pheu Thai meldt dat een groep aanhangers van Pheu Thai de partij oproept om zich los te maken van de Move Forward Party (MFP) vanwege de onenigheid.
De groep steunt echter nog steeds de belofte van Pheu Thai om te stemmen voor MFP-leider Pita Limjaroenrat als de volgende premier en de MFP toe te staan de vorming van een nieuwe coalitie te leiden, zegt Niyom Nopparat, een leider van de groep. De groep roept Pheu Thai ook op de door MFP geleide poging om de grondwet te herschrijven, te steunen.
Als de MFP er niet in slaagt genoeg parlementsleden te verzamelen om een nieuwe coalitieregering te vormen, is de groep van mening dat Pheu Thai, die na de MFP het op een na hoogste aantal zetels in het Huis behaalde, het recht zou moeten hebben om de vorming van een nieuwe coalitie te leiden, aldus Niyom.
De groep wil de MFP laten beseffen dat het moeilijk zal zijn om een regering te vormen zonder Pheu Thai aan haar zijde. 'We wensen de MFP succes bij haar poging om een coalitie te vormen en dringen er bij Pheu Thai op aan om MFP en alle andere coalitiepartijen te steunen door op Pita te stemmen als premier', zegt Niyom. Hij benadrukte verder dat het motief van de groep geen politiek spel is of een poging om meer conflicten tussen Pheu Thai en MFP te veroorzaken.
De foto toont de groep die gisteren demonstreerde bij het hoofdkwartier van de partij aan de Phetchaburi Road.
Het Business katern opent vandaag met de analyse Playing the waiting game. Analisten en investeerders houden de adem in terwijl de nieuwe coalitieregering vorm krijgt. Vóór 14 mei waren veel investeerders en analisten hoopvol dat de algemene verkiezingen het "sell in May"-fenomeen zouden kunnen omkeren, dat verwijst naar de Thaise beurs die traditioneel ondermaats presteerde tijdens de hete, droge maanden.
Statistieken geven aan dat de Stock Exchange of Thailand (SET)-index gewoonlijk 1,1% stijgt een week voor een nationale verkiezing en 5,3% een week erna, na een zogenaamde verkiezingsrally. Maar de recente peiling bracht de SET in een neerwaartse spiraal, met een daling van 3% in de eerste week na de verkiezingen, toen politieke onzekerheden een uitstroom van fondsen veroorzaakten, waardoor de nederlaag voor de slechtst presterende beurs van Azië dit jaar verergerde.
Life opent met Giving a face to the forgotten. De Myanmarese kunstenaar Maung Phoe geeft via kunst een glimp van het leven in de beruchte Insein-gevangenis. Maung Phoe, geboren in Myanmar's Mandalay, is een kunstenaar die illustreerde voor tijdschriften en schilderles gaf aan kinderen, maar een tiental jaren pauze nam om voor zijn vrouw en zoon te zorgen.
Door de militaire staatsgreep begin 2021 wakkerde hij zijn passie weer aan, maar al snel kwam er op 7 april een keerpunt, toen agenten zijn huis binnenvielen en hem mishandelden. De familie werd gearresteerd wegens het bezit van materiaal met betrekking tot de Nationale Liga voor Democratie van Aung San Suu Kyi.
'Ik verbleef zes maanden in de Insein-gevangenis, waar ik al deze tekeningen heb gemaakt. In de gevangenis duurt de tijd erg lang. Ik kreeg het idee om mijn talent te gebruiken om de tijd te doden. Eigenlijk is het niet toegestaan om een potlood, pen of papier mee te nemen, maar ik heb ze stiekem naar binnen gesmokkeld. In de gevangenis staat iedereen voor een moment van moeilijkheden. De meeste mensen kunnen hun geest niet houden waar het fysieke lichaam is. Ik merkte dat mijn talent me de kans gaf om te mediteren.'
Tot zover een eerste kennismaking met het 'papieren' nieuws van vandaag. Meer in BP in vogelvlucht na Nieuwsflitsen met het nieuws op de website.
Nieuwsflitsen 29 mei
Fotoalbum (11 foto's) Selfie fever
Fans of Blackpink, the K-pop band, on Saturday took a group selfie before the 'BLACKPINK WORLD TOUR [BORN PINK] BANGKOK ENCORE' concert at Rajamangala National Stadium in Bang Kapi district. The band is set to perform another show on Sunday. (Photos: Wichan Charoenkiatpakul)
150kg crystal meth seized in Korat, 2 arrested
Two men were arrested and 150 kilogrammes of crystal methamphetamine seized after police intercepted two cars for a search in Pathai district of Nakhon Ratchasima on Sunday, Region 3 Provincial Police commissioner Pol Lt Gen Somprasong Yenthuam said at a media conference.
Indian official drains reservoir to retrieve his phone
A bureaucrat in the central Indian state of Chattisgarh ordered over a million litres of water to be drained from a reservoir to retrieve a smartphone he had dropped while taking a selfie, according to a report in the Times of India.
Sing Buri man bleeds to death after 12 teeth removed
A fact-finding investigation is underway into the case of a 64-year-old man who reportedly died at a hospital in Sing Buri province from bleeding after getting 12 teeth removed, according to the Thai Dental Council's statement posted on social media on Sunday.
Green light for pomelo, chicken exports to US, Australia
The United States will start to import Thai pomelos next month while Australia has given a green light for import cooked duck from Thailand after years of negotiations, according to the Ministry of Agriculture and Cooperatives.
Thailand, 11 other Indo-Pacific nations vow to fortify supply chains
Ministers from Thailand, the United States, Japan and 11 other Indo-Pacific nations agreed Saturday to strengthen supply chain resilience for critical items such as semiconductors and medicines to respond more promptly to emergencies.
Most foresee problems forming new govt coalition: poll
A majority of Thai people are harbour doubts about the ability of Move Forward and seven other parties to form a new government even though they command a majority of MPs – 313 – in the House of Representatives, according to an opinion survey by Suan Dusit Rajabhat University, or Suan Dusit Poll.
Most believe misinformation used during election: poll
Most people believe political parties issued misinformation during the lead-up to the May 14 election, both to smear rivals and to win popularity, according to a survey by the National Institute of Development Administration, or Nida Poll.
Govt says 1m Chinese tourists visited from Jan to mid-May
Thailand received one million Chinese tourists between January and May 18, a government official said on Sunday, after China's border reopening.
China Eastern launches new homegrown narrow-body jet

China Eastern Airlines on Sunday sent the country's narrow-body jet C919 on its first commercial flight, marking the homegrown plane's entry into passenger service and a milestone for China's efforts to become more self-reliant. Foto
Heavy rain forecast in most regions this week
The Meteorological Department is warning of heavy rain in most regions of the country this week.
Tour boat catches fire at Ayutthaya river pier, no-one hurt
A tour boat caught fire at a boat pier in Ayutthaya in the small hours on Sunday. There were no casualties.
Angels out to shatter Buriram's dream
Bangkok United and Buriram United are both confident that they will win the FA Cup when they meet in the final on Sunday.
Mixed duo Dechapol and Sapsiree earn shot at Malaysia Masters title
Mixed doubles stars Dechapol Puavaranukroh and Sapsiree Taerattanachai will vie for their first title of the year at the BWF Malaysia Masters 2023 in Kuala Lumpur on Sunday.
Over 1,500 arrested at climate protest in The Netherlands
More than 1,500 people were arrested during a protest by the Extinction Rebellion climate group in The Hague on Saturday, Dutch police said.
Police bar Chinese bribe suspect from leaving Thailand
Police seized the passport and blocked the departure of a Chinese journalist arrested for allegedly demanding a multi-million-baht bribe from a suspected Chinese gangster.
Pheu Thai supporters' group urges split with Move Forward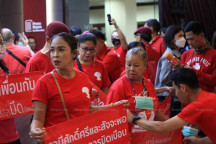 Angered by 'disrespect', a group of Pheu Thai Party supporters says Move Forward should try to form a coalition government without its help. Pheu Thai leader Cholnan Srikaew said he would take the group's opinion into consideration.
The group's appeal came as both parties were arguing over the House Speaker's position. The Pheu Thai leader said Move Forward would have a meeting with coalition allies on Tuesday and he expected they could agree on the identity of the House Speaker. "We must find the most promising conditions for our collaboration. There must be give and take. There cannot be a total winner or loser. Then everyone will be happy," Dr Cholnan said.
Foto: Red-clad Pheu Thai supporters demonstrate at party headquarters on Sunday, demanding Pheu Thai let the Move Forward Party try to form a coalition government without its help.
Bangkok governor surprises overpass workers with hurry-up visit
Bangkok governor Chadchart Sittipunt has issued an urgent instruction to contractors to ensure the new overpass over the Na Ranong intersection in Klong Toey district is ready for public use on Thursday, after finding out many parts of the project remain unfinished.
BP in vogelvlucht
29 mei – Wat biedt BP nog meer aan nieuws dat ik niet al hiervoor heb genoemd? Onder de vouw op de voorpagina staan drie berichten, waarvan u er twee al kent: de man die is doodgebloed in Sing Buri en het bericht dat het land sinds januari ruim 1 miljoen Chinese toeristen heeft getrokken. Nieuw is het fotobericht Night market branches out met een foto van de nachtmarkt Jodd Fairs die onlangs een nieuwe markt opende op het voormalige themapark Magic Land.
Het derde bericht zegt Chadchart urges review of land tax. De gouverneur van Bangkok, Chadchart Sittipunt, roept de nieuwe regering op om de nieuwe belastingregels voor grond en gebouwen te herzien, aangezien de inkomsten van Bangkok aanzienlijk zijn gedaald.
Pagina 2, netto een 0,875 pagina, telt één verhaal en de rubriek In Brief met drie kortjes. Chuvit Kamolvisit zegt in Whistleblower won't give up fight: I never see any country that as times passes by, the corruption is more, is more, is more, like Thailand. Hij pleit voor legalisering van kansspelen en zondebelastingen om de salarissen van de lagere politie aan te vullen.
Pagina 3 is netto een halve pagina door een advertentie van dezelfde grootte met de namen van de geslaagden aan de ISB International School Bangkok en de buitenlandse universiteiten waar ze hun opleiding vervolgen. Nederland staat met Eindhoven, Leiden en Groningen in het lijstje. De meeste leerlingen gaan naar de VS.
De pagina telt boven de vouw drie berichten en een fotobericht met een 3-koloms foto van Asiatique The Riverfront. De gemeente Bangkok promoot de openluchtmarkt als een van de topattracties in de hoofdstad.
De pagina opent met Cops seize Chinese suspect's passport as probe widens, op de website geplaatst als Police bar Chinese bribe suspect from leaving Thailand. Ik noemde het al in Nieuwsflitsen.

De overige twee berichten melden Govt marks twin Thai export feats en MFP begins push to decentralise.
• De Verenigde Staten beginnen volgende maand met de import van Thaise pomelo's, terwijl Australië na jaren van onderhandelen groen licht heeft gegeven voor de import van gekookte eend uit het koninkrijk, heeft het. Ministry of Agriculture and Cooperatives bekendgemaakt.
• De Move Forward Party (MFP) heeft de Association of Provincial Administrative Organisations in een brief uitgenodigd voor overleg over machtsdecentralisatie aanstaande donderdag.
Einde Nieuws uit Thailand om 10:13 uur bij een temperatuur van 31 graden en een lichtbewolkte hemel. Mono29 vertoont de wuxia film The Assassin (Chinese: 刺客聶隱娘; pinyin: Cìkè Niè Yǐnniáng) uit 2015. Na een mislukte missie wordt een vrouwelijke huurmoordenaar door haar meester teruggestuurd naar haar geboorteplaats om de man op wie ze verliefd is te vermoorden.
---
Een nieuwe dag, een nieuwe krant
28 mei – Wakker om 5:22 uur, vier miuten later brengt de nachtwaker de zondagkrant naar mijn kamer. Mono29 toont Vampire Cleanup Department (救僵清道夫), een komische horrorfilm uit 2017 uit Hong Kong, waarin een onhandige jongeman zich bij het Vampire Cleanup Department voegt, een kleine groep specialisten die zich toelegt op het bestrijden van vampiers. De weerapp op mijn iPhone geeft 28° aan bij een lichtbewolkte hemel. Een aangename temperatuur die het werk vergemakkelijkt.
BP opent onder een vette kop in kapitalen Industry up in smoke? met een achtergrondverhaal waarin entrepeneurs zeggen dat het cannabisbeleid van MFP hun bedrijven in gevaar brengt. Het Memorandum of Understanding (MoU) ondertekend door acht potentiële partijen over het vormen van een coalitieregering zou slecht nieuws kunnen zijn voor voorstanders van het huidige vrijere cannabisbeleid.
Een moeder van twee kinderen zegt: When it was illegal we didn't see it being used like this. Now cannabis shops are all over the place… near schools, temples and communities.
Zoals gebruikelijk op zondag bestaat de krant uit drie katernen: Nieuws, Sunday Comics en Spotlight met artikelen uit de New York Times. Het katern opent met How Russia's rich get their luxuries now, een achtergrondverhaal over de automarkt in Dubai. Sunday Comics zorgt op acht pagina's voor een vrolijke noot maar de strips toveren zelden meer dan een lichte glimlach op mijn gezicht.
Tot zover een eerste kennismaking met het 'papieren' nieuws van vandaag. Meer in BP in vogelvlucht na Nieuwsflitsen met de websiteberichten.
Nieuwsflitsen 28 mei
Heavy bags bad for kids' backs
Carrying a heavy school bag every day can cause spinal problems among children and worsen scoliosis, medical experts said, as they recommend limiting such bags to no more than 10% of a kid's weight.
Vietnam to cut annual rice exports by 44%
Vietnam aims to cut its rice exports to 4 million tonnes a year by 2030 from 7.1 million tonnes in 2022, the government said in a document detailing its rice export strategy.
Scrap metal-built "Transformer Museum" draws tourists
People could be surprised when the protagonist of the blockbuster appears in real life. While in Thailand's Ang Thong, the "Transformers" are coming.
Alleged serial killer's lawyer denies charges
A lawyer representing alleged serial killer "Aem Cyanide" has denied charges of assisting her client in destroying or concealing evidence of her crimes.
Russian man drowns off Phuket's Patong beach
A Russian man drowned while swimming in the sea off Patong beach in Phuket on Saturday morning.
Lao activist's killing in Isan raises questions
Rights activists are calling on Thai authorities to impartially investigate the killing in Ubon Ratchathani of an exiled Lao political activist who held UN refugee status.
Illegal SIM card store linked to call centre gangs busted
Cyber Crime Investigation Bureau (CCIB) officers have shut down a store selling illegal mobile phone SIM cards in Nong Khai with ties to fraudulent call centres.
Electroshock 'used on gay UK soldiers'
Gay British soldiers were subjected to electric shock treatment in an effort to "cure" them of homosexuality, according to a damning investigation into historic homophobia in the UK armed forces.
Hydrogen car in 24-hour race a world first
Toyota Motor Corp on Saturday entered a racing car powered by liquid hydrogen into a 24-hour endurance race in Japan, making it the first such car in the world to participate in an officially sanctioned auto race.
Tuesday talks could help clarify Speaker issue
The eight-party coalition led by Move Forward hopes to have a clearer idea about the selection of the House Speaker after a meeting on Tuesday.
Siriraj Piyamaharajkarun Hospital says all Covid beds full
Siriraj Piyamaharajkarun Hospital has announced that it cannot accept any more Covid-19 patients because all beds for critical coronavirus patients are fully occupied.
Ex-drug convict kills mother's suitor, hides body
A 36-year-old man has been detained in Surat Thani on suspicion of murdering a man whom he believed was wooing his recently widowed mother, and then attempting to hide the body.
Hong Kong pro-democracy party gives up
One of Hong Kong's biggest democratic parties said on Saturday it would disband after a vote by its party members, dealing another blow to the city's already beleaguered democratic opposition under pressure from China.
Ailing jumbo Sak Surin to be brought home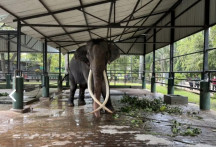 A team of veterinarians and experts will be sent to Sri Lanka next month to prepare for the return of Sak Surin, an ailing and ageing Thai elephant, to Thailand for medical treatment and physical rehabilitation.
The team, which will visit from June 6-9, will be responsible for the elephant's health to make sure it is ready for the journey home, said Jatuporn Burutphat, permanent secretary for the Ministry of Natural Resources and Environment. He said the Department of National Parks, Wildlife and Plant Conservation (DNP) would work on issues including paperwork to comply with the Convention on International Trade in Endangered Species of Wild Fauna and Flora (Cites), and build a special enclosure for moving Sak Surin.
China deletes 1.4m social media posts
China's cyberspace regulator says 1.4 million social media posts have been deleted following a two-month investigation into alleged misinformation, illegal profiteering and impersonation of state officials, among other "pronounced problems".
US state exonerates 12 'witches'
The US state of Connecticut has exonerated 12 people convicted of witchcraft in colonial America almost 400 years ago following a campaign to clear their names.
BP in vogelvlucht
28 mei – De weerapp op mijn iPhone geeft 28° aan bij een zwaarbewolkte hemel en een maximum van 36°. Ik hoop dat het kwik onder de 30 graden blijft want dat vergemakkelijkt mijn werk.
Wat heeft BP vandaag in petto voor u en mij? Op de voorpagina twee berichten die u al kent: MFP, Pheu Thai to huddle over House Speaker post row en Hospital says no room for new patients as Covid cases continue to mount op de website geplaats onder de kop Siriraj Piyamaharajkarun Hospital says all Covid beds full.
Leuk werkwoord trouwens to huddle. Kende het niet, GT vertaalt het als opeenhopen, dooreengooien. Het bericht zegt dat de twee grootste partijen het dinsdag hopen eens te zullen worden over de post van House Speaker.
Dominant op de voorpagina staat bovenaan een 5-koloms foto van fans van de K-popband Blackpink die selfies maken voorafgaand aan een optreden in het Rajamangala National Stadium. Ook vandaag treedt de populaire meidenband er op.
Pagina 2, netto een 0,875 pagina, telt vier berichten waaronder een overlees van Industry in smoke? van een halve pagina met vijf postzegelfoto's van bobo's die hun licht laten schijnen over de kwestie.
De pagina opent met Employment rate jumps 2.4% in Q1. In het eerste kwartaal van dit jaar waren ongeveer 39,6 miljoen mensen aan het werk, een stijging van de arbeidsparticipatie met 2,4%.
Van de overige berichten kent u al het bericht over de Russische man die is verdronken in Patong. Nieuw is Thailand celebrates its sixth Unesco listing. Een nationale collectie palmbladmanuscripten die Thailand heeft genomineerd voor de wereldwijde lijst van Unesco, heeft erkenning gekregen als een van de 64 nieuw opgenomen internationale inscripties, zei de regering zaterdag.
Tenslotte pagina 3, netto een halve pagina door een advertentie van Lee Engineering and Construction Co die vandaag 32 jaar excellence in the oil and gas sector viert.
De pagina telt drie berichten en een fotobericht met als opening Dems deny coalition rumours. De Democraten ontkent in gesprek te zijn met een andere partij om een rivaliserende coalitie te vormen die de Move Forward Party en de United Thai Nation Party uitsluit.
Verder op de pagina Wherever UTN goes, so must Prayut en Journo held for 'exploiting police connection'.
• De United Thai Nation (UTN) Partij zou zich kunnen aansluiten bij de coalitiealliantie als premier Prayut Chan-o-cha in de groep blijft, zei UTN-secretaris-generaal Akanat Promphan zaterdag.
• Een journalist is gearresteerd omdat ze naar verluidt haar connectie met een hoge politieagent gebruikte om 14 miljoen baht te eisen van een Chinese verdachte in ruil voor het laten vallen van de aanklacht.
Het is nu 8:50 uur. Einde Nieuws uit Thailand van vandaag, want ik heb all the news that's fit to print genoemd. De beroemde slogan werd in 1897 geformuleerd door Adolph S. Ochs, eigenaar van The New York Times. Vandaag de dag staat de slogan nog steeds in de masttop van de krant. Ochs schreef de slogan als een verklaring van de intentie van de krant om het nieuws onpartijdig te melden.
---
Overpeinzing: Moonrise Kingdom
27 mei – Omdat ik in mijn jonge jaren bij de padvinderij was, eerst als welp, later als zeeverkenner, werd mijn oog op Mono29 getroffen door Moonrise Kingdom, een Amerikaanse coming-of-age komedie-dramafilm uit 2012, geregisseerd door Wes Anderson, geschreven door Anderson en Roman Coppola, met in de hoofdrollen onder anderen Bruce Willis en Jared Gilman en Kara Hayward als nieuwkomer.
De film  speelt zich grotendeels af op het fictieve eiland New Penzance ergens voor de kust van New England en vertelt het verhaal van een weesjongen die uit een verkennerskamp ontsnapt om zich te verenigen met zijn penvriendin en geliefde, een meisje met agressieve neigingen.
Omdat ze zich vervreemd voelen van hun voogden en gemeden worden door hun leeftijdsgenoten, duiken de geliefden onder op een afgelegen strand. Ondertussen organiseert de politiecommandant van het eiland een zoektocht van verkenners en familieleden om de weglopers te lokaliseren.
Bij het maken van hun scenario putten Anderson en Coppola uit persoonlijke ervaringen en herinneringen aan kinderfantasieën en films, waaronder Melody (1971) en The 400 Blows (1959). Audities voor kindacteurs duurden acht maanden en in 2011 werd gedurende drie maanden voornamelijk op Rhode Island gefilmd.
Moonrise Kingdom ging in première op het filmfestival van Cannes in 2012 en kreeg lovende kritieken, waarbij de thema's jonge liefde, seksualiteit van kinderen, geestelijke gezondheid van jongeren en het Genesis-overstromingsverhaal werden geprezen. Critici prezen ook het kleurenpalet van de film en het gebruik van visuele symmetrie, evenals het gebruik van de originele compositie van Alexandre Desplat als aanvulling op bestaande muziek van Benjamin Britten.
De film werd genomineerd voor de Academy Award voor Best Original Screenplay en de Golden Globe voor Best Musical of Comedy. In 2016 nam de BBC de film op in de lijst met beste films van de eenentwintigste eeuw.
Recensie-aggregatiewebsite Rotten Tomatoes gaf de film een goedkeuringsscore van 94% op basis van beoordelingen van 262 critici, met een gemiddelde score van 8,24/10. De consensus luidt: 'Warm, grillig en aangrijpend, het onberispelijk ingelijste en prachtig geacteerde Moonrise Kingdom presenteert schrijver/regisseur Wes Anderson op zijn idiosyncratische best.' Moonrise Kingdom stond ook op de top 10 van veel critici van het jaar. In 2016 werd het uitgeroepen tot 95e in een internationale opiniepeiling van critici, de BBC's 100 Greatest Films of the 21st Century.
Een nieuwe dag, maar nog geen nieuwe krant
27 mei – Elke keer als ik Pita Limjaroenrat in het journaal zie, word ik getroffen door zijn sympathiek uiterlijk en jeugdig voorkomen, alhoewel hij met 45 jaar niet de allerjongste is. Mijn sympathie voor hem begon toen ik een videointerview met hem zag, waarbij mij opviel dat hij onberispelijk Engels sprak, welbespraakt was, zonder zich in vaagheden te hullen, en zich goed bewust is van de conservatieve krachten in het land die er alles aan zullen doen om hem kalt te stellen.
Wat een verschil met brombeer Prayut, de omhoog gevallen soldaat die in 2014 een coup pleegde en sindsdien met list en bedrog aan de macht is gebleven. Ik heb hem nooit horen spreken maar ik vermoed dat zijn Engels niet meer is dan Tenglish. Hij heeft lange tenen en kan niet tegen kritiek.
Pita groeide op in een gedistingeerd milieu en genoot zijn opleiding in Nieuw-Zeeland en de VS, Prayut (1954) zette in zijn jonge jaren nooit een voet buiten de landsgrenzen. Geboren als zoon van een legerkolonel en een onderwijzeres was hij het oudste kind van vier broers en zussen. Hij ging naar de Sahakit School in Lopburi, waar zijn moeder lesgaf. Voor de middelbare school bracht hij slechts een jaar door op de Phibulwitthayalai Lopburi School omdat zijn vader, een legerofficier, vaak verhuisde.
Toen hij in groep 8 zat, verhuisde hij naar de Wat Nuannoradit School in Phasi Charoen, waar hij in een schoolblad werd geselecteerd als een van de beste leerlingen. Zijn militaire opleiding volgde hij aan de Armed Forces Academies Preparatory School en Chulachomklao Royal Military Academy Class 23. Hij studeerde af met een bachelor of science graad, vergelijkbaar met een havo-diploma in Nederland.
Een nieuwe dag, een nieuwe krant
27 mei – Om 5:28 uur bracht de nachtwaker de krant naar mijn kamer, zoals altijd op zaterdag met twee katernen: Nieuws en Weekend Business. De weerapp op mijn iPhone wijst 29° aan bij een overwegend heldere hemel. Een aangename temperatuur waarbij het prettig werken is.
Mono29 toont A man of ma year, een Thaise film uit 2003 waarin Nok, een plattelandsjongere en getalenteerde bokser, ervan droomt ooit acteur te worden. Hij ontmoet drie andere jongens, Pao, Kung en David, elk met hun eigen ambities. Pao wil graag countryzanger worden, Kung wil graag in een Thaise traditionele opera spelen en David wil graag goochelaar worden. Alle vier ontmoeten ze elkaar bij toeval en ze zullen elkaar moeten steunen om hun doelen te bereiken.
De krant opent met Pita issues coalition unity call, voorzien van een vierkoloms foto die ik hierboven heb geplaatst. Pogingen worden in het werk gesteld om de spanningen weg te nemen tussen de Move Forward Party (MFP) en de Pheu Thai Party over wie de rol van House Speaker zou moeten krijgen.
MFP-leider en kandidaat-premier Pita Limjaroenrat zei vrijdag dat de MFP en zijn zeven toekomstige coalitiepartners gesprekken moeten voeren om de kwestie op te lossen. Hij voegde eraan toe dat de bondgenoten van de MFP bij elkaar moeten blijven en doorgaan met de vorming van een regering.
Pita ontweek de vraag of de House Speaker een door de MFP gekozen kandidaat zou moeten zijn, en zei dat onderhandelaars de kwestie eerst moeten bespreken. Hij zei ook dat hij er vertrouwen in heeft dat Pheu Thai zich vanwege deze kwestie niet uit de coalitie zal terugtrekken.
'Ik geloof dat de MFP en Pheu Thai tot overeenstemming kunnen komen. Ik weet zeker dat er een oplossing komt. Ik denk niet dat er een vrije stemming zal zijn over wie de voorzitter van het Huis wordt.'
Het Business katern opent met Taxi scam damages expo. Op de sociale media regent het klachten over taxichauffeurs die bedragen van vier- tot vijfduizend baht vragen voor een ritje van Impact Muang Thong Thani in Nonthaburi, waar de handelsbeurs Thaifex-Anuga Asia 2023 wordt gehouden, naar het centrum van Bangkok.
Tot zover het 'papieren' nieuws van vandaag. Meer in BP in vogelvlucht na Nieuwsflitsen met websiteberichten.
Nieuwsflitsen 27 mei
SET seeks long-term plan for the future
The Stock Exchange of Thailand has posted the highest trading value in Asean since 2012, but it needs a long-term plan to manage opportunities and challenges as capital markets evolve. Foto SET thinks long-term
Chinese ships ignore Vietnam demand to withdraw ships
A Chinese research ship and five escort vessels were in Vietnam's exclusive economic zone (EEZ) on Friday close to gas blocks operated by Russian firms in the South China Sea, a day after Vietnam urged the ships to leave.
SMS scam gang arrested
Police have arrested six suspected scammers who drove vehicles equipped with cell-site simulators, known as stingrays, in an effort to steal money from mobile phone users in Bangkok and nearby provinces.
From March to May this year, the Cyber Crime Investigation Bureau (CCIB) had received complaints over the scam from many victims, with damage estimated at 174.15 million baht.
The bureau's investigation found that the suspects had used stingrays while driving their vehicles around many areas of Bangkok, Nonthaburi and Samut Prakan provinces. The equipment would send SMS messages with fake links of banks, the Revenue Department, utility authorities and other agencies to mobile phones in areas where the vehicles drove.
A Stingray (also called a cell-site simulator or an IMSI catcher) is an electronic surveillance device used by law enforcement officers to locate or identify potential criminal suspects by imitating cell towers, tricking nearby cell phones to connect to them (Wikipedia).
Four dead in rare shooting in Japan
A 31-year-old man was arrested on Friday in rural Japan for suspected murder after four people were killed in a rare shooting and stabbing incident involving a 12-hour stand-off with police, according to a public broadcaster.
Group urges ministry unity to reform supply chains
The Association of Thai Travel Agents (Atta) expects the new government to strengthen collaboration between six ministries related to the tourism industry to improve supply chains.
Thailand Post plans to launch digital mailbox service by Q3
Thailand Post plans to launch Prompt Post, a full-scale digital mailbox service, by the third quarter to cash in on the electronic document handling business trend and serve the transition roadmap of the Post Digital mission.
Commerce Ministry aims to stimulate exports in H2
The Commerce Ministry wants to increase the value of exports by another 19.4 billion baht (around US$550 million) in the second half, providing support through the hosting of up to 350 export stimulus activities.
TAT board names new governor
Thapanee Kiatphaibool, deputy governor for domestic marketing at the Tourism Authority of Thailand (TAT), has been approved to become the new TAT governor, starting from Sept 1.
Korean firms set to invest B7bn locally
Five South Korean companies are keen to embark on new investment projects in Thailand, ranging from an electric vehicle (EV) business to the construction of a new industrial estate, says the Industrial Estate Authority of Thailand (IEAT).
Mixed duo, Busanan reach KL quarters
Mixed doubles duo Dechapol Puavaranukroh and Sapsiree Taerattanachai and singles star Busanan Ongbamrungphan advanced to the quarter-finals of the US$420,000 BWF Malaysia Masters in Kuala Lumpur on Thursday.
New road for border checkpoint
Thailand and Malaysia have agreed to build a new road connecting the Sadao border checkpoint in Songkhla to Bukit Kayu Hitam town in Malaysia's Kedah state to boost ties between the two countries.
SPCG keen on rooftop solar sales
SET-listed SPCG Plc, a pioneer in solar farm development in Thailand, expects to earn more revenue from sales of rooftop solar panels for residential and commercial buildings as well as industries, as solar power becomes more popular.
Simply the best neighbour: Swiss suburb mourns Tina Turner
"Someone like this should live forever," said one of Tina Turner's neighbours who laid flowers outside the rock legend's home in Zürich Switzerland on Thursday.
MFP confident Pheu Thai won't walk away
Move Forward deputy leader Sirikanya Tansakun expresses confidence that Pheu Thai won't pull out of coalition amid disagreement over the post of House Speaker that both parties want.
SMS scam gang arrested
Police have arrested six suspected scammers who drove vehicles equipped with cell-site simulators, known as stingrays, in an effort to steal money from mobile phone users in Bangkok and nearby provinces.
B4 million in fake herbal products seized

Police have confiscated fake herbal products worth about 4 million baht during raids on four locations in Bangkok and Pathum Thani following an investigation into sales of the products by Chinese nationals to Chinese tourists.
The raids took place on May 18 at two shops, a warehouse and a house, said Pol Maj Gen Anan Nanasombat, commander of the Consumer Protection Police Division (CPPD), on Friday. Officials from the Food and Drug Administration (FDA) joined CPPD officers in searching the premises for illegal health products. The products seized were being marketed under a total of 27 brands, all of them fake. Foto
Industrial estate leader WHA foresees 'very good' year
WHA Corp, the country's largest industrial estate developer, expects a pickup in Chinese investors following the reopening of borders to sustain a surge in demand for land to set up new factories.
Taiwanese suspect in B23bn stock scam arrested
A Taiwanese man wanted by his country in connection with a major stock manipulation case that caused damages worth 23 billion baht has been arrested in Bangkok.
1,200kg of 'ice' destined for Malaysia seized
Police seized 1,200 kilogrammes of crystal methamphetamine worth 120 million baht, destined for Malaysia, after surrounding a house in Na Mom district of Songkhla but the smugglers managed to flee.
Chaos as passenger opens plane door in flight
Passenger opens an emergency exit on an Asiana Airlines flight in South Korea as it was preparing to land, resulting in terror aloft and several people being taken to hospital.
Thailand a top digital nomad destination
Thailand is the third-best destination in the world for attracting digital nomads after the United States and Spain, according to the online resume building service Resume.io.
BP in vogelvlucht
27 mei – Ik val gelijk met de deur in huis door te melden dat de opkomst bij de verkiezingen 75,51 procent bedroeg dankzij ruim 39 mijoen kiezers die hun stem uitbrachten. Een infographic op de voorpagina noemt alle cijfers. Verder bevat de voorpagina nog drie berichten: Liquor producers rally behind MFP, DDC tackles dengue surge en Students mull local options.
• Lokale sterke drank- en bierproducenten riepen vrijdag de Move Forward Party op om door te gaan met haar progressieve beleid om de productie van sterke drank te liberaliseren en meer kleine producenten toe te staan de markt te betreden.
• Het Department of Disease Control (DDC) heeft een Emergency Operations Centre (EOC) geopend om het aantal denguepatiënten te verminderen nadat alleen al in de eerste vijf maanden van dit jaar bij meer dan 15.000 mensen de diagnose was gesteld.
• Het Southern Border Provinces Administrative Centre (SBPAC) werkt samen met aanverwante instanties om 130 Thaise studenten die uit het door oorlog verscheurde Soedan zijn gerepatrieerd, te helpen hun studie in het koninkrijk voort te zetten.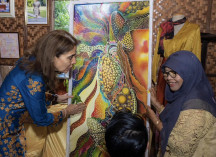 Pagina 2 bevat vijf berichten, waaronder een verhaal van een halve pagina, en een fotobericht. Het langste verhaal meldt Princess drives 'women power'.
Het ministerie van Binnenlandse Zaken heeft het duurzame dorpsproject van prinses Sirivannavari Nariratana Rajakanya, die haar visie heeft gedeeld om armoede in afgelegen gebieden uit te roeien, uitgebreid.
De foto toont Gita Sabharwai, UN Resident Coordinator voor Thailand, die een bezoek heeft gebracht aan een Batik groep in Pattani.
De pagina opent boven dit verhaal met 'Novids' warned as Covid on the rise. Covid-19-infecties zullen naar verwachting hun hoogtepunt bereiken tussen juni en augustus en opnieuw in januari en februari, waarbij degenen die tot nu toe aan het virus zijn ontsnapt, het waarschijnlijk zullen oplopen, aldus een viroloog.
Van de overige twee berichten kent u al het bericht over de aanhouding van de 'stingray' scammers. Nieuw is THAI, Bangchak ink fuel 'greenovation' pact. Thai Airways International Plc (THAI) en Bangchak Corporation Plc hebben vrijdag een Memorandum of Understanding ondertekend over het delen van technische en professionele kennis over het gebruik van Sustainable Aviation Fuel (SAF, duurzame luchtvaartbrandstof).
Ten slotte pagina 3, netto een halve pagina door een advertentie van de Bangkok Patana school met de namen van alle geslaagden. De pagina opent met Lawyer group calls to screen lese majeste complaints. De Lawyer's Association of Thailand heeft voorgesteld een panel te vormen om klachten over het wetsartikel op majesteitsschennis te screenen om te voorkomen dat de wet wordt misbruikt.
Het bericht over de inbeslagname van nagemaakte kruidenproducten kent u al uit Nieuwsflitsen. Nieuw is Police arrest Taiwanese pharmaceutical fraudster op de website geplaatst als Taiwanese suspect in B23bn stock scam arrested. Een Taiwanese man die door zijn land wordt gezocht in verband met een grote zaak van aandelenmanipulatie die een schade veroorzaakte ter waarde van 23 miljard baht, is gearresteerd in Bangkok.
Nieuw is het bericht K-pop auditions see 2,500 hopefuls. Ruim 2.500 jongeren van 10 tot 19 jaar deden vrijdag auditie in het Korean Cultural Centre in Bangkok om K-popster te worden. Hoe lang zou die auditie geduurd hebben?
---
Overpeinzing: Railroad Tigers
26 mei – Trouwe lezers van NuT weten het al: Jackie Chan is een van mijn favoriete filmacteurs, dus toen Mono29 gisteravond Railroad Tigers liet zien, moest ik wel kijken, hetgeen bepaald geen straf was. De film uit 2016 wordt omschreven als een action comedy maar vechtscènes bekend van andere van zijn films die meer lijken op slapstick dan op echte gevechten komen er niet in voor.
De film speelt in december 1941 toen Japan de bezetting van zijn buurlanden naar Zuidoost-Azië uitbreidde. De spoorlijn van Tianjin naar Nanjing in Oost-China werd een belangrijke militaire transportroute, zwaar bewaakt door Japanse soldaten.
Spoorwegarbeider Ma Yuan (Jackie Chan) leidt een team van vrijheidsstrijders. Met behulp van zijn grondige kennis van het treinnetwerk saboteren hij en zijn mannen het, waarbij ze Japanse soldaten in een hinderlaag lokken en voorraden stelen om de uitgehongerde Chinezen te voeden.
Hoewel de vrijheidsstrijders zelf geen wapens hebben, gebruiken ze al het gereedschap dat voorhanden is, waaronder een hamer en schoppen, losse bielzen en omgeleide treinen. De lokale Chinezen noemen de onwaarschijnlijke helden de 'Railroad Tigers'.
De vrijheidsstrijders bevinden zich aan de andere kant van het spoor als de Japanners versterkingen naar Shandong sturen. In een daad van verzet lanceert Ma Yuan zijn gevaarlijkste missie: het opblazen van een zwaarbewaakte spoorbrug.
Wanneer de Japanners horen van het verlammende plan, dat de oorlogsinspanning zal laten ontsporen, wordt de inzet nog hoger. Na veel gemiste kansen en gemiste schoten wordt de brug opgeblazen door de Chinese spoorwegtijgers.
De film heeft een goedkeuringsscore van 38% op de website van recensie-aggregator Rotten Tomatoes, gebaseerd op 34 recensies met een gemiddelde score van 5,49/10. De kritische consensus van de site luidt: 'Railroad Tigers werpt een paar vonken op die teruggrijpen naar Jackie Chan's gloriedagen als actiekomediester, maar ze worden gesmoord door een ongericht verhaal en schokkende toonverschuivingen.'
Peter DeBruge van Variety bekritiseerde de film als 'onmiddellijk vergeetbaar' en 'een vermoeide, vaak onbegrijpelijke puinhoop'. Nick Allen van RogerEbert.com gaf de film anderhalf van de vier sterren. 'Railroad Rigers heeft niet finesse om een ​​meer onschuldige riff uit te voeren op [Inglourious Basterds].' Collega RogerEbert.com-criticus Simon Abrams beschouwde de film echter als superieur aan Chans latere film The Foreigner.
Clarence Tsui van The Hollywood Reporter gaf de film een positieve recensie, aangezien hij hem als een 'behoorlijk effectieve' actiekomedie beschouwde; hij schreef dat ondanks dat het niet een van Chans beste films is, 'de rolprent in ieder geval de bescheiden missie van de film volbrengt'.
Een nieuwe dag, een nieuwe krant
26 mei – 01:49 uur wakker. Maar ik wil helemaal niet bij de pinken zijn. Ik wil slapen, krachten verzamelen voor de nieuwe dag. En wat Mono29 toont, kan me gestolen worden. Zelfs serieuze documentaires in de serie World Voyage.
4:59 uur De nacht schiet op.
5:26 uur De nachtwaker breng de krant naar mijn kamer. De weerapp op mijn iPhone geeft 28° aan bij een overwegend heldere hemel. Voel me redelijk uitgerust, wat een goede uitgangspositie is. Hopelijk loopt de temperatuur niet te veel op, want hitte is uitputtend – zelfs als je niets doet.
De krant opent met House speaker rift widens. Tussen Move Forward en Pheu Thai ontstaat een kloof nu ze ruziën over wie de rol van House-spreker krijgt. Gooit BP olie op het vuur want kranten hebben er een handje van conflicten uit te vergroten?
Duangrit Dunnag, een aanhanger van Thaksin en een belangrijk lid van de groep Creative, Action, Revival en People Empowerment (Care) zegt in een tweet: 'Moeten we echt iemand verdragen die zichzelf een vriend noemt en ons in het gezicht schopt? Een vriend die leugens blijft vertellen en ons in de rug steekt. Maar we moeten hem helpen, want hij kan niet alleen overleven. Als we niet helpen, krijgen we de schuld. Maar als we helpen, zullen we lijden. Soms heeft geduld zijn grenzen.'
Het Business katern opent met Metal producers to face new tariffs. Staal- en aluminiumproducenten moeten zich schrap zetten voor een nieuwe heffing op hun export als gevolg van de introductie door de EU van het Carbon Border Adjustment Mechanism (CBAM) op 1 oktober, zegt het Office of Industrial Economics (OIE).
Life opent met het paginagrote verhaal inclusief zes foto's Smells like home. BP schrijft: Niemand leidt een geurige levensstijl zoals Dr. Vranjes Firenze, wiens joie de vivre wordt aangewakkerd door opbeurende parfums. Hij maakt al 40 jaar kamers geurig en sfeervol.
Zijn grootvader introduceerde hem in de wereld van geuren en Vranjes creëerde op ingenieuze wijze zijn eigen universum van Dr. Vranjes Firenze's huis- en persoonlijke geuren. 'Mijn grootvader was textielimporteur en verzamelaar van essences. Ik was gefascineerd door de kostbare transparante flessen met opwindende aroma's. Ik wilde echt al hun geheimen weten', herinnert Vranjes zich.
Opgedragen aan zijn opa, legt de pittige Spezie Rare herinneringen vast aan de tijd die hij besteedde aan het snuiven van de inhoud van ampullen en de eerste keer dat hij de groene en kruidachtige geur van de tomatenstengel rook.
'Parfum verrijkt ons leven. Het kan mensen, plaatsen en momenten oproepen en toegang geven tot multizintuiglijke ervaringen die onvergelijkbaar welzijn en bevrediging brengen. Met geur kan ieder van ons zijn hart ophalen door onszelf elke dag te verwennen en ons beste zelf uit te drukken', zegt de Italiaanse parfumeur, die onlangs in Bangkok was voor de lokale lancering van Rosa Tabacco, die tonen van vanille, damask roos en tabak combineert. Dit jaar viert hij de 40e verjaardag van het in Florence gevestigde bedrijf.
Tot zover het 'papieren' nieuws van vandaag. Meer in BP in vogelvlucht na Nieuwsflitsen.
Nieuwsflitsen 26 mei
MFP ensures protection for cannabis growers, sellers
Move Forward reaffirms its plan to reinstate cannabis as a narcotic drug, while ensuring protection for licensed growers and sellers, but thousands of businesses are still confused and anxious about the future. Foto Cannabis confusion
Grab co-founder stepping aside
Grab Holdings co-founder Tan Hooi Ling is stepping down from her operational roles by the end of the year, more than a decade after she helped start the Singapore-based ride-hailing and food delivery company.
Commerce Ministry keeps export growth target
The Ministry of Commerce still believes the country's exports will grow by 1% to 2% this year, a senior official said on Thursday, amid slowing global demand.
2 robberies of gold ornaments worth over B7m
Police apprehended two men involved in two separate robbery incidents on Wednesday, as they attempted to make off with over 7 million baht worth of gold ornaments.
In the first incident, Butpiya Bangtonglang, a 35-year-old resident of Bangkok, entered the Yaowarat Krungthep Gold Shop in Phra Samut Chedi district of Samut Prakan province at 1.40pm. The suspect managed to persuade the shop owner to open the security door by posing as a potential seller of a gold necklace and a gold-framed amulet. Once inside, the man brandished a 9mm pistol, forcing the shop staff to fill his bag with gold ornaments.
In the second incident, Nithinan Thanaweerawacharakul, 35, targeted another branch of Yaowarat Krungthep Gold Shop in Bang Kae district of Bangkok at 2.45pm. Police said Mr Nithinan threatened the staff with what appeared to be a firearm, later determined to be a toy gun.
Emergency decree extended in South for 72nd time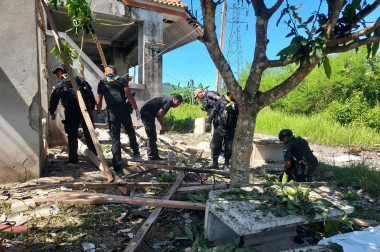 The emergency decree in force in most of Pattani, Yala and Narathiwat provinces will be extended for another three months, from June 20 to Sept 19.
Time constraints prevent US sale of F-35 fighter jets: RTAF
The Royal Thai Air Force (RTAF) has provided an explanation as to why the United States is not selling its F-35 fighter jets to Thailand at this time.
There were several time constraints that prevented the US from supplying its fifth-generation fighter jets to the Thai air force following the request for procurement, RTAF spokesman AVM Prapas Sonjaidee said on Thursday. The US requires a minimum of 10 years to process its supply of F-35A jets to a new buying country before delivery.
The buying country needs to install specific infrastructures, training and security systems as per the requirements, as these jets were designed with new technical and operational concepts and possess stealth capability.
Cambodian union leader jailed over casino strike
A Cambodian court on Thursday jailed a woman union leader for two years for leading a strike against the country's biggest casino to demand the reinstatement of workers laid off during the Covid-19 pandemic.
South Korea says Ukraine artillery ammo report 'inaccurate'
South Korea has dismissed a media report that its artillery rounds were heading to Ukraine, saying its position on not providing lethal aid to Kyiv was unchanged.
FTI sticks with annual car production forecast of 1.95m
The Federation of Thai Industries maintains its prediction for total car production this year at 1.95 million cars despite a drop in output last month.
Excise unfazed by proposed liquor act
The Excise Department's liquor policy does not conflict with the Move Forward Party's Progressive Liquor Act, says deputy director-general Kriengkrai Pattanaporn.
CPN to invest B10bn for sustainability
Central Pattana Plc (CPN) has set aside an investment budget of more than 10 billion baht for sustainability development under a five-year plan spanning 2023-27.
LPN jittery over delays to new government
The delay in the establishment of the new government may lead to a lack of confidence among financial institutions, which in turn could impact the consideration and approval of home loans, according to SET-listed developer L.P.N. Development.
Worries over baht volatility as coalition talks continue
Investors are concerned that the formation of a new government and political risk could lead to higher baht volatility over the next month, says Kasikornbank (KBank).
Krungsri Auto aiming for one-third of EV loan market
Krungsri Auto, a leader in automotive finance under the Bank of Ayudhya, wants to capture the electric vehicle (EV) lending market by targeting a one-third market share this year.
TAT upbeat on arrivals in low season
The Tourism Authority of Thailand (TAT) expects Thailand to have received 10 million foreign tourists by the end of this month and to continue to have at least 2 million visitors per month despite the low season.
PPRP's Ruangkrai seeks probe into 'illegal' MoU
Ruangkrai Leekitwattana petitioned the Election Commission to investigate an alleged violation of the organic law on political parties by the Move Forward Party and the seven parties agreeing to join its new coalition.
Korean Kim eliminates Ratchanok
Third seed Ratchanok Intanon suffered a shock 21-15, 14-21, 18-21 loss to unseeded South Korean Kim Ga-Eun in the first round of the Malaysia Masters in Kuala Lumpur on Wednesday.
MFP confident Pheu Thai won't walk away
Move Forward deputy leader Sirikanya Tansakun expresses confidence that Pheu Thai won't pull out of coalition amid disagreement over the post of House Speaker that both parties want.
Malaysia signs $2.3bn in defence deals at biennial fair
Malaysia's defence ministry on Thursday said it had signed agreements worth 10.1 billion ringgit (US$2.28 billion) at this year's biennial Langkawi Maritime and Aerospace (LIMA) exhibition, including several new asset procurements.
South Korea launches homegrown rocket
South Korea launched its homegrown Nuri rocket on Thursday, officials said, a day after it was forced to postpone due to a technical glitch just hours before lift-off.
Employers' group wary of MFP wage policy
The Employers' Confederation of Thai Trade and Industry (EconThai) on Thursday voiced apprehension over the possible impact on businesses of the Move Forward Party's wage policy.
Cambodian opposition party's election ban upheld
Cambodia's main opposition party on Thursday lost a bid to overturn its ban from the upcoming elections, paving the way for Prime Minister Hun Sen to run a one-horse race.
BP in vogelvlucht
26 mei – Wat biedt BP nog meer aan nieuws? Onderaan de voorpagina een 5-koloms bericht over het overlijden van rock-koningin Tina Turner met een foto waarop ze in haar karakteristieke houding staat. AFP noemt haar de trailblazing rocker whose powerful voice and imposing stage presence, thrilled global audiences for decades. Ik was geen fan van haar maar was wel onder de indruk van haar energieke optreden.
Verder op de pagina Employers wary of MFP's wage policy, een bericht dat ik al noemde in Nieuwsflitsen. Nieuw is BJT, Dems gain seats in EC vote tally. De Kiesraad (EC) heeft de telling van de stemmen afgerond en onthult een extra parlementszetel in een kiesdistrict in Prachin Buri voor Bhumjaithai (BJT) ten koste van Move Forward (MFP). In het party list systeem wonnen de Democraten een zetel ten koste van Palang Pracharath.
Het aanvankelijk genoemde aantal van 113 districtszetels voor MFP bedraagt dus 112. Gecombineerd telt MFP nu 151 zetels, Pheu Thai 141 en Bhumjaithai 71.
Pagina 2 telt zes berichten en drie fotoberichten. De grootste foto van vier kolommen bovenaan de voorpagina toont leerlingen in een school in Samut Prakan die zich bekwamen in e-commerce. Ze leren plaatjes te plaatsen, producten te ontwerpen en de verkoop te bevorderen.
De pagina opent met F-35 purchase now ruled out. Wat daarvan de reden is, kunt u lezen in Nieuwsflitsen.

Een vrij groot bericht geplaatst over vijf kolommen meldt UN notes Mekong region's 'agricultural potential'. Dat zei de FAO dinsdag op een seminar. Ook gemeld op de bijeenkomst: de illegale houtkap in de Lower Mekong region, die wordt gedeeld door Cambodja, Laos, Thailand en Vietnam, is afgenomen.
De overige berichten melden Vesak celebrations to make return, New road for border checkpoint  en Absentee factory owner to be charged. Meer dan 3.500 monniken uit 50 landen zullen begin juni in Thailand deelnemen aan een ceremonie ter ere van Vesak, of Visakha Bucha-dag. De twee andere berichten staan nog niet op de website en het bericht over verlenging van de noodtoestand in het Zuiden kent u al.
Ten slotte pagina 3, netto een halve pagina met drie berichten en een fotobericht. De advertentie noemt de buitenlandse uiversiteiten waarop de 480 geslaagden van de Bangkok Pattana school hun opleiding vervolgen. Het lijstje bevat vijf Nederlandse universiteiten: Tilburg, Amsterdam, Groningen, Utrecht en de VU.
De pagina opent met MFP to shield 'registered businesses'. Move Forward Party (MFP) verzekerde donderdag geregistreerde marihuanatelers en exploitanten van cannabisbedrijven dat ze beschermd zullen worden, zelfs als de nieuwe regering cannabis opnieuw op de lijst van verdovende middelen zet.
De overige berichten melden BMA to seek B90bn green light for 2024 budget en Police look at resale of cyanide.
• De gemeente Bangkok (BMA) gaat goedkeuring vragen voor 90 miljard baht op haar begroting voor 2024 en belooft haar beleid te herzien om gelijke tred te houden met zowel de wereldwijde trends als het beleid van het nieuwe kabinet.
• De politie gaat een aanklacht indienen tegen een bedrijf dat cyanideverbindingen importeerde en verkocht aan andere detailhandelaren. Uit een onderzoek is gebleken dat de vermeende seriemoordenaar, Sararat 'Aem Cyanide' Rangsiwuthaporn, de cyanide er had gekocht om ten minste 13 mensen te doden.
De foto toont MFP adjunct-partijleider Sirikanya die naar supporters wuift op een persbriefing over pogingen de Senaat te bewegen partijleider Pita te steunen om premier te worden.
---
Overpeinzing: Raw Deal
25 mei – Raar gezicht: Arnold Schwarzenegger (1947), keurig in het pak met zijn haar in vorm dankzij een lik brillcream, in de film Raw Deal,  een Amerikaanse actiefilm uit 1986, geregisseerd door John Irvin, naar een verhaal van Sergio Leone's scenarioschrijvers Luciano Vincenzoni en Sergio Donati. Maar hij was dan ook 39 jaar toen de film werd opgenomen.
De film vertelt het verhaal van een bejaarde en verbitterde hooggeplaatste FBI-chef, Harry Shannon, die wraak wil nemen op een maffiaorganisatie en een voormalig FBI-agent en nu een kleine sheriff Mark Kaminski (Schwarzenegger) op pad stuurt om de organisatie van binnenuit te vernietigen. De film kreeg negatieve recensies, met een brutowinst van $ 16,2 miljoen in de VS tegen een budget van $ 8-10 miljoen.
Raw Deal heeft een rating van 31% op Rotten Tomatoes op basis van 16 beoordelingen. Het door CinemaScore ondervraagde publiek gaf de film een gemiddeld cijfer van B op een A+ tot F-schaal.
Roger Ebert schreef: 'Deze plot is zo eenvoudig (en is al zo vaak verteld), dat misschien wel de meest verbazingwekkende prestatie van Raw Deal is dat hij het kan verpesten. Deze film is niet zomaar een puinhoop; de filmmakers moesten werken om hem zo verwarrend te maken.'
Vincent Canby van The New York Times schreef dat de film 'niet bepaald Oscar-materiaal is. Het zal de harten van wapenlobbyisten overal verwarmen, en het uiteindelijke aantal doden kan zelfs hoger zijn dan dat in 'Cobra' van Stallone. Toch slaagt Raw Deal er op de een of andere manier in om meetbaar minder aanstootgevend te zijn. Soms is het bijna grappig – opzettelijk.'
Een nieuwe dag, een nieuwe krant
25 mei – 3:49 uur wakker. Dat schiet niet op. Morpheus had me wel wat langer in zijn armen mogen houden want ik moet nu een kleine twee uur zien te overbruggen totdat de krant wordt bezorgd en ik aan het 'werk' kan. Werk tussen aanhalingstekens want is een hobby ook werk?
Om 5:27 uur brengt de nachtwaker de krant naar mijn kamer, maar ik laat hem nog even rijpen tot 6:45 uur totdat ik hem ontkurk. Prominent op de voorpagina zes foto's geplaatst over vijf kolommen tot over de vouw waardoor slechts een kwart pagina overblijft voor het bijbehorende openingsartikel Creating a 'better future'.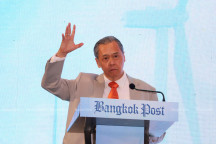 De zes sprekers  benadrukten op de Bangkok Post ESG-conferentie 2023 die woensdag werd gehouden, duurzaamheidskwesties en milieu, maatschappij en bestuur. In het Engels sustainability issues and environmental, social and governance (ESG).
De foto toont Banthoon Lamsam, emeritus voorzitter van de Kasikornbank, die de deelnemers aan de conferentie vertelde hoe het 'Nan-model' de kracht van duurzaamheid demonstreert. Klik op de link als u wilt weten wat het model inhoudt.
Verder alleen nog op de voorpagina Rift over Speaker's job erupts. De Move Forward Party (MFP) dringt erop aan dat de functie van House Speaker door haar moet worden vervuld te midden van berichten dat haar toekomstige coalitiepartner Pheu Thai op de voorzittershamer aast.
Ook het Business katern opent met de conferentie. Two firms claim green footprint zegt dat het Japanse autobedrijf Nissan Motor Thailand en de wereldwijde chemische fabrikant Indorama Ventures Plc regeringen helpen een schonere toekomst vorm te geven door meer emissievrije auto's te produceren en milieuvriendelijke productie toe te passen. Het artikel staat in een iets andere vorm als Nissan and IVL broaden green footprint op de website.
Life opent met een paginagroot verhaal plus een overlees van twee halve pagina's met twaalf foto's over het gevangeniswezen. Het verhaal onder de kop A gruesome reminder staat nog niet op de website. De intro meldt Uncover the chilling history of the nation's ever changing penal system at the Corrections Museum.
Het museum is gevestigd aan de Nonthaburi 1 Road op de oever van de Chao Phraya. Het bevat ruim driehonder martel en executie instrumenten, documenten, alledaagse voorwerpen, foto's en andere artefacten uit gevangenissen in het land.
Tot zover het 'papieren' nieuws van vandaag. Meer in BP in vogelvlucht na Nieuwsflitsen.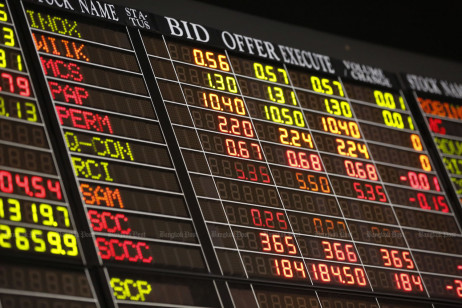 Nieuwsflitsen 25 mei
Markets fear long post-poll vacuum
Volatility is rising in local financial markets amid concern that investors will have to wait until August to find out whether Move Forward-led coalition will be able to form a new government. Foto: Long, nervous wait
14 bodies found in capsized Chinese boat
The Sri Lankan navy said on Wednesday that it had located 14 bodies inside a Chinese fishing boat that capsized last week with 39 crew on board.
Uniqlo latest big brand to quit Russia
The Japanese clothing brand Uniqlo has decided to leave Russia after suspending its operation there last year, paving the way for a sale of the business, the Izvestia newspaper quoted Russia's deputy trade minister as saying.
Illegal migrants caught on western border
Forty-nine Myanmar nationals were arrested and charged with illegal entry in Thong Pha Phum district of Kanchanaburi early on Wednesday.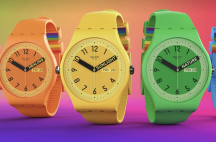 Malaysia seizes 'Pride' watches
Rainbow-coloured watches made by Swatch Group that celebrate LGBT rights have been confiscated by authorities in Malaysia, the company said on Wednesday.
Russia, China sign economic pacts
Russia's prime minister signed a set of agreements with China on Wednesday during a trip to Beijing, describing bilateral ties at an unprecedented high, despite disapproval from the West of their relationship as the war in Ukraine dragged on.
Bank of Thailand likely to raise policy rate next week
The Bank of Thailand (BoT) may raise the policy rate one last time at the end of the month after a steady pace of tightening since August helped bring inflation back to target in less than a year, according to analysts.
Fire in Thon Buri destroys 40 homes
A fire destroyed at least 40 houses in a community in Talat Phlu area of Bangkok on Wednesday morning. No casualties were reported.
Car production dips y/y, but exports surge
Car production in Thailand dropped 0.13% in April from a year earlier to 117,636 units as truck production fell, as auto exports soared that month from a low base, the Federation of Thai Industries said on Wednesday.
Teenagers resent social media and efforts to take it away
A high school freshman says he is trying to cut down on scrolling through TikTok, but questions whether age restrictions on social media use could ever effectively stop tech-savvy teenagers.
More Thais open to buying battery-powered vehicles
Some 31% of Thais are projected to choose a battery electric vehicle (BEV) as their next vehicle, the highest proportion within Southeast Asia, although internal combustion engine-powered cars remain the leading vehicle of choice among consumers in the region, according to a survey by business advisory Deloitte Thailand.
Exploring efforts to ease dollar volatility
Regulations have limited growth of yuan-baht trade payment even as the central banks of Thailand and China have encouraged local currency settlement for quite some time.
Traveloka reports uptick in demand
International flight sales to Thailand in the first quarter surpassed the tally in 2019, while the number of searches for Thai outbound flights and foreign accommodation increased 200%, according to online travel agent Traveloka.
Senators still unsure about backing Pita
The majority of senators have not yet decided if they will back Move Forward Party (MFP) leader Pita Limjaroenrat as prime minister, according to senator Wanchai Sornsiri.
Beer-loving MFP lawmaker takes aim at booze duopoly
Brewer-turned-politician Taopiphop Limjittrakorn has won re-election in Bangkok Constituency 22
as a Move Forward MP, and as part of the government he now aims to take on the country's alcohol duopoly. Taopiphop has been fighting to overhaul strict regulations for years, taking on Boon Rawd Brewery and ThaiBev, which have long had a stranglehold on the production of alcohol.
Activists seek to bring senators onside
Pro-democracy activists gathered in front of the Parliament building on Tuesday evening to send a strong message to 250 appointed senators not to vote against the massive electoral mandate delivered by the people.
Man arrested for murder of woman in Pattaya
A 39-year-old man arrested in Sakhon Nakhon for the murder of a young woman in a Pattaya apartment room has admitted he killed her over a 30,000 baht debt, according to police.
Japan firms invest $72m in floating nuclear plant project
About a dozen Japanese companies, including major shipbuilders, have invested a total of about 10 billion yen (US$72 million) in a British start-up developing floating offshore nuclear power plants, sources familiar with the matter said Wednesday.
Deaths soaring on overcrowded Everest
The latest climbing season on Mount Everest, the world's highest peak, is set to become one of the deadliest ever, raising questions about whether Nepal is issuing too many permits to maximise tourist revenue.
Over the past few weeks, 11 foreign mountaineers from countries including Australia, China and Malaysia died trying to summit Everest after the Nepali government issued a record 478 permits. Five local Sherpa climbing guides have also perished.
As the season draws to a close, at least two climbers are still missing and the number of fatalities could surpass the total logged in 2019, when images of massive traffic jams at the summit spread around the world.
Pheu Thai claims House speaker's position
Veteran Pheu Thai politician Adisorn Piangket says Move Forward should be satisified with the prime minister's post, the House speaker's job belongs to Pheu Thai.
Hotel giant Minor forecasts 'record year'
Minor International Plc (MINT), one of Asia's largest hotel operators, expects a record year for its hospitality business on pent-up travel demand and a recovery in Chinese tourists holidaying abroad.
Child rights advocate 'Khru Yun' facing charges
Police recommend charges against child rights advocate and former senator Montree "Khru Yun" Sinthawichai, who is accused of beating children in the care of his foundation and forcing them to work at his wife's resort in Samut Songkhram.
Creating a 'better future' through ESG
Sustainability issues and environmental, social and governance (ESG) were stressed at the Bangkok Post ESG Conference 2023 held on Wednesday. According to the speakers, ESG is increasingly recognised as a critical driver of long-term value and sustainability, and its influence is expected to continue growing.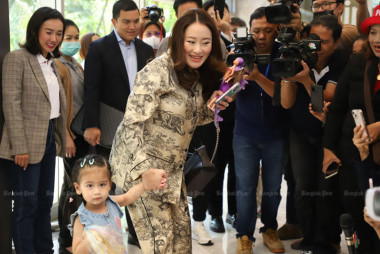 BP in vogelvlucht
25 mei, 8:54 uur – Wat biedt BP vandaag nog meer aan nieuws? Ook pagina 2 is met twee berichten geheel gewijd aan de Bangkok Post ESG conferentie. De pagina opent met ThaiBev CEO extols virtues of ESG model. Het tweede bericht meldt UOB chief champions rise of sustainable financing. Beide berichten zijn nog niet geplaatst op de website.
Ten slotte pagina 3 met zes berichten en een fotobericht. De pagina opent met Pheu Thai rebrand on cards after poll loss voorzien van een vierkoloms foto met Paetongtarn Shinawatra die haar dochtertje meenam naar een Pheu Thai party waarop de premierkandidate deelnam aan een forum. De dochter van Thaksin beviel enkele weken voor de verkiezing van 14 mei van een jongen.
Van de overige berichten noem ik Weed farms fret as MFP mulls U-turn. Gemeenschapsondernemingen die cannabis verbouwen op plantages in Nakhon Ratchasima dringen er bij de volgende regering op aan om alleen cannabistoppen als verdovend middelen te beschouwen.
De MFP en haar zeven coalitiepartners hebben dit onderwerp opgenomen in het Memorandum of Understanding (MoU) dat ze maandagavond ondertekenden en dat als beleidsrichtlijnen zal dienen voor de regering die ze samen willen vormen.
Een daarvan omvat het opnieuw op de lijst plaatsen van cannabis als verdovend middel en het invoeren van een wet om het gebruik ervan te reguleren. Maar de voorgenomen wijziging heeft geleid tot bezorgdheid bij gemeenschapsbedrijven die in kassen hebben geïnvesteerd om de plant te verbouwen met als doel die te verkopen.
Als uitsmijter nog twee berichten: Democrats defer electing new party leader en Arena injured receive King's patronage.
• De Democraten hebben de verkiezing van haar nieuwe leider en bestuursleden uitgesteld tot nadat de verkiezingscommissie (EC) klaar is met het certificeren van de 24 gekozen parlementsleden van de partij, aldus waarnemend partijwoordvoerder Ramet Rattanachaweng woensdag.
• De koning zal de medische kosten dekken van mensen die maandagavond gewond raakten toen een dak van een school instortte tijdens een storm in Phichit, zegt premier Prayut. Bij de ramp kwamen zeven personen om het leven en raakte zestien gewond.
---
Overpeinzing: Wie is Pita Limjaroenrat?
24 mei – Ik schreef eerder dat ik steeds meer waardering krijg voor Move Forward en partijleider Pita Limjaroenrat die bij de stembus het leger versloeg. Een lezer van NuT was zo attent mij een link te sturen naar een uitgebreid artikel in NRC over de historische overwinning. Ik neem het begin over en beveel het artikel verder ter lezing aan. Klik hier: Wie-is-Pita-Limjaroenrat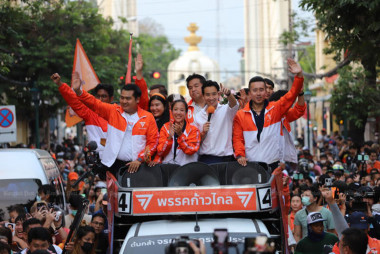 Als een popidool, maar dan wel in een kraakhelder wit overhemd, staand op het open dak van een partijbusje, werd Pita Limjaroenrat (42) daags na de uitslag door Bangkok gereden, toegejuicht door duizenden extatische kiezers. 'Onze dag is gekomen!' riep de voorman.
De leider van de progressieve oppositiepartij Move Forward (Phak kao Klai in het Thai) deelde een harde klap uit aan het regime, dat onder leiding van generaal Prayut Chan-Ocha in 2014 door een staatsgreep aan de macht kwam en sindsdien met juridische trucs en harde repressie aan de macht is gebleven.
Wie is Limjaroenrat? Heeft de charismatische premierskandidaat, ook bekend geworden door een societyhuwelijk met een Thaise tv-actrice, genoeg in huis om de revolutionaire beloftes waar te maken?
Limjaroenrat is in de verste verte niet te omschrijven als een rauwe, knoestige arbeidersleider uit een achterstandswijk. Hij is hoog opgeleid, uiterst beleefd en geboren in een welvarende familie. Hij studeerde aan de Harvard Kennedy School, een prestigieuze opleiding die zich richt op overheidsbeleid.
Daarnaast studeerde hij bedrijfskunde aan het Massachusetts Institute of Technology (MIT), waar hij met interesse campagne-activiteiten van medestudenten voor Barack Obama volgde. Zijn middelbare schooltijd bracht hij door in Nieuw-Zeeland. Hij verbleef bij een middenklasse gastoudergezin met wie hij over politiek praatte. 'Door mijn tijd in Nieuw-Zeeland en later in de Verenigde Staten heb ik geleerd om met andere ogen naar Thailand te kijken.'
Een nieuwe dag, een nieuwe krant
24 mei – Wakker om 5:33 uur, de krant is al naar mijn kamer gebracht. De temperatuur valt (nog) mee, maar dat zal niet lang meer duren. De voorpagina van BP, netto een 0,875 pagina, staat met twee berichten geheel in het teken van de verkiezingen.
De opening meldt MFP to go easy on wage hike, het tweede bericht inclusief de infographic Timeline to govern Senators still unsure about backing Pita. De meerderheid van de senatoren heeft nog niet besloten of ze de leider van de Move Forward Party (MFP) Pita Limjaroenrat als premier zullen steunen, zegt de outspoken (openhartig, vrijmoedig) senator Wanchai Sornsiri.
Vrijdag wisselden senatoren van gedachten wisselden over de kwestie, maar hun meningen vertegenwoordigden niet hun definitieve standpunt of gaven aan hoe ze zullen stemmen. Senatoren hebben drie opties: op Pita stemmen, niet op hem stemmen of zich van stemming onthouden, maar het is moeilijk te zeggen wat de meerderheid zal beslissen. Van verschillenden wordt verwacht dat ze pas op de dag van de stemming een beslissing zullen nemen, aldus Wanchai.
Noem alvast het bericht Prayut allays fears over transfer of power dat onderaan pagina 3 staat en zegt dat premier Prayut dinsdag de natie heeft verzekerd van een soepele overgang van de overgangsregering naar de nieuwe regering. Hij zei dat er voldoende maatregelen worden genomen om de economie tijdens het proces te ondersteunen. Toont Prayut zich een sportieve verliezer? Ik vraag het me af.
Het Business katern opent met B300 tourism fee remains in limbo. De nieuwe regering zal naar verwachting beslissen over het lot van de toeristenbelasting van 300 baht, die onzeker blijft vanwege barrières door onduidelijke implementatie.
Life opent met het paginagrote verhaal Turning trash into treasure. Entrepeneur Pavida Kritasaran laat de kracht van upcycling zien door gezonde yoghurt te maken van overgebleven kokosnoten. Op de tentoonstelling 'Waste to Health Showcase' in TDCD, Creative Space toont ze verschillende toepassingen.
Tot zover een eerste kennismaking met het 'papieren' nieuws van vandaag. Meer in BP in vogelvlucht en websitenieuws in Nieuwsflitsen.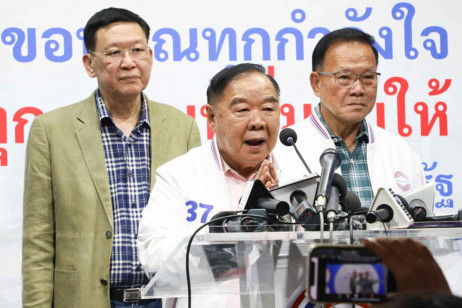 Nieuwsflitsen 24 mei
Prawit's party says it will not merge with Pheu Thai
Palang Pracharath secretary-general Santi Prompat says a speculated merger into Pheu Thai is "fake news" and Prawit Wongsuwon remains party leader, but does not rule out a partnership. Foto No merger
Brown Line work could start in 2025
The Mass Rapid Transit Authority of Thailand (MRTA) is preparing to do a feasibility study for the Brown Line monorail, which would link Khae Rai in Nonthaburi with Lam Sali in east Bangkok.
Sky-high airfares have peaked, says AirAsia chief
Airline ticket prices have peaked, at least in the market where the budget carrier AirAsia operates, according to its founder Tony Fernandes.
Giant panda 'died of old age'
Thai and Chinese experts have concluded that the giant panda Lin Hui died of old age last month at the Chiang Mai Zoo, where she had been well cared for over the past 20 years, according to the zoo director.
Chinese arrested for major fraud, waste smuggling
Four Chinese nationals, two wanted in China in separate major criminal fraud cases and two for smuggling plastic waste, have been arrested in Bangkok and two other provinces.
Pita promises reasonable wage rise, capped power tariff
Move Forward leader Pita Limjaroenrat said on Tuesday a coalition government under his leadership would ensure a reasonable annual increase in the minimum wage without damage to industry and the economy.
'No survivors' in capsized Chinese fishing vessel
There were no survivors after a fishing vessel carrying 17 Chinese, 17 Indonesian and five Filipino crew members capsized last week in the Indian Ocean, according to an initial Chinese government investigation report released on Tuesday.
Flash flood warnings
The National Water Command Centre has issued a warning for some provinces in all regions to brace for flash floods from May 27-June 1.
New cabinet in place by 2nd week of August
The new cabinet is expected to be in place by the second week of August, acting government spokesman Anucha Burapachaisri said on Tuesday.
Royal relief supplies flown to cyclone-hit Myanmar
Humanitarian supplies donated by Their Majesties the King and Queen were sent to Myanmar on Tuesday morning to help residents affected by Cyclone Mocha.
Airline apologises for staff mocking passengers' English
Cathay Pacific Airways apologised on Tuesday after a passenger accused its flight attendants of discriminating against non-English speakers in an online post that went viral on Chinese social media.
Leopards abound in Kaeng Krachan National Park
Sightings of panthers, or leopards, have become common in the Kaeng Krachan National Park in Phetchaburi province.
Thai FA imposes stiff penalties for SEA Games brawls
The Football Association of Thailand (FAT) on Tuesday handed out lengthy bans to two players, two officials and a coach over the brawls that marred the men's final at the Southeast Asian Games in Phnom Penh last week.
Aem Cyanide's lawyer faces police charges
A lawyer representing accused serial killer Sararat "Aem" Rangsiwuthaporn is suspected of helping her client destroy or conceal evidence of her alleged crimes.
Students killed when storm collapses school sports arena
Seven students were killed and 18 others injured when an open, roofed sports arena collapsed during a fierce storm at Ban Noen Po School in Sam Ngam district of Pichit on Monday evening.
UN reveals region's climate change bill
Most countries in Asia-Pacific require sizeable financing to support climate change adaptation and mitigation, says Escap.
TOP optimistic on outlook for oil trading this year
Thai Oil Plc expects a better outlook for oil trading this year, with the global demand and supply of oil believed to be almost equal.
Board of NBTC scraps telehealth
The National Broadcasting and Telecommunications Commission scraps its plan to develop a telehealth project valued at 3.8 billion baht.
Bad mortgage loans rise amid rate hikes
Non-performing mortgage loans (NPLs) increased in the first quarter of this year due to rising interest rates.
TAT to boost safety measures
The Tourism Authority of Thailand and Tourist Police Bureau have committed to strengthening safety measures for travellers.
IEAT expects uptick in H2
Foreign investment prospects are expected to remain good this year, although business people have delayed their investments pending the establishment of a new government, according to the Industrial Estate Authority of Thailand (IEAT) and key business leaders.
Sena shifts focus to affordable condos
Sena Development Plc will develop more low-priced and affordable condo projects in response to a potential decrease in purchasing power.
Political uncertainty taking toll on bourse
After losing 3% last week, the SET index is likely to remain on a downward trend amid lingering concerns and fiscal uncertainties after the general election.
BP in vogelvlucht
24 mei – Wat biedt BP nog meer aan nieuws in tekst en foto's? Op de voorpagina twee fotoberichten. De grootste van vier kolommen bovenaan de pagina met een foto van hulpgoederten die worden geladen in een toestel van de luchtmacht, bestemd voor de slachtoffers van de cycloon Mocha in Myanmar.
De andere foto van drie kolommen Keen for a taste toont minister van Handel Jurin die de Thaifex-Anuga Asia 2023 opent, de toonaangevende voedsel en dranken handelsbeurs in Azië. Naar verwachting zal die 70 miljard baht opbrengen en Thailand's positie als producent en exporteur van topkwaliteit voedsel benadrukken.
Pagina 2, netto een halve pagina, telt drie berichten en het fotobericht Rare sight met twee foto's van een zeldzame zwarte panter, moeder en welp, gefotografeerd met een cameraval in nationaal park Kaeng Krachan in Phetchaburi.
De pagina opent met Govt dodges anti-torture law bullet. De overgangsregering hoeft geen verantwoordelijkheid te nemen nadat het Constitutionele Hof het uitvoerend besluit tot schorsing van vier bepalingen van de anti-martelwet ongeldig heeft verklaard, zegt vice-premier Wissanu Krea-ngam.
De overige berichten melden Chinese suspects caught en All BMA kids to join 'Google Classroom'.
• De immigratiepolitie heeft een belangrijk lid van een Chinees Ponzi-netwerk gearresteerd dat in China wordt gezocht voor cybercriminaliteit, fraude en investeringszwendel.
• De gemeente Bangkok (BMA) heeft plannen aangekondigd om haar Google Classroom-project binnen de komende drie jaar uit te breiden naar alle 437 scholen die onder haar beheer vallen.
Ten slotte pagina 3 met vijf berichten en twee fotoberichten. De grootste foto bovenaan de pagina toont brokstukken die verspreid liggen rond een sportarena bij de Wat Noen Po school in Pichit die maandagnacht instortte. De foto staat bij het bericht 7 die as storm blows roof off sports arena, waarin gemeld wordt dat de ramp aan zeven personen het leven kostte en achttien anderen verwondde
De pagina opent met Prawit determined to stay on as PPRP leader. Prawit Wongsuwon, leider van de Palang Pracharath-partij (PPRP), heeft speculaties verworpen dat hij zal aftreden na de teleurstellende verkiezingsuitslag van de partij. Hij niet, anderen wel zoals destijds Abhisit die aftrad als partijleider van de Democraten.
Van de overige berichten kent u al het bericht dat Prayut sussende woorden sprak over de regeringswisseling. Nieuw zijn Weed shop near school suspended en Coalition MoU could land MFP in hot water: activists.
• Het Department of Thai Traditional and Alternative Medicine (DTAM) heeft de vergunning van een cannabiswinkel in de buurt van een bekende school aan Silom Road voor een maand geschorst.
• Een deel van het Memorandum of Understanding (MoU) dat maandag is ondertekend tussen de Move Forward Party (MFP) en zeven toekomstige coalitiepartners, zou een averechts effect kunnen hebben op de MFP als deze besluit de ultragevoelige wet op majesteitsschennis te wijzigen, hetgeen niet wordt vermeld in het pact, menen politieke activisten.
---
Overpeinzing: Dragon Blade
23 mei – Omdat ik twee spelers ken, Jackie Chan en John Cusack, keek ik langer dan gebruikelijk bij andere films op Mono29 naar  Dragon Blade, een Chinese historische actiefilm uit 2015.
In de film speelt Chan Huo An, de commandant van de Protection Squad of the Western Regions, een fictieve elitestrijdmacht, gecreëerd door de Han-dynastie om de vrede in de regio te bewaren. John Cusack speelt Lucius, een malafide Romeinse generaal die een bondgenootschap sluit met Huo An tegen Tiberius.
De film verhaalt dat Tiberius, een meedogenloze Romeinse leider, met zijn leger probeert de Zijderoute te veroveren. Echter, Huo An, de kapitein van de Silk Road Protection Squad, verenigt zich met overgelopen Romeinse elitetroepen om hem te dwarsbomen.
De belangrijkste opnamen begonnen op 15 april 2014 in Hengdian, China, met enkele vechtscènes. Ook werd gefilmd in Dunhuang en de Gobi-woestijn. De cast en crew ondervonden moeilijke filmomstandigheden vanwege de hitte, hun zware kostuums en lange filmuren.
Op een persconferentie tijdens het Beijing International Film Festival kondigden ster Jackie Chan en regisseur Daniel Lee aan dat de film in IMAX 3D zou worden uitgebracht op 19 februari 2015, de eerste dag van het Chinese Lunar New Year. Chan verklaarde dat hij de film had gemaakt om een boodschap van vrede voor de wereld uit te drukken.
Dragon Blade werd gemengd onthaald, maar werd geprezen om zijn grootschalige gevechtssequenties, productieontwerp en mix van stijlen uit zowel Hollywood als Oost-Aziatische cinema. Op Rotten Tomatoes heeft de film een goedkeuringsscore van 36% op basis van recensies van 47 critici, met een gemiddelde score van 4,62/10. De consensus van de site luidt: 'Dragon Blade is prachtig geënsceneerd en gechoreografeerd, maar tussen de gevechten door wordt de getalenteerde cast overweldigd door een saai verhaal en schokkerige montage.'
Maggie Lee van Variety juichte de film toe vanwege de algehele technische details en concludeerde dat het 'kolossaal amusement was met een solide techniek en geweldig slimme verhalen'. Clarence Tsui van The Hollywood Reporter complimenteerde Dragon Blade voor de filmkwaliteit en het scenario voor een voornamelijk Chinese productie. IGN zei: 'Het verhaal is onzin, maar Dragon Blade heeft een aantal coole vechtscènes dankzij de acties van Jackie Chan.'
In een negatieve recensie noemde Gabriel Chong van MovieXclusive.com Dragon Blade 'volkomen afschuwelijk in elk opzicht', hij had kritiek op de prestaties van de cast met de hoofdrol en inconsistente toonveranderingen. 'Inderdaad, Dragon Blade is een hete puinhoop en een spectaculaire mislukking, niet alleen door zijn ster maar ook door zijn regisseur, en bevestigt verder dat de eens zo veelbelovende carrières van Hollywood-sterren John Cusack en Adrien Brody op de klippen lopen.'
Indiase media gaven overwegend negatieve recensies over de film. Venky Vembu van The Hindu beweerde dat het 'een Chinese propagandistische film' was en bekritiseerde het gebrek aan subtiele boodschappen van de film en keurde de karakteriseringen af door te schrijven: 'Ik heb deze film in 3D bekeken, maar gezien de tweedimensionale aard van de kartonnen karakters, denk ik niet dat de derde D mijn kijkervaring enorm zou hebben verbeterd.'
Een nieuwe dag, een nieuwe krant
23 mei – Leuk toeval: werd wakker om 6:15 uur, het tijdstip waarop het eerste live journaal van Mono29 begon. Kan niet wakker zijn geworden door het geluid, want de tv staat op fluistervolume. De eerste beelden tonen de ondertekening van het Memorandum of Understanding waarin acht politieke partijen zich vastleggen de regering te vormen. Neem aan dat de krant er ook wel mee zal openen.
Thailand is er snel bij. In België kostte in 2020 de vorming van een nieuwe regering zeshonderd dagen. In Nederland was de langste kabinetsformatie die van het kabinet Rutte III. Die duurde 225 dagen.
En inderdaad opent de krant met het MoU onder de paginabrede kop Coalition hopefuls unveil pact. De opening meet een halve pagina inclusief een vierkoloms infographic met 25 beleidsvoornemens en vijf richtlijnen voor het landelijk bestuur.
Ik noem enkele opvallende (lees: controversiële) plannen: Pass a same sex marriage law, replace military conscription with voluntary  recruitment and limit the mandatory draft to wartime, terminate monopolies in all industries, including alcoholic drinks en reclassify cannabis as a narcotic and introduce a law to regulate its use. Zoals al eerder gemeld bevat het MoU geen woord over majesteitsschennis.
Boven de opening staat een vierkoloms foto met koningin Suthida die aan een weefgetouw werkt na de tentoonstelling Identity of Siam in Bitec Bang Na te hebben geopend. De tentoonstelling die tot 28 mei duurt, eerst koningin-moeder Sirikit die talrijke bijdragen leverde aan de promotie van Thaise ambachten, met name zijde.
Het Business katern opent met Warning over household debt surge. De National Economic and Social Development Council (NESDC) waarschuwt dat de torenhoge schuldenlast van huishoudens in Thailand een serieus probleem zal worden als de werkgelegenheid en de economie vertragen, zegt secretaris-generaal Danucha Pichayanan.
Tijdens een persconferentie over de economische vooruitzichten voor het eerste kwartaal van 2023 zei  Danucha dat aangezien de schulden van huishoudens de expansie van de binnenlandse consumptie kunnen belemmeren, de schuldherstructurering moet worden voortgezet naast financiële en fiscale discipline op zowel individueel als bedrijfsniveau.
In het vierde kwartaal van 2022 bedroeg de schuld van huishoudens 15,09 biljoen baht, 3,5% meer dan in hetzelfde kwartaal van 2021, goed voor 86,9% van het bbp.
Life opent met Struggling to survive. Nu de kosten van levensonderhoud stijgen, moet de overheid meer doen om kansarme kinderen van voldoende voeding te voorzien. Een enclave in Soi Sua Yai Uthit is de thuisbasis van de minima, waaronder voormalige plattelanders.
Tot zover het 'papieren' nieuws van vandaag. Wordt voortgezet in BP in vogelvlucht na Nieuwsflitsen.
Nieuwsflitsen 23 mei
No lese majeste changes in coalition MoU
The draft agreement between Move Forward and its seven coalition allies does not include changing the lese majeste law, but does cover rewriting the constitution, ending the monopoly on alcoholic beverages and relisting cannabis as a narcotic. Foto Policy details
Pentagon turns down Thailand's bid for F-35s
The United States Department of Defence has unofficially declined Thailand's bid to buy F-35 fighter jets, and instead offered F-16 Block 70 and F-15 eagle fighters, a Royal Thai Air Force source said.
Papua New Guinea, US sign security pact with eye on China
Papua New Guinea signed a defence pact with the United States on Monday, giving US forces access to its airfields and ports as Washington vies with China's expanding footprint in the Pacific region.
Q1 investment pledges rise jump 77% y-o-y, bad loans fall to 2.68%
Thailand's investment applications between January and March increased 77% from a year earlier to 186 billion baht ($5.4 billion), led by projects in the electronics, food and automobile sectors, the country's investment agency said on Monday.
Early warning systems send disaster deaths plunging: UN
Weather-related disasters have surged over the past 50 years, causing swelling economic damage even as early warning systems have meant dramatically fewer deaths, the United Nations said Monday.
'Future Yugoslavs' emerge in Serbia to resist nationalism
Every year, a small group of elderly people in well-worn World War II uniforms bedecked with Communist paraphernalia queue in Belgrade to pay their respects to their former leader, Josip Broz Tito.
Thai humanitarian aid for cyclone-hit Myanmar
Caretaker Prime Minister Prayut Chan-o-cha, on behalf of the Thai government, handed over humanitarian aid for victims of Cyclone Mocha to Myanmar ambassador U Chit Swe at Government House on Monday.
Covid-19 cases rise, related deaths up
The number of Covid-19 inpatients continued to increase and fatalities also rose over the past week, when schools reopened, the Department of Disease Control reported on Monday.
Khunying Porntip issues stern warning to Pita
The planned rally by the United Front of Thammasat and Demonstration (UFTD) in front of parliament in Kiak Kai area on Tuesday to pressure senators to vote for Move Forward Party leader Pita Limjaroenrat as prime minister could backfire and Mr Pita must accept the consequences, senator Khunying Porntip Rojanasunan posted on social media on Sunday.
China summons Japanese ambassador over G7 summit's hyping up of China-related issues
Chinese Vice Foreign Minister Sun Weidong summoned Japanese ambassador to China Hideo Tarumi on Sunday and lodged solemn representations over the G7 hyping up China-related issues at its Hiroshima summit.
Jobless rate lowest in 3 years as tourism rebounds
Thailand's unemployment rate hit a three-year low in the first quarter, the state planning agency said on Monday, declining to 1.05% from 1.15% in the last three months of 2022 as recovery in the crucial tourism industry strengthened.
Analysts concerned delay could hamper GDP, stocks
Stock market analysts have expressed unease about the post-election political situation, saying a delay in the formation of a new government would affect the country's GDP and encourage foreign investors to continue dumping Thai shares.
Forth Smart makes move into cafés
Forth Smart Service Plc, the country's largest top-up machine provider, is diversifying its business to cafés in the fourth quarter of this year to increase sales.
Weak economy hampers liquor upgrades
The Excise Department says current economic conditions are unfavourable, resulting in only one small, community-based entrepreneur applying for a licence to become a medium-sized liquor producer, says deputy director-general Kriengkrai Pattanaporn.
Crypto market aflutter
Last year was a rough one for cryptocurrencies as Bitcoin, the largest digital asset in the world, lost nearly 65% of its market value.
Meta hit with record 1.2-billion-euro fine over EU data rules
Facebook owner Meta has been fined a record 1.2 billion euros ($1.3 billion) for transferring EU user data to the United States in breach of a previous court ruling, Ireland's regulator announced Monday.
Fire destroys historic Philippine post office building
A huge fire destroyed a historic post office in the Philippine capital Manila, injuring seven people, officials said Monday.
More than 80 fire trucks were sent to the decades-old landmark after the blaze broke out late Sunday, the Bureau of Fire Protection said. Thick, black smoke billowed hundreds of metres into the sky as flames gutted the neo-classical Manila Central Post Office that overlooks the Pasig River.
It took firefighters more than seven hours to get the inferno under control. The whole building has burned down from the basement all the way to the fifth floor.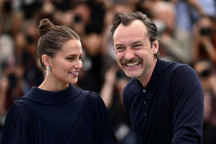 Monarchy is 'theatre', says Jude Law
Jude Law has become an immediate awards contender for his demonic performance as English King Henry VIII at Cannes, but he told reporters on Monday that he sees the current British monarchy as "theatre".
Law gives a brutish, scene-stealing turn as the 16th-century wife-killing monarch in "Firebrand", which premiered at the Cannes Film Festival late Sunday. Fat, fuming and with a stomach-turning infection in his leg, Law's version of Henry is one of the more disgusting tyrants ever put on film.
"Firebrand" focuses on Vikander's Parr, the only of Henry's sixth wives to outlive him and the first English woman to publish a book in her own name. It received fairly positive reviews at Cannes, though there is already controversy over its surprising and ahistorical ending.
Move Forward faces dissolution threat over royal insult law
Activist lawyer Theerayuth, who previously filed a complaint against Future Forward, seeks Move Forward's dissolution over the party's desire to amend the royal defamation law.
Coalition hopefuls seal deal to pursue major reforms but protect monarchy
The Move Forward Party (MFP) and its seven coalition allies sign a deal laying out an ambitious reform agenda while committing to protect the Thai monarchy.
BP in vogelvlucht
23 mei – Wat biedt BP nog meer aan nieuws dat niet al hiervoor is gemeld? De voorpagina kan ik overslaan want het tweede bericht over de aankoop van F-35 fighter jets kent u al uit Nieuwsflitsen.

Pagina 2 telt zes berichten en een fotobericht met een foto van reddingswerkers en paramedisch personeel die deelnemen aan een rampenoefening bij de Yad Phiman steiger in de Chao Phraya. De oefening, georganiseerd door de gemeente Bangkok, was een simulatie van een ongeluk waarbij een Chao Phraya Express veerboot tegen de steiger botste.
De pagina opent onder de paginabrede kop Calls grow to ban weed shops near schools. Het exploiteren van cannabiswinkels in de buurt van scholen is nog  steeds toegestaan, aangezien er nog geen specifieke wet is uitgevaardigd om de locaties van dergelijke vestigingen te controleren, zegt het Department of Thai Traditional and Alternative Medicine (DTAM). De intro meldt: Dispensaries soar amid lack of clear regulation.
Intussen (9:11 uur) wordt mijn aandacht getrokken door de film The hard corps omdat daarin een van mijn favoriete acteurs speelt, Jean-Claude van Damme. Hij speelt Phillip Sauvage, een soldaat die getraumatiseerd is door zijn tijd in Irak en Afghanistan, en als hoofdbodyguard wordt ingehuurd voor voormalig bokskampioen Wayne Barclay.
Verder op de pagina Court throws out Suttipong case, Govt told to answer for torture law, Leaders highlight regional economic 'strategy for change' en 7 Thais arrested for smuggling Chinese, en Myanmar storm victims to get aid, op de website geplaatst als Thai humanitarian aid for cyclone-hit Myanmar.
• De Central Criminal Court for Corruption and Misconduct Cases heeft een zaak afgewezen die was aangespannen tegen Suttipong Juljarern, de permanente secretaris van Binnenlandse Zaken, wegens vermeende belediging in het openbaar van een ondergeschikte en het kleineren van de universiteit waar laatstgenoemde afstudeerde.
• Een mensenrechtenadvocaat heeft maandag de regering opgeroepen om verantwoordelijkheid te tonen nadat het Constitutionele Hof een uitvoerend besluit tot opschorting van vier bepalingen van de nieuwe wet tegen foltering en gedwongen verdwijning ongeldig had verklaard.
• Het C Asean Forum 2023 is in Bangkok gehouden onder het thema 'Masterplan over Asean Connectivity: Strategy for Change'. Het forum van 17 mei werd ter plaatse en virtueel bijgewoond door afgevaardigden van over de hele wereld.
• Zeven Thais zijn gearresteerd voor het smokkelen van Chinese staatsburgers van Laos naar Thailand in zaken die de politie verder onderzoekt om te zien of ze banden hebben met callcenterbendes.
Ten slotte pagina 3, netto een halve pagina, met twee berichten. De pagina opent met 'No changes' so far to UTN Party leadership. Leden van de United Thai Nation (UTN) Party hebben maandag geruchten van tafel geveegd dat ze overwegen hun leider, Pirapan Salirathavibhaga, te vervangen. Ze zeggen dat ze dit niet zullen doen omdat de nieuwe partij een goede start heeft gemaakt en zal blijven verbeteren om publieke steun te winnen.
Het tweede bericht meldt Dems to lay out new leader election rules. De Democraten komen woensdag bijeen om richtlijnen vast te stellen voor het kiezen van een nieuwe leider. Ja, het blijft tobben met Thailand's oudste politieke partij. Een eerder bericht suggereerde dat voormalig partijleider Abhisit de partij weer gaat leiden. De partij heeft veel aanhang verloren omdat ze zich had aangesloten bij de juntaregering van Prayut.
---
Overpeinzing: Vice
22 mei – Is Mono29 soms verliefd op Bruce Willis want hij speelt zo'n beetje in elke film die het tv-kanaal de laatste tijd vertoont? Van sommige acteurs kan ik nooit genoeg films zien, zoals Gerard Dupardieu, Hugh Grant en Jean-Claude Van Damme, anderen beginnen me te vervelen zoals Willis, gisteravond actief in Vice, een Amerikaanse sciencefiction-actiefilm uit 2015, geregisseerd door Brian A. Miller en geschreven door Andre Fabrizio en Jeremy Passmore.
De plot volgt Julian Michaels (Willis), die een resort heeft geopend met twijfelachtige ethiek, waar mensen hun wildste fantasieën kunnen uitleven met de androïden van het resort. Wanneer een van de androïden, Kelly (Childers), bewust wordt en ontsnapt, bundelt ze haar krachten met rechercheur Roy Tedeschi (Jane) om Michaels neer te halen en zijn resort te vernietigen. De film werd neergesabeld door critici en wordt tot nu toe beschouwd als de slechtste film van Bruce Willis.
De opnames begonnen op 3 april 2014 in Mobile, Alabama. Een voormalige vrijmetselaarstempel, The Temple Downtown, werd gebruikt voor buitenopnamen van Evans verlaten kerkhuis. Buitenopnames die de futuristische stad voorstellen, zijn van en rond het centrum van Miami in Zuid-Florida.
De film heeft een goedkeuringsscore van 4% op Rotten Tomatoes op basis van 27 recensies met een gemiddelde beoordeling van 2,4/10 en een Metacritic-score van 17 van de 100 op basis van 14 beoordelingen.
Justin Chang van Variety noemde hem een 'meedogenloos middelmatige film die nauwelijks omgaat met zijn potentiële ideeën buiten het meest saaie verklarende, door kogels geteisterde niveau'. Chang zei dat Willis tegentype-casting leuk had kunnen zijn, maar Willis lijkt zich in plaats daarvan te vervelen.
Jeannette Catsoulis van The New York Times schreef dat de film 'absoluut niets heeft om hem aan te bevelen', en Robert Abele van de Los Angeles Times noemde hem 'dystopische sci-fi voor dummies'.
Ignatiy Vishnevetsky van The A.V. Club schreef dat hoewel Jane's acteerwerk niet geloofwaardig is, het leuk is om naar haar bizarre maniertjes te kijken, in vergelijking met de excentrieke optredens van Gary Busey.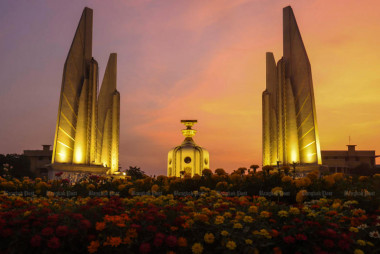 Een nieuwe dag, een nieuwe krant
22 mei – De acht toekomstige coalitiepartijen tekenen vandaag een Memorandum of Understanding, negen jaar nadat op 22 mei 2014 een coup een eind maakte aan de Pheu Thai regering.
Maar het controversiële voorstel van Move Forward om artikel 112 van de strafwet dat majesteitsschennis strafbaar stelt, te wijzigen, wordt waarschijnlijk niet in het lijstje opgenomen, omdat de coalitiepartners daarover nog steeds verdeeld zijn. Een bron bij MFP zegt dat MFP de zaak later aan de orde wil stellen in het parlement
Wijziging van het artikel wordt ook niet opgenomen in MFP's plan voor de eerste honderd dagen. De bron zegt dat de partij het wetsartikel niet als een time-sensitive matter beschouwt daar het careful consideration vereist.
De partijen die vandaag hun handtekening zetten in het Conrad Bangkok Hotel zijn MFP, Pheu Thai, Prachachart, Thai Sang Thai, Seri Ruam Thai, Fair, Palang Sangkhom Mai en Pheu Thai Ruam Phalang.
Ze tellen bij elkaar 113 zetels in het Huis van Afgevaardigden maar dat aantal is niet voldoende om MFP partijleider Pita te kiezen als premier. Daarvoor zijn 376 stemmen nodig, dus ook stemmen van senatoren.
Meer weten? Lees: MFP, allies to sign deal. De foto toont het verlichte Democracy Monument.
Een ander heet hangijzer, verhoging van het minimumdagloon, komt aan de orde in Sudden wage hike 'may lead to job losses.' De Move Forward Party zou Pheu Thai het economische beleid van het land moeten laten bepalen, zeggen zakenleiders. Ze waarschuwen dat een te hoge en te snelle loonsverhoging zou kunnen leiden tot banenverlies.
Pratheep Watcharachokkasem, vice-voorzitter van de United Chinese Clans Association of Thailand, zegt dat het moeilijk is om het land abrupt te veranderen. De MFP dient bereid te zijn tot compromissen en het plan van Pheu Thai te steunen om het minimumdagloon geleidelijk naar 400 baht te verhogen. Dat heeft de voorkeur boven MFP's voorstel het naar 450 baht op te trekken in combinatie met een 40-urige werkweek.
Als derde telt de voorpagina het achtergrondverhaal A matter of survival met een vervolg van een overlees op pagina 2. MFP zal Pheu Thai overschaduwen als deze weigert zich aan te passen, schrijven Aekarach Sattaburuth en Mongkol Bangprapa.
Hoewel velen geloven dat de overwinning van de MFP het politieke landschap zal veranderen, zal het voor de partij niet gemakkelijk zijn om haar belangrijkste beleid, met name militaire hervormingen, uit te voeren, aangezien ze weerstand zal ondervinden van het leger en de ambtenarij.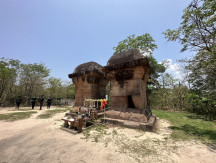 Al aangekondigd in het kadertje Reconnecting Preah Vihear op de voorpagina: Thailand wil dat Cambodja de 15 jaar geleden gesloten grens heropent. Pagina 2 besteedt er een verhaal van meer dan een halve pagina aan onder de kop Preah Vihear reopening a test. Thaise en Cambodjaanse troepen zijn optimistisch over de huidige betrekkingen, maar problemen zijn nooit ver weg van de gesloten  grensovergang.
Heb destijds veel geschreven over de tempelruïne die door het Internationale Hof van Justitie in Den Haag gevestigd in het Vredespaleis is toegewezen aan Cambodja.
Het Business katern opent vandaag met de analyse Leading the economy. Nu er een nieuwe coalitieregering in aantocht is, is de aandacht gericht op de benoeming van de cruciale economische ministeries met name op het ministerie van Financiën.

Life opent met A textbook case of failure. Kritiek op Pasa Patee voor leerlingen van groep 5 wijst op de noodzaak van een systeem van educatieve checks and balances. Hoofdstuk 9 Values of Life bevat volgens critici een romantisering van armoede. Het is niet de eerste keer dat het boek onder vuur ligt. In 2020 riep het kritiek op omdat het vrouwelijke leerlingen opriep hun maagdelijkheid hoog te achten.
Tot zover een eerste kennismaking met het 'papieren' nieuws van vandaag. Meer nieuws in Nieuwsflitsen en BP in vogelvlucht. Maar ga nu eerst ontbijten en een tukkie doen.
Nieuwsflitsen 22 mei
More Thai skilled workers wanted by Korean shipbuilders
A major shipbuilder is seeking more than a thousand skilled Thai labourers to join its workforce in South Korea.
Het Department of Employment has been informed by Samsung Heavy Industries, a major shipbuilding company in South Korea, that it wants another 1,227 Thai skilled labourers for its workforce. The 1,227 wanted labourers include 527 welders, 500 painters and 200 electricians – with monthly salaries of 2.5 million – 3 million Korean won.
"South Korea is becoming an aged society and has begun to run short of skilled workers,"  Labour Minister Suchart Chomklin said on Sunday. "So they are offering high salaries and overtime for foreign skilled workers to work in the country, particularly in the shipbuilding industry. This is a good opportunity as Thai skilled workers are acceptable to foreign employers."
G7 stiffens resolve to thwart Russia, engage warily with China
The Group of Seven (G7) rich nations signalled to Russia their readiness to stand by Ukraine for the long haul while giving President Volodymyr Zelensky a chance to win over countries such as Brazil and India on the last day of a summit in Japan.
Air strikes shake Khartoum as Sudan rivals agree 1-week ceasefire
Air strikes and artillery exchanges shook the Sudanese capital Saturday and armed men ransacked the Qatari embassy as the country's warring generals kept up their struggle for control even as they agreed to a brief humanitarian pause.
China's power use up 4.7% in first four months
China's electricity consumption, a key barometer of economic activity, saw a steady expansion in the first four months of the year, official data showed.
Most people satisfied with election results: poll
Most people are satisfied with the overall election results, saying they would still vote the same way they did on May 14 if there were a new election, according to the results of an opinion survey by the National Institute of Development Administration, or Nida Poll.
New govt coalition parties yet to agree terms
Potential governing coalition parties have yet to agree on the terms of a memorandum of understanding expected on Monday, says a senior Move Forward official.
Rally against senators planned for May 23
A rally has been planned for May 23 in front of Parliament in Bangkok's Kiak Kai area to apply pressure on the 250 members of the Senate not to vote against the people's resolve for the Move Forward Party to form a government with Pita Limjaroenrat as prime minister.
Foto: A screenshot of the Facebook page of the United Front of Thammasat and Demonstration (UFTD) with a message that reads "Senators must not vote against the people's resolution."
55% of mainland Chinese back full-scale war to take control of Taiwan: poll
Just over half of mainland Chinese support a full-scale war to take control of Taiwan, according to a new survey that offers a rare insight into public opinion as Beijing takes an increasingly assertive stance towards the island.
BP in vogelvlucht
22 mei – Wat biedt BP vandaag nog meer aan nieuws dat niet al hiervoor is genoemd? Op pagina 2 alleen het bericht Bangkok Pride parade on June 4. Op 4 juni wordt een Pride-parade gehouden in Bangkok onder het thema 'Door to Equal Asia', aangezien Thailand de World Pride 2028 wil organiseren.
Waaddao Chumaporn, oprichter van de Bangkok Pride, zegt dat de parade groter zal zijn dan die van vorig jaar. Het evenement van dit jaar wordt mede georganiseerd door Naruemit Pride, de gemeente Bangkok (BMA, Bangkok Metropolitan Administration), meer dan 40 maatschappelijke organisaties en leden van de particuliere en publieke sector.
Ten slotte pagina 3, netto een halve pagina ditmaal met een advertentie waarin het concert van het Royal Bangkok Symphony Orchestra op 22 mei in Parijs word aangekondigd. Het orkest maakt momenteel een Europese tour.
De pagina telt drie berichten en een fotobericht met een foto van een man die een schaduwpoppenspel uitvoert in Seacon Bangkae Mall in Bangkok ter promotie van de zuidelijke cultuur, kunst en voedsel in de provincie Phatthalung.
De pagina opent met EC looking into Pita's shareholdings. De Kiesraad (EC) zal naar verwachting beslissen of de leider van de Move Forward Party (MFP), Pita Limjaroenrat, in aanmerking kwam om deel te nemen aan de verkiezingen, vanwege zijn aandelenbezit in een mediabedrijf.
Volgens een bron is de EC bezig met het onderzoeken van een petitie die is ingediend door Ruangkrai Leekitwattana, een parlementslid van Palang Pracharath (PPRP). Hij heeft Pita bij de raad aangegeven omdat hij zijn eigendom van 42.000 aandelen in iTV, een geregistreerd mediabedrijf, niet had gemeld aan de National Anti-Corruption Commission (NACC) voordat hij in 2019 aantrad als parlementslid.
Verder op de pagina Roadshow in South Korea sparks investor interest en UFTD rally to pressure senators (al genoemd in Nieuwsflitsen). De Industrial Estate Authority of Thailand (IEAT) zegt dat een investeringsroadshow in Zuid-Korea op 15 en 18 mei, in samenwerking met de Board of Investment of Thailand (BOI), een succes was.
---
Een nieuwe dag, een nieuwe krant
21 mei – Met Conflict or coup, warns academic opent de krant vandaag naast een vierkoloms foto tot de vouw met meiden die een K-Pop dans uitvoeren tijdens de Incheon Softpower Roadshow 2023 in Samyan Mitrtown, een winkelcentrum dat ik elke dag passeer op weg naar restaurant Sarica waar ik doorgaans de middagmaaltijd gebruik. Als ik me een beetje uitrek kan ik het zelfs zien vanuit het restaurant.
BP schrijft: Conflicten en een nieuwe staatsgreep zouden kunnen plaatsvinden als de Move Forward Party (MFP) er niet in slaagt een coalitieregering te vormen, waarschuwt een academicus. Phichai Ratnatilaka Na Bhuket, programmadirecteur voor politiek en ontwikkelingsstrategie bij het National Institute of Development Administration (Nida), beschreef zaterdag op Facebook mogelijke scenario's voor wat er zou gebeuren als de MFP een regering kan vormen en wat er zou gebeuren als de partij er niet in slaagt.
De door de MFP geleide coalitie, die nu in totaal 313 parlementsleden telt, zal de nieuwe regering vormen als ze de steun van ten minste 66 senatoren kan krijgen, zegt hij. 'De MFP heeft de legitimiteit om een regering te vormen. Haar leider, Pita Limjaroenrat, valt op tussen de andere premierskandidaten omdat hij de steun heeft van kiezers en internationale erkenning heeft gekregen. Met de MFP die de regering leidt, zal de politiek stabiliseren, terwijl de democratie zal gedijen en de economie vooruit zal gaan. Thailand zal in hoog aanzien staan bij andere landen.'
Zoals gebruikelijk op zondag bestaat de krant uit drie katernen: Nieuws, Sunday Comics en Spotlight met artikelen uit de New York Times, maar die hebben zelden tot nooit betrekking op Azië.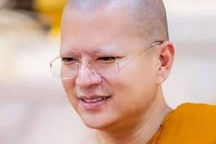 De voorpagina van het eerste katern telt vier berichten, waarvan het grootste met een overlees van een kwart pagina 3. Het is een achtergrondverhaal over de fraude met tempelfondsen, getiteld CIB mulls temple fund investigations. Een portretje toont een van de twee aangehouden booswichten, Phra Vajirayankosol, oprichter van Wat Pah Dhammakhiri, een klooster in een bos in Korat.
Het Central Investigation Bureau heeft de Anti-Corruption Division de opdracht gegeven samen te werken met het National Office of Buddhism om een einde te maken aan financiële misdrijven en seksueel wangedrag door monniken.
De overige twee berichten melden MFP supporters nix plan for Korn to join en Safety rules for Tham Luang Cave visitors.
• De Move Forward Party (MFP) heeft gisteren de New en Chartpattanakla-partijen gedumpt uit de voorgestelde coalitie-opstelling, na kritiek van haar (of hun?) aanhangers.
• Het Department of National Parks, Wildlife and Plant Conservation heeft aangekondigd dat er veiligheidsmaatregelen zullen worden genomen in de aanloop naar de heropening van de Tham Luang-grot in juli. U weet wel, de grot waarin een voetbalteam en de coach bekneld hebben gezeten omdat die vol gelopen was met water. De reddingsoperatie was destijds groot nieuws.
Pagina 2 telt vier berichten en twee fotoberichten. De grootste foto van drie kolommen bovenaan de pagina Summer's Swan Song toont het nieuw geopende 27 rai grote Patthumwannanurak park aan de Ratchadamri Rd. Het park is het laatste groene gebied in de hoofdstad, elke dag geopend van 10 tot 18 uur.
De pagina opent met Exports of rice surge to 2.8m tonnes. De rijstexport bedroeg van januari tot april meer dan 2,79 miljoen ton. De regering verwacht dat het volume voor het hele jaar meer dan 8 miljoen ton zal bedragen.
De overige berichten melden Hajj-goers get health support team, Police bust porn chat group with minors en MRTA extends contract for Pink Line by 345 days.
• Het ministerie van Volksgezondheid zal dit jaar 42 medisch personeel sturen om Thaise moslims te begeleiden die deelnemen aan de hadj in Saoedi-Arabië.
• In Chiang Mai is een man gearresteerd voor het runnen van een Line-chatgroep die lidmaatschapsgelden vraagt om pornografische videoclips met minderjarigen te kunnen bekijken.
• De Mass Rapid Transit Authority of Thailand (MRTA) heeft het contract voor het Pink Line-monorailproject met nog eens 345 dagen verlengd, de derde verlenging die ze heeft verleend.
Ten slotte pagina 3, netto een drie kwart pagina, met drie berichten, de overlees van het achtergrondverhaal op de voorpagina, en een 4-koloms fotobericht bovenaan de pagina.
De foto Stay cool, my love toont een man die een draagbare elektrische ventilator voor het gezicht van zijn vriendin houdt tijdens hun bezoek aan de City Scape fototentoonstelling in het Mahakan Fort, georganiseerd door de Royal Photographic Society of Thailand.
De pagina opent met 10m foreign tourists since January: govt. Thailand heeft sinds januari bijna 10 miljoen buitenlandse toeristen verwelkomd, goed voor een omzet van ongeveer 391 miljard baht.
De regering verwacht dat het aantal Chinese toeristen dit jaar de zeven miljoen zal bereiken.
Het tweede grootste bericht zegt Korea launches Bangkok charm offensive. Incheon Metropolitan City en Incheon Tourism Organization organiseerden vrijdag hun eerste roadshow in het koninkrijk om handel en toerisme te stimuleren.
Als laatste noem ik Chiang Saen police arrest four bribery suspects. De politie heeft gisteren in het district Chiang Saen in Chiang Rai een groep verdachten gearresteerd die betrokken waren bij het aanbieden van steekpenningen om de vrijlating te bewerkstelligen van vier Chinezen die eerder waren opgepakt wegens illegale binnenkomst in het koninkrijk.
Ondertussen vraagt Mono29 mijn aandacht voor Black Lightning, een Russische superheldenfilm uit 2009, geregisseerd door Alexandr Voitinsky en Dmitriy Kiselev, en geproduceerd door Timur Bekmambetov. Een student uit Moskou komt per ongeluk in het bezit van een vliegmachine. Hij gebruikt het niet alleen om files te vermijden, maar ook om de verdediger van de stad te worden tegen de krachten van de misdaad. Een loffelijk streven, maar ik ga er niet naar kijken.
Nieuwsflitsen 21 mei
Move Forward reverses decision to include Chartpattanakla
Move Forward drops Chartpattanakla from its coalition after furious backlash from supporters, while the one-member New Party pulls out after some comments about lese-majeste go viral.
Suwat: Chartpattanakla not bothered by fuss
Veteran politician Suwat Liptapanlop says he has no hard feelings after talks for his Chartpattanakla Party to join the Move Forward coalition fell through.
Northeast pleased with MFP-led coalition – survey
A majority of people in northeastern Thailand are satisfied with the formula for the formation of a coalition government led by Move Forward Party (MFP) leader Pita Limjaroenrat, according to a survey by E-Saan Poll.
G7 to agree tools to counter Chinese economic 'coercion'
The Group of Seven (G7) will agree Saturday on a "common set of tools" to combat economic "coercion" and limit the risk that high-tech exports to China undermine national security, a top United States official said.
Foreign tourists hit 9.47 million, driven by Asian tourists
Thailand has welcomed 9.47 million foreign tourists so far this year, generating about 391 billion baht (US$11 billion) of revenue, according to government spokeswoman Traisuree Taisaranakul.
Democrats deny bid to join MFP-led coalition
Key Democrat figures rejected media reports that the party was seeking to join the coalition led by the Move Forward Party.
Investors cheer signs of end to US debt drama
RECAP: Asian shares rose on Friday as increased hopes of a deal over the US debt ceiling and strong economic data lifted sentiment, while Japan's Nikkei index jumped to its highest level in nearly 33 years.
Senator indicted over drug ties
Public prosecutors decided to indict Senator Upakit Pachirirangkun with money laundering and a related criminal charge.
Survey: One-third of Asians contribute to retirement fund
One-third of people surveyed in Asia reported they make regular contributions to a retirement fund in an effort to improve their financial health, according to recent research by insurance firm Prudential.
BG aim to stop Buriram
New BG Pathum United coach Thongchai Sukkoki aims to derail Buriram United's treble bid when they meet in the League Cup final on Saturday.
Thailand make painful exit against Japan in quarters
Thailand bowed out in the quarter-finals of the BWF Sudirman Cup 2023 in Suzhou, China, on Friday.
Noble unfazed by potential wage hikes
SET-listed Noble Development is unconcerned by the expected new government's pledges regarding minimum wage hikes as it has already included them in new cost estimates.
Cannes gets rare look at real life in Chinese factories
Chinese filmmaker Wang Bing got incredible access to the inner workings of his country's textile industry by spending five years with its employees, but he fears it may be more difficult for him to work there in future.
Police seize over 260 smuggled 2-way radios
More than 260 illegal communication devices, being stocked for online sale, have been seized during a police raid in Bangkok. Foto
iLaw addresses Election Day complaints
Restrictions on photographing the ballot counting at polling stations on Election Day were the primary concern among the complaints filed with the Internet Dialogue on Law Reform (iLaw).
Move Forward rallying senators to back coalition
Move Forward expresses confidence in its effort to persuade more senators to support its proposed coalition government and name its leader, Pita Limjaroenrat, as PM.
Police bust porn chat group with minors
A man has been arrested in Chiang Mai for running a Line chat group that charged people membership fees to watch pornographic video clips involving minors.
Greece recovers hundreds of looted antiquities
Greece said it has recovered hundreds of looted artefacts including a second-century bronze statue of Alexander the Great from a notorious British antiquities dealer after a 17-year legal battle.
---
Overpeinzing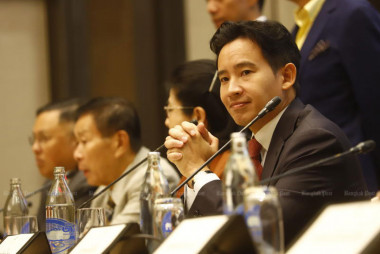 20 mei – Ik krijg steeds meer bewondering voor Move Forward, de partij die de verkiezingen met een ruime voorsprong op de andere partijen heeft gewonnen.
De partij maakte gisteren bekend dat de coalitiepartners niet de door haar gewenste verandering van artikel 112, het beruchte artikel dat majesteitsschennis strafbaar stelt, hoeven te steunen.
Slimme taktische zet want nu is een belangrijke angel weggehaald uit de vorming van een nieuwe regering en de verkiezing van MFP partijleider Pita tot premier.
Zelfs in de oerconservatieve Senaat gingen trouwens al stemmen op om Pita niet dwars te zitten gezien de steun van de kiezers voor de partij. Ik durf nu wel te stellen dat Thailand afstevent op een betere regering en een betere premier.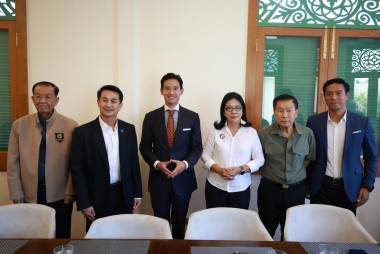 Een nieuwe dag, een nieuwe krant
20 mei – Weet niet hoe laat de krant is neergedwarreld op mijn bed maar om 5:46 uur lag hij er met twee katernen: Nieuws en Weekend Business. Nu een regering van acht partijen in de steigers staat, gaat de jostle beginnen over kabinetsposten. Dat meldt BP in de paginabrede openingskop Parties jostle over cabinet posts.
Move Forward Party (MFP) kijkt naar belangrijke kabinetsposten die te maken hebben met financiën, buitenlandse zaken, defensie en energie, terwijl Pheu Thai economische portefeuilles aangeboden krijgt zoals de ministeries van transport, handel en industrie, aldus bronnen.
De bronnen zeggen dat de MFP Pheu Thai heeft geïnformeerd dat het de leiding zal nemen over de ministeries die veiligheidszaken behandelen om aan te dringen op militaire hervormingen en decentralisatie, en toezicht zal houden op de ontwikkeling van menselijke hulpbronnen, die allemaal deel uitmaken van zijn verkiezingsplatform.
De bronnen zeggen verder dat de MFP ook wil dat zijn leider, Pita Limjaroenrat, die wordt getipt om de volgende premier te worden, tegelijkertijd minister van Buitenlandse Zaken wordt, aangezien hij Thailand op het wereldtoneel zal vertegenwoordigen nadat de coalitieregering is gevormd.
Een tweede bericht op de voorpagina, eveneens onder een paginabrede kop meldt Pheu Thai urges MFP to leave S112 amendments out of pact.
Pheu Thai drong er vrijdag bij Move Forward Party (MFP) op aan haar voornemen te heroverwegen om een voorstel tot wijziging van de wet op majesteitsschennis op te nemen in een memorandum van overeenstemming (MoU) dat de MFP toekomstige coalitiepartners vraagt te ondertekenen voordat ze doorgaan met het vormen van een nieuwe regering. De vrouw op de foto is Paetongtarn Shinawatra.
Verder prominent in het hart van de pagina een fotobericht van vijf kolommen met een foto van gemeentearbeiders die een beschadigd deel van de oever van het Prem Pachanakorn kanaal bij de Rama IV Road in het district Dusit repareren. De BMA (gemeenteBangkok) baggert ook het kanaal uit ter voorbereiding van het regenseizoen.
Staat bij het bericht Drier-than-average rainy season tipped for this year. Maandag gaat het regenseizoen officieel van start met dit jaar minder regen voorspeld door het weerfenomeen El Nino, zo maakte het Meteorological Department vrijdag bekend.
Kijk ondertussen op Mono29 naar de Thaise film Call me bad girl uit 2014. Butsaba is een 'verwend nest' dat op een avond met haar vriendinnen gaat feesten en een weddenschap aangaat over de volgende man die de bar binnenloopt.

Die man blijkt Nueasamut te zijn, een lange en knappe zakenman die in alle opzichten perfect lijkt. Butsaba, volgens de weddenschap, bedriegt hem om voor haar te vallen en laat hem dan vallen zoals ze zou moeten, maar het laat ze allebei alleen maar diepbedroefd achter. Butsaba heeft spijt van haar beslissing en zal de concurrentie moeten verslaan om Nueasamut terug te krijgen.
Het Weekend Business katern opent met Snub of tourism post ignites rancour. Touroperators zeggen dat ze teleurgesteld zouden zijn als de minister van toerisme en sport niet op de verlanglijst van de twee grote politieke partijen staat, zoals door de media is gespeculeerd, gezien het feit dat de sector de binnenlandse economie aandrijft.
Tot zover een eerste kennismaking met het 'papieren' nieuws van vandaag. Meer nieuws in Nieuwsflitsen en BP in vogelvlucht. Ik ga nu (8:16 uur) eerst ontbijten en misschien een tukkie doen.
Nieuwsflitsen 20 mei
Cyclone Mocha death toll reaches 145 in Myanmar
The death toll from Cyclone Mocha has reached 145 in Myanmar with the majority Rohingya refugees, after the region's most powerful storm in more than a decade hit at the weekend.
Flights from China surge 98%, says Aerothai
The number of flights between China and Thailand continues to increase but remains below the pre-pandemic level, according to Aeronautical Radio of Thailand (Aerothai) Co Ltd president Nopasit Chakpitak.
District chief charged with demanding bribes
A district chief was arrested at his office in Nakhon Sawan on Friday for allegedly demanding bribes from a cockfighting operator.
Singapore's rent growth set to cool
Rental growth in Singapore is expected to moderate for the rest of this year on more supply and macroeconomic headwinds, providing some respite for tenants struggling with soaring housing costs.
Coalition talks spook markets amid split over LM
Thailand's pro-democracy parties faced built-in obstacles to forming a government even before a historic win in Sunday's general election. Now that resistance is starting to take shape, making investors wary of a protracted political uncertainty.
US to unveil 'significant' new Russia sanctions at G7
The United States unveiled "significant" new sanctions targeting Russia's "war machine" on Friday, as President Joe Biden meets fellow G7 leaders in Japan.
Pannika acquitted over decade-old Facebook posts
The Criminal Court on Friday acquitted Pannika Wanich, a campaign assistant of the Move Forward Party, of a Computer Crime Act violation stemming from Facebook posts she made a decade ago.
Vietnam PM issues power shortage warning
Vietnam faces power shortages in some areas through late this month as electricity use rises due to a heat wave, Prime Minister Pham Minh Chinh warned.
MFP: Coalition partners 'don't have to back 112 changes'
Move Forward deputy leader Sirikanya Tansakun says coalition partners need not support its stance on amending the royal defamation law, as the party seeks to win backing to form a government.
PTT expects LNG import surge this year

The national oil and gas conglomerate PTT Plc plans to increase liquefied natural gas (LNG) imports to 6 million tonnes this year, up from 3.3 million in 2022, in line with growing demand in the power sector driven by the tourism recovery. Foto
MFP denies reports it's taking Grade A ministries
A senior Move Forward Party (MFP) executive has dismissed as untrue media reports that his party has been allocated so-called Grade A ministries, saying the issue has not been finalised.
Asian fans flock to 'Crash Landing' site in Switzerland
Asian tourists are flocking to a small Swiss village where where a key scene in the Korean blockbuster 'Crash Landing on You' was filmed. Locals have mixed feelings about all the attention.
Russia ready to kick out Greenpeace
Russia on Friday declared the environmental group Greenpeace an "undesirable organisation", effectively banning it from operating in the country.
AstraZeneca China boss pledges to 'love the Communist Party'
The global drugmaker AstraZeneca will seek to be a patriotic company in China that "loves the Communist Party", its China president said on Friday.
Beaming Assad welcomed back to Arab League
Every handshake would count, and Syrian President Bashar al-Assad had plenty of them at Friday's Arab League summit — along with hugs and kisses — from his onetime foes in the region.
BP in vogelvlucht
20 mei – Wat biedt BP nog meer aan nieuws vandaag dat niet al hiervoor is genoemd? Op de voorpagina resteert slechts één bericht Flights to and from China on slow rise. Het aantal vluchten tussen China en Thailand neemt toe, maar blijft onder het niveau van voor de pandemie, aldus Nopasit Chakpitak, president van Aeronautical Radio of Thailand (Aerothai) Co Ltd.
Dat kan kloppen. In mijn vaste eethuis Sarica aan de Surawong Rd zie ik voornamelijk Japanners, maar  Chinezen heb ik er nog niet gezien. Japanners zijn  trouwens te prefereren boven Chinezen want ze geven meer geld uit. Gebruik vandaag ook weer de warme maaltijd in mijn 'clubhuis' zoals ik het restaurant noem.
Pagina 2 telt zes berichten en drie fotoberichten. Het grootste fotobericht bovenaan de pagina meet vier kolommen; de foto toont werknemers van het Department of Medical Sciences die gratis bloeddruk en zuurstofniveau meten in het Ministry Public of Health station in Nonthaburi. Ze zijn er vroeg bij want 17 mei is World Hypertension Day.
De pagina opent met Chuvit irked by weed cafe near school. Chuvit Kamolvisit, een voormalig massagesalon-magnaat, politicus en fervent criticus van cannabislegalisering, heeft er bij de nieuwe regering op aangedrongen om cannabis opnieuw als verdovend middel aan te merken vanwege zorgen over de verkoop van wiet in de buurt van scholen.
De overige berichten hoef ik met uitzondering van twee niet te noemen, want die kent u al uit Nieuwsflitsen. Teachers to get interest rate debt relief from co-ops meldt dat meer dan de helft van de lerarencoöperaties in het hele land de rente heeft verlaagd op schulden van leraren die met toenemende financiële problemen te kampen hebben. Aldus het Cooperative Promotion Department (CPD).
Het andere nieuwe bericht zegt US officials warn over bird flu risk. De Amerikaanse Centers for Disease Control and Prevention (CDC) hebben gewaarschuwd om uit de buurt te blijven van wilde vogels en ziek of stervend pluimvee om de verspreiding van het vogelgriepvirus te beperken.
Pagina 3 is netto een halve pagina door een advertentie van dezelfde grootte over de Europese tour van het Royal Bangkok Symphony Orchestra. Het orkest strijkt op 20 mei neer in de Herkulessaal in München.
De pagina opent onder de paginabrede kop Dems deny bid to join MFP-led coalition. Noem alvast een websitebericht dat ook betrekking heeft op de coalitievorming: Move Forward reverses decision to include Chartpattanakla in coalition. De coalitie telt nu weer zeven partijen want Move Forward heeft besloten om Chartpattanakla niet in haar alliantie op te nemen vanwege sterke tegenstand van haar leden en aanhangers.
De twee overige berichten op de pagina melden Prayut to retain role as UTN's chief strategist en Nakhon Pathom polling station to hold revote.
• Premier Prayut verlaat de United Thai Nation Party (UTN) niet en blijft hoofdstrateeg van de partij, zei partijleider Pirapan Salirathavibhaga gisteren. Van die omhoog gevallen soldaat horen we nooit meer iets, vermoed ik.
• De Kiesraad (EC) heeft een herstemming bevolen in een stembureau in het Muang-district van Nakhon Pathom, nadat hevige regenval en harde wind het stemmen afgelopen zondag verstoorden.
---
Voor supporters brachten prins Harry en zijn vrouw Meghan, die dinsdagavond door de straten van New York werden achtervolgd door paparazzi, herinneringen terug aan de dood van zijn moeder prinses Diana en belichaamden ze de intimidatie en indringing door de media die ze ondergaan.
CNN schrijft dat het om een chaotische achtervolging ging die tot een 'catastrofale' afloop had kunnen leiden, zo beweerde hun woordvoerder.
Persoonlijke noot: In het geval van Diana was haar chauffeur dronken. In dit geval hadden ze moeten stoppen en poseren voor de fotografen om daarna hun weg te vervolgen, zich keurig houdend aan de verkeersregels. Ik zeg: Neem zelf de regie in handen en laat je niet opjutten door de paparazzi.
Een nieuwe dag, een nieuwe krant
19 mei – More senators back Pita's bid to be prime minister meldt BP vandaag op de voorpagina. Hoewel niet de opening zou dat goed nieuws zijn en Pita's kansen om de nieuwe premier te worden, veilig stellen.
BP schrijft: Een groeiend aantal senatoren schaart zich achter het bod van Pita Limjaroenrat, leider van de Move Forward Party, op het premierschap. Ze verwijzen daarbij naar het mandaat van het volk dat werd getoond bij de verkiezingen van zondag en de toegenomen kans van de MFP om een regering te vormen.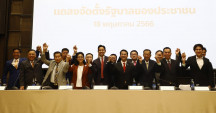 Die toegenomen kans blijkt uit de opening MFP musters 8-party bloc. De Move Forward Party (MFP) heeft de vorming aangekondigd van een alliantie van acht partijen en het opzetten van werkgroepen om senatoren te lobbyen voor steun en beleidsplatforms uit de weg te ruimen met een memorandum van overeenstemming.
De acht key points van het MoU worden genoemd in een infographic. Ik noem er vier: Herziening van de grondwet van 2017, een eind maken aan de dienstplicht, verhoging van het minimumdagloon naar 450 baht en verhoging van de Thaise AOW naar 3.000 baht.
Prominent op de voorpagina staat bovenaan een paginabrede foto, 8 cm hoog, met Pita en de partijleiders van de zeven partijen die de regering gaan vormen, na hun persconferentie gisteren. Kan de foto helaas niet over de volle breedte van NuT plaatsen, dus u moet het met een verkleinde vorm doen.
6:15 uur Good morning Thailand, het journaal van Mono29, trakteert me als eerste op beelden van de triomftocht door Bangkok van Pita en MFP-ers, een enthousiaste mensenmassa en de persconferentie van Pita, waarin hij de achtpartijen coalitie bekendmaakte.
Het Business katern opent met Stocks rise as political fears subside. De Stock Exchange of Thailand (SET) keerde donderdag terug naar positief terrein na drie opeenvolgende dagen te zijn gedaald na de verkiezingen van zondag. De stemmingswisseling was te danken aan het plan dat de zegevierende Move Forward Party (MFP) aankondigde om een coalitieregering te vormen met 313 parlementsleden.
Life opent met In perpetuity over het laatste kalenderhorloge van Bruguet. BP schrijft: Two centuries after the passing of Abraham-Louis Bruguet (1747-1823), his legacy is kept alive in Switzerland's Vallée de Joux – the hub of haute horlogerie. Het laatste showpiece is de Classique Quantième Perpétuel 7327 in een 39mm 18-karaats witte of roze gouden kast.
Terug naar het eerste katern. Pagina 2 telt drie berichten en een fotobericht. De pagina opent met Decree delaying anti-torture law shot down. Het Constitutionele Hof heeft gisteren met een meerderheid geoordeeld dat een uitvoerend decreet tot uitstel van de handhaving van belangrijke bepalingen van de wet tegen foltering en gedwongen verdwijning ongrondwettelijk is.
Verder op de pagina het goede nieuws Raid on smugglers saves 5 macaques. De autoriteiten in Phetchaburi hebben donderdag bij een inval in een huis in het district Cha-am de karkassen van 14 makaken gevonden, waarvan er vijf nog in leven waren maar in een noodlijdende toestand.
Als derde het bericht Border troops forge closer bonds through sports event. Troepen uit Thailand, Cambodja en Laos die de grens bewaken, hebben de aftrap gegeven voor wat wordt aangekondigd als het eerste sportevenement tussen hen, gericht op het smeden van nauwere militaire banden.
Het fotobericht toont een foto met dieren die in een bos in Nakhon Ratchasima zwerven. Vier districten van de provincie zijn door Unesco aangewezen als 's lands tweede global geopark.
Pagina 3 telt vijf berichten en twee fotoberichten, het grootste met een 4-koloms foto bovenaan de pagina waarop modellen trouwjurken tonen op de Wedding Fair 2023 in het Queen Sirikit National Convention Center. De beurs met huwelijksbureaus en trouwjurken van vooraanstaande ontwerpers duurt tot zondag.
De pagina opent met 3 ex-Bhumjaithai MPs get jail time. De Supreme Court's Criminal Division for Political Office-Holders heeft negen maanden gevangenisstraf uitgesproken en de politieke rechten ingetrokken van drie voormalige parlementsleden van de Bhumjaithai-partij die andere wetgevers toestonden hun stemkaart te gebruiken toen het Huis in 2020 over de begrotingswet beraadslaagde.
Nog meer gevangenis in Jatuporn gets 2 years over 2007 Prem protest. De rechtbank heeft Jatuporn Prompan, voormalig voorzitter van het red-shirt United Front for Democracy against Dictatorship (UDD), veroordeeld tot twee jaar gevangenisstraf in verband met het gewelddadige protest in 2007 in de Si Sao Thewes Residence, toen de thuisbasis van wijlen Privy Council voorzitter Prem Tinsulanonda.
Voorts op de pagina het bericht 6 hurt in Chalong Bay boat accident. Zes personen, waaronder vier Russen en twee Thais, waren in kritieke toestand nadat hun boot, met aan boord 37 passagiers, woensdagavond een kanaalmarkering in de Chalong Bay in Phuket raakte.
Ten slotte nog twee berichten Gambling habit 'factor' in serial murders en PTP faction eyes two cabinet seats.
• Een ernstige gokverslaving kan een factor zijn geweest die Sararat 'Aem' Rangsiwuthaporn ertoe heeft aangezet om 14 mensen te vermoorden met cyanide, zei de politie na onderzoek naar het geldspoor van de verdachte.
• Een in Nakhon Ratchasima gevestigde politieke factie van de Pheu Thai Party (PTP) zegt dat ze verwacht twee kabinetszetels toegewezen te krijgen na het winnen van 14 zetels in het Huis van Afgevaardigden bij de verkiezingen van zondag.
Als laatste noem ik nog het tweede fotobericht met een 3-koloms foto van de Israëlische ambassadeur en gasten op een herdenking in Siam Kempinski Bangkok ter gelegenheid van het 75-jarig bestaan van Israël. De inwendige mens werd er verwend met Israëlisch voedsel en ambachtelijk bier.
En daarmee komt een einde aan het 'papieren' nieuws van vandaag. Meer nieuws in Nieuwsflitsen.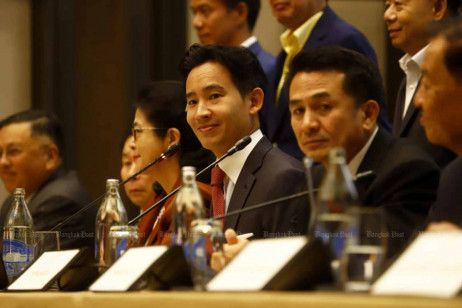 Nieuwsflitsen 19 mei
Pita announces 8-party coalition plan
Move Forward leader Pita Limjaroenrat announces plans for an 8-party, 313-MP coalition government, but signs are already emerging that second-ranked partner Pheu Thai has some disagreements. Foto: Coalition calculations
Bhumjaithai rejects candidates supporting changes to lese majeste law
The Bhumjaithai Party insists it will not support any prime ministerial candidate or political party seeking to revoke or amend the lese majeste law.
Myanmar cyclone relief faces hurdles
Residents in the capital of cyclone-ravaged Rakhine state queued for rice and drinking water as the United Nations negotiated with the internationally isolated Myanmar junta for access to hard-hit areas.
Tourism to limit economic pain as new government awaited
Thailand has not been spared the political uncertainty that usually comes with elections, yet foreign tourists returning by the millions this year are counted on to help shield Southeast Asia's second-largest economy.
Developers take a hit as LTV easing ends
The expiration of the easing of loan-to-value limits has had an impact on two-thirds of listed developers, resulting in residential sales revenue declining in the first quarter of 2023.
Fitch upbeat on post-poll outlook for bank sector
Pro-growth policies and the absence of protests after the election are positive signs for Thai banks and the economy, but uncertainties remain as the winning parties try to form a coalition government, says global financial information provider Fitch Group.
UAC plans to develop EV ecosystem business in Laos
SET-listed UAC Global Plc, a renewable power operator and chemical goods trader, is planning to develop an electric vehicle (EV)-related business in Laos once it adopts EV technology to support its refuse derived fuel (RDF) production and transport within the country.
Flights to avail Mae Hong Son
Tourism operators in Mae Hong Son expect a more active market during the cool season, with Bangkok Airways poised to revive flights from the capital.
World's oldest near-complete Hebrew Bible sells for $38m
A Hebrew Bible more than 1,000 years old sold for US$38.1 million in New York on Wednesday, setting a record for the most valuable manuscript ever sold at auction.
Retail, banking and tourism top stocks
Retail, banking and tourism stocks are set to benefit from the policies of the new coalition government led by the Move Forward Party, according to analysts.
Thai FA apologises for final brawls
The Asian Football Confederation said it was investigating "acts of violence" after two mass brawls and four red cards marred the men's final of the SEA Games in Cambodia.
MFP dismisses Thaksin's remarks on 'swayed vote'
The Move Forward Party has nothing to do with a network that fugitive former premier Thaksin insinuated the party may have used to sway Sunday's election in its favour.
Health Ministry to probe RDS leader
The Public Health Ministry has formed an investigation committee against Dr Supat Hasuwannakit, the Rural Doctors Society president, for alleged purchasing irregularities.
Regulator sets out rules for ICO portals
SEC prohibits digital token offering service providers (ICO portals) from acting as an ICO portal for digital token issuers that have conflicts of interest.
No bail for tourist suspected of murder
The Bangkok South Criminal Court has denied bail to the Polish man who allegedly murdered and dismembered his Ukrainian girlfriend.
Autodesk software to assist EV industry
American software developer Autodesk Inc aims to market new software utilising artificial intelligence technology in Thailand to benefit from the growing electric vehicle (EV) industry.
More transmissible Omicron variants pop up
The Centre for Medical Genomics said Thailand has one case of XBB.1.16.1.1 or "FU.1", the latest Covid-19 sub-variant that is 50% more transmissible than XBB.1.16.
Athletes of 10 associations exceed expectations as event ends
Athletics, boxing and taekwondo were among Thailand's most successful sports at the 32nd SEA Games in Cambodia which ended on Wednesday.
35 people hurt in Phuket speedboat crash
Thirty-five people, mostly Russian tourists, were injured after their speedboat hit a channel marker in Chalong Bay on Wednesday evening.
Myanmar arms imports total $1bn since coup
Myanmar economy is in free-fall but junta has spent $1 billion on arms imports since 2021 coup, with Thailand among the five main suppliers, says UN report.
Teen held on 112 charge freed after 50 days

A 15-year-old girl who had spent 50 days in detention on a charge of royal defamation walked free on Thursday afternoon after a court ordered her release. Foto
New Covid strain mild but children need watching
A new strain of Covid-19 has not proved to be severe, but it could still spread among children as the school term resumes, according to health authorities.
Two more climbers die on Everest
Two more climbers have died on Everest, expedition organisers said on Thursday, bringing to seven the number of deaths on the world's highest peak in the spring climbing season.
Tasco forecasts 8.3% gain in asphalt sales
Tipco Asphalt Plc (Tasco), Thailand's largest asphalt producer, expects its sales to grow by 8.3% this year to 1.3 million tonnes despite a global economic slowdown and possible delay in state spending related to the lengthy process required to set up a new government.
Six still critical after Phuket boat accident
Six people — four Russians and two Thais — remain in critical but stable condition after a boat carrying 37 people hit a channel marker in Chalong Bay in Phuket on Wednesday evening.
The boat smashed into the channel marker about 700 metres from the Chalong pier and sustained heavy damage. About 10 people, including the boat driver, suffered broken limbs. The injured were taken to seven different hospitals on the island.
---
Een nieuwe dag, een nieuwe krant
18 mei – Om 5:31 uur bracht de nachtwaker de krant naar mijn kamer met het goede nieuws dat op de jaarlijkse Royal Ploughing Ceremony gisteren op Sanam Luang voldoende water voor irrigatie, overvloedige oogsten en een welvarende economie voor de rest van 2023 zijn voorspeld door de twee heilige ossen.
Ook de sarong die de Lord of the Plough had gekozen, leverde een voorspelling op. Hofwaarzeggers zeiden dat die wees op overvloedig water in de komende maanden wat kon leiden tot overvloedig voedsel of wijdverspreide overstromingen in lager gelegen gebieden.
Uiteraard vormt dit bericht niet de opening krant maar het beslaat met twee foto's wel de halve voorpagina bijna tot de vouw. BP opent onder de paginabrede kop MFP's Pita to unveil talks result (link niet beschikbaar, zie het eerdere websitebericht Pita to share coalition details on Thursday).
Een tweede bericht meldt Lese majeste stance could sink Dems' PM vote. De Democraten overweegt of haar leden de leider van de Move Forward Party, Pita Limjaroenrat, als premier moeten kiezen en of eventuele steun voorwaardelijk moet zijn op basis van hoe de wet op majesteitsschennis wordt behandeld. Het gaat om artikel 112 van de strafwet, die strenge straffen stelt op majesteitsschennis. MFP heeft al eerder tevergeefs geprobeerd het artikel te wijzigen.
Het Business katern opent met Bureau ready to adjust fiscal 2024 budget plan. Het Budget Bureau is van plan om de begroting voor 2024 aan te passen aan de prioriteiten van de nieuwe regering, zegt een bron van het ministerie van Financiën.
Life opent paginagroot plus een overlees van twee halve pagina's inclusief een foto van een halve pagina en zes foto's met Fast food done differently. Het verhaal, overgenomen van de New York Times, zegt dat restauratierijtuigen een comeback maken op de Europese spoorwegen. Omdat NYT-artikelen alleen toegankelijk zijn voor abonnees moet ik het hierbij laten.
In plaats daarvan vraag ik uw aandacht voor Old clothes turned into art exhibition, waarvan de foto wel beschikbaar is. Meer dan 4.000 oude kledingstukken zijn omgevormd tot een kunstinstallatie en lifestyleproducten, die tot 9 juni te zien zijn op de 1e verdieping van UOB Plaza Bangkok Building, Sukhumvit Road.
Tot zover een eerste kennismaking met het 'papieren' nieuws van vandaag. Meer nieuws in Nieuwsflitsen. Vandaag geen BP in vogelvlucht.
Overpeinzing 1: Waterworld
18 mei – Keek gisteren met een half oog op Mono29 naar Waterworld, een Amerikaanse post-apocalyptische actiefilm uit 1995. In de film speelt Kevin Costner, tevens co-producent, de hoofdrol.
De setting van de film is in de verre toekomst. De poolijskap is volledig gesmolten en de zeespiegel is meer dan 7.600 m (25.000 ft) gestegen en beslaat bijna het hele land. De plot van de film draait om een naamloze antiheld, 'The Mariner', een zwerver die in zijn trimaran over de aarde vaart, tegen de honger vecht en met tegenzin een vrouw en een jong meisje helpt om droog land te vinden.
Waterworld, destijds de duurste film ooit gemaakt, kreeg gemengde recensies van critici, die de futuristische setting en het uitgangspunt prezen, maar kritiek hadden op de uitvoering, inclusief de karakterisering en acteerprestaties.
Velen noemden de overdreven actiescènes en de zwakke verhaallijn van de film als grote tekortkomingen. Costner stond bekend om zijn nauwgezette benadering van het maken van films lang voor Waterworld, en de flop van de film droeg alleen maar bij aan zijn reputatie als een moeilijk persoon om mee samen te werken.
De film was ook niet in staat om zijn enorme budget aan de kassa terug te verdienen, ondanks dat het een van de meest winstgevende films van 1995 was; de film werd later echter winstgevend dankzij video- en andere verkopen na de bioscoop. De film werd genomineerd voor een Academy Award in de categorie Best Sound bij de 68e Academy Awards.
Overpeinzing 2: Black water
18 mei – Nog een film op Mono29, maar nu een die goede kritieken kreeg: Black water, een Australische horrorfilm uit 2007, geschreven en geregisseerd door Andrew Traucki en David Nerlich. De film, een internationale coproductie van Australië en het Verenigd Koninkrijk, speelt zich af in de mangrovemoerassen van Noord-Australië met in de hoofdrollen Diana Glenn, Maeve Dermody en Andy Rodoreda.
Geïnspireerd door het waargebeurde verhaal van een krokodilaanval in het Northern Territory van Australië in december 2003, maakt een zwangere vrouw samen met haar vriend en haar zus een boottocht door een mangrovemoeras, waar ze worden geterroriseerd door een woeste zoutwaterkrokodil.
De locatie die het uitgestrekte mangrovesysteem in Noord-Australië vertegenwoordigt, was eigenlijk in Sydney, de geboorteplaats van de regisseur, 25 minuten van het centrale zakendistrict in een kleine buitenwijk genaamd Oatley. Ook werd een week in Darwin doorgebracht om beelden te maken van echte zoutwaterkrokodillen die samen met de acteurs naar de locatie werden getransplanteerd, waarbij het regieteam hun eigen CG-speciale effecten deed om dit te bereiken.
Black Water kreeg positieve recensies van critici. Op de recensie-aggregator-website Rotten Tomatoes kreeg de film een goedkeuringsscore van 80% op basis van 20 recensies, met een gemiddelde score van 5,93/10. Critici prezen het gebrek aan CGI (computer-generated imagery) dat vaak in dit soort films wordt gebruikt, evenals de gespannen plot en spanning die eruit zijn opgebouwd. Neil Smith van Total Film Magazine prees ook het einde en zei dat het 'een conclusie was die op een verfrissende manier de regels van het genre weerlegt'.
Nieuwsflitsen 18 mei
Democrats give conditional support to Pita for PM
Key Democrat members say the party will vote for Move Forward leader Pita Limjaroenrat as the next prime minister, if he gets majority House support and agrees to protect the royal institution. Foto Conditional support
Former Thai embassy clerk arrested for visa fraud
A former employee of the Thai embassy in Beijing has been arrested for dishonestly issuing the wrong type of visa to Chinese students coming to study in Thailand, and pocketing the difference in visa fees.
LGBT centre in Beijing shut down
An advocacy group for sexual minorities in the Chinese capital has abruptly shut down in what supporters said was another sign of a crackdown by the government of Xi Jinping on values it does not endorse.
Thaksin praises Move Forward disruptors
Former premier Thaksin Shinawatra on Tuesday hailed the election-winning Move Forward Party as disruptors who had mastered social media, and said the ageing army generals central to years of turmoil should retire with dignity.
Another teen girl faces 112 charge
A teenage girl from Phitsanulok has been released on bail after being charged with royal defamation. Lawyers said she was 14 years and 1 month old when the alleged offence occurred.
Three arrested for honey-pot murder of Chinese businessman
Three natives of Satun province, one a 17-year-old girl, have been arrested for allegedly stabbing to death a Chinese businessman at a hotel in Trang province and taking the victim's car, money and phone.
Vietnam bets big on LNG, South China Sea gas fields
Vietnam's plan to quadruple by 2030 its gas processing capacity, turning it into its first source of energy, marks a big bet on imported liquefied natural gas (LNG) and its reserves in the South China Sea, despite supply and geopolitical risks.
Ceremony foretells ample water, food and prospering economy
Omens at the Royal Ploughing Ceremony point to ample water and good crops this year, and a prospering economy. Foto
Taiwan grants joint adoption rights to same-sex couples
Taiwan's legislature extended joint adoption rights to same-sex couples on Tuesday, marking another milestone in marriage equality on the island.
Tourist found trapped down Pattaya drain
An American tourist was found trapped in a stormwater drain in Pattaya on Tuesday night after a passerby heard him calling for help.
Thai football chiefs apologise after bad-tempered regional final
Thai football bosses apologised and vowed to investigate on Wednesday after their Southeast Asian Games men's final against Indonesia was marred by two mass brawls and four red cards.
Drink-driving list MP-elect gets suspended jail term
The Min Buri Court has sentenced Nateepat Kulsetasit, a Move Forward Party list MP-elect, to two months in jail, suspended for two years, and fined her 4,000 baht for drink-driving.
Sluggish economy tames local oil prices
Higher interest rates are cooling economic activities, keeping crude on a decline, though the outlook is volatile.
Early blood test may unravel secrets of pregnancy loss
A blood test taken after a miscarriage suffered as early as week five of pregnancy can help explain why it occurred and in some cases lead to preventative treatments, Danish researchers say.
Housing market lacks lustre
The housing market will need to rely on foreign demand to stimulate growth, as domestic buyers are facing challenges in obtaining loans.
Fruit prices hike on Chinese demand
Fruit prices have been consistently rising, driven by increasing demand from the Chinese market, improving transport services and falling shipping costs.
Operators express hope post-election
Chiang Mai and Phuket tourism operators hope the new government led by the Move Forward Party (MFP) can solve the PM2.5 dust crisis.
Pheu Thai denies Bhumjaithai deal talk
The Pheu Thai Party has dismissed media speculation that it plans to enter talks with Bhumjaithai, the third biggest party, to try and form a coalition government together.
Polish man arrested over grisly murder
A Polish man, who police alleged murdered and dismembered his Ukrainian girlfriend, was detained on Tuesday at the Bangkok South Criminal Court after more than an hour of interrogation.
Abhisit return rumours swirl
Former prime minister Abhisit Vejjajiva is suited to the job of salvaging a Democrat Party crushed in Sunday's general election, according to deputy party leader Sathit Pitutecha.
Battling Foxes to meet Spurs in Bangkok
Thai-owned Leicester City, who are fighting to stay in the Premier League, will play Tottenham Hotspur in Bangkok in July, in one of a series of top-flight European football exhibition matches that will take place across Asia.
Kingdom ready to host 2025 edition
Three Thai cities are ready to organise the next SEA Games in 2025, officials said on Tuesday.
Thailand thrash Canada, seal berth in quarter-finals
Thailand defeated Canada 4-1 for their second win in Group B at the BWF Sudirman Cup Finals in Suzhou, China, on Tuesday.
CAAT bids to lower carbon emissions
The Civil Aviation Authority of Thailand (CAAT) has joined hands with International Civil Aviation Organisation (ICAO) as they strive for lower carbon emissions from air travel.
Indonesian minister held in telecoms graft case
Indonesian authorities have arrested a senior minister for his alleged role in a corruption case stemming from a telecommunications project that has cost the country more than $500 million in losses.
39 missing from Chinese ship in Indian Ocean
A crew of 39 Chinese, Indonesian and Filipino sailors were missing at sea after a Chinese fishing vessel capsized in the Indian Ocean, officials said on Wednesday.
Asean heat wave blamed on climate inaction
The extreme heat that baked parts of Southeast Asia last month was largely driven by human-induced climate change, according to analysis from a team of scientists.
Thai, Nordic authorities agree on better deal for berry pickers
The Royal Thai Police (RTP) recently held talks on human trafficking with Nordic authorities, promising to push for more regulations related to contracts signed by labourers.
Pita to share coalition details on Thursday
After convivial talks with coalition partners at an upscale restaurant, Move Forward leader Pita Limjaroenrat says he'll share more details on Thursday about what kind of government he aims to lead.
WHA Utilities wins B2.9bn in water supply deals
SET-listed WHA Utilities and Power (WHAUP), which provides utilities under WHA Corp, Thailand's biggest industrial land developer and operator, has secured two contracts worth 2.9 billion baht to supply "premium clarified water" to solar panel and rubber glove manufacturers, in a move to sell more value-added products.
30 people hurt, 1 missing in Phuket speedboat crash
Thirty people, mostly Russian tourists, were injured and one tourist is missing after their speedboat hit a channel marker in Chalong Bay on Wednesday evening. The accident occurred when the Thanathip Marine 555 was bringing 33 Russian tourists back from the Phi Phi islands to Chalong Bay at about 5.30pm.
An initial investigation found that the boat driver, identified as Sathit Matchai, might have dozed off. The boat smashed into the channel marker located about 700 metres from the Chalong pier and sustained heavy damage.
---
Een nieuwe dag, een nieuwe krant
17 mei, 6:45 uur – De voorpagina van BP staat vandaag grotendeels in het teken van de rol van de Senaat bij de verkiezing van de nieuwe premier. De krant opent met MFP turns attention to Senate. Move Forward Party (MFP) probeert senatoren te overtuigen haar leider Pita Limjaroenrat te steunen om premier te worden, terwijl ze probeert steun te krijgen van andere partijen om een coalitieregering te vormen.
Een tweede bericht meldt Senators slow to warm to Pita's PM bid. Senatoren hebben gemengde meningen geuit over het al dan niet steunen van Pita Limjaroenrat, de leider van de Move Forward Party, die de meeste zetels in het Huis won bij de verkiezingen van zondag, om de volgende premier te worden.
Maar laat ik u eerst verwijzen naar https://youtu.be/VyGilbFIczA, een video van tien minuten met de persconferentie van Pita. Ik weet niet waar hij opgegroeid is en gestudeerd heeft, maar zijn Engels is onberispelijk, goed te verstaan en wordt ook vermeld in de ondertiteling. De link werd mij door een trouwe lezer van NuT gestuurd, waarvoor dank.
9:27 uur Op de tv beelden van de jaarlijkse Royal Ploughing Ceremony op Sanam Luang waarbij de culinaire voorkeur van twee ossen voorspellende waarde heeft voor het oogstseizoen. Nog nooit meegemaakt dat de voorspelling tegenviel. Wat een poppenkast, maar wel een mooie!
De krant toont bovenaan de voorpagina een 4-koloms foto van de koning die in Wat Phra Kaeo een ceremoniële goad (stok) overhandigt aan de permanent secretaris van het ministerie van Agriculture and Cooperatives die vandaag de rol van Phraya Raekna (Ploughing Lord) vervult.
Het Business katern opent met Poll victors to get policy wish list. De Federation of Thai Industries is van plan een "position paper" in te dienen waarin het economische beleid, waaraan bedrijven de voorkeur geven voor de nieuwe regering, wordt beschreven.
Life opent met An epic mission onder een foto van een halve pagina (die ik zowaar kan laten zien), een verhaal waarin Tatat Bunnag praat met de sterren van de big-budget productie Citadel over de global appeal van de serie. Het uitgelicht citaat zegt: This show creates a world where there's a continuity to the spy agency.
De show is de tweede duurste op het platform na The Lord of the Rings van vorig jaar. De film speelt zich af in de nabije toekomst of een tijd waarin het onafhankelijke wereldwijde spionagebureau Citadel is gevallen.
Tot zover een eerste kennismaking met de krant van vandaag. Het overige nieuws treft u aan in Nieuwsflitsen. Maak misschien nog een Vogelvlucht met de binnenpagina's maar ga nu (10:08 uur) eerst ontbijten en nog wat slapen.
Nieuwsflitsen 17 mei
Prayut silent on political future, calls for unity
Outgoing PM Prayut Chan-o-cha remains silent about his political future in the wake of Sunday's general election, calling for unity, after chairing a meeting of the caretaker cabinet on Tuesday. Foto Lips sealed
WHO warns against artificial sweeteners
Artificial sweeteners, used to replace sugar in a vast range of products, do not help in losing weight and can have serious health effects, according to the World Health Organization.
New charge filed against Aem Cyanide's ex-husband
Crime Suppression Division (CSD) police have filed another charge against the sacked police officer who is the former husband of accused serial poisoner Sararat "Aem" Rangsiwuthaporn.
UTN ready to be in opposition, says Thanakorn
The United Thai Nation Party (UTN) is ready for its role on the opposition benches of the House of Representatives after faring below expectations in Sunday's general election, deputy leader Thanakorn Wangboonkongchana said on Tuesday.
MFP list MP-elect resigns over drink-driving
Move Forward Party list MP-elect Nateepat Kulsetasit has resigned an an MP candidate of the party after police arrested her for drink-driving early Tuesday morning
Srettha asks BJT, Dems to vote for Pita as PM
Srettha Thavisin, a Pheu Thai candidate for prime minister, has called on other parties, particularly Bhumjaithai and the Democrats, to support Pita Limjaroenrat of the Move Forward Party for prime minister and obviate the need for the support of military-appointed senators.
Yala's giant Koran pulls in Muslim visitors
Muslims from near and far have visited Raman district in Yala to see the nation's biggest Koran, the latest art attraction in the South.
Industries warn of impact of big wage hikes
Hefty wage increases promised by the winners of the general election would hurt businesses, jobs and competitiveness, the Federation of Thai Industries (FTI)
 warned on Tuesday.
Cyclone toll in Myanmar's Rakhine state at least 41
The death toll in cyclone-hit Myanmar's Rakhine state rose to at least 41 on Tuesday.
Politeness needed in formation of new govt, says DPM Wissanu
Thirteen ministers absent when outgoing PM Prayut chairs the first meeting of the caretaker cabinet after Sunday's polls, with outgoing DPM Wissanu stressing the need for generosity in negotiations on forming the new government.
New coalition urged to give stimulus to small firms
The new government, once formed, is being urged to create additional economic stimulus packages that primarily benefit small operators, rather than large ones.
Online search to make up lost time with AI
Online search, dominated by Google for 25 years, has become as banal as making a phone call, but it could finally be getting a profound reset thanks to artificial intelligence.
New threat to privacy? Scientists sound alarm about DNA tool
The traces of genetic material that humans constantly shed wherever they go could soon be used to track individual people, or even whole ethnic groups, scientists said on Monday, warning of a looming "ethical quagmire" (moeras, modderpoel).
Phuket banking on administrative reform
Phuket tourism operators hope the right to vote for their own provincial governor will help solve prolonged local issues as the island still needs tailor-made policies to address specific problems, such as the taxi mafia.
Victorious parties urged to move fast
The business sector is calling for a new government to be quickly established and its policies to be agreed upon by the coalition parties.
Economists weigh in on poll winners
The banking sector is recommending the new government prioritise elevating the country's competitiveness through the stimulation of consumption, tourism and private investment.
Sports chief happy with Thai haul
The Sports Authority of Thailand governor is happy with his athletes' performances in "international disciplines" at the 32nd SEA Games in Cambodia.
Pheu Thai loses out in North, Northeast
The Pheu Thai Party thanked voters in Sukhothai on Monday after its candidates managed to win all four constituencies in the province.
Somsak Thepsutin, a key Pheu Thai figure, said while the party won 10 constituency seats across the lower North, the number was below its target. "We had set a higher target, but we must respect the people's mandate," he said on Monday.
Police to arrest abettors of Aem Cyanide
Police will request arrest warrants from the court for associates of alleged serial killer Sararat "Aem" Rangsiwuthaporn, who advised and helped her destroy evidence of her crimes.
Football tour scammers steal B30m
At least 30 million baht is believed to have been swindled from 10 people who booked a fake package tour to see a football match in England, according to police.
Bourse dips despite election landslide
Sentiment surrounding SET was downbeat on Monday as investors dumped shares related to politics and big-cap stocks that might be adversely affected by the policies of the Move Forward Party.
Issara confident of winning gold medal
Thailand U22 team coach Issara Sritaro is backing his men to win the football gold of the 2023 SEA Games despite expecting a tough fight with Indonesia in the final in Phnom Penh on Tuesday.
Kingdom put Germany to rout in Sudirman Cup opener
Thailand defeated Germany 4-1 in their opening Group B match at the Sudirman Cup in China on Monday.
'Long Joo' scores 3rd win in gambling, laundering case
The Criminal Court on Monday dismissed a third gambling and money laundering charge against Somchai Jutikitdecha, also known as "Long Joo" Somchai.
Police arrest 30 in 'Sua' network raids
Thirty people were arrested in a three-day crackdown on a criminal network allegedly linked to "Inspector Sua" in a multi-billion-baht gambling network.
Dassault service hones in on EV industry, smart cities
Dassault Systèmes, a France-based company developing 3D product design software, has launched a "3DEXPERIENCE" service to help companies plan their businesses related to electric vehicle (EV) and smart city development.
UTN thanks Southern voters for poll support
Deputy leader of the United Thai Nation (UTN) Party, Thanakorn Wangboonkongchana, on Monday thanked the party's supporters for their votes in the election, saying the party will follow the election winners' lead when it comes to forming the next government.
Polish man arrested for murder of Ukrainian girlfriend
Police arrested a Polish man, 25, for allegedly murdering his Ukrainian girlfriend and trying to dismember the body at a highrise condominium in Bang Kolaem district, Bangkok.
Senators want pro-monarchy PM
Two senators have indicated they will not vote to support Move Forward Party leader Pita Limjaroenrat as the new prime minister, questioning his attitude towards the monarchy.
UN: Time running out in war on plastic pollution
The world must halve single-use plastics and slash throwaway consumption to stem the tide of environmental pollution, according to a UN report on Tuesday that warns the next few years are critical.
Two policemen shot from ambush in Yala
Two police officers were shot and wounded in an ambush in Muang district of Yala on Tuesday afternoon.
Lost luggage soars with air travel revival
The rate of lost, damaged or delayed luggage nearly doubled last year as air travel rebounded and the sector faced staff shortages following the Covid pandemic, a new study has found.
The report issued on Tuesday by Sita, an IT provider for the air transport industry, said 7.6 bags per thousand passengers were mishandled in 2022, up from 4.35 the previous year.
The surge follows more than a decade of reduction in the rate of mishandled luggage, according to Sita. In total, 26 million bags were mishandled last year, compared to 9.9 million in 2021, as the number of travellers neared pre-Covid levels, according to Sita.
Toddler's naked body found in Narathiwat
A three-year-old girl was found dead and naked not too far from her home in Muang district of Narathiwat on Tuesday, two days after she disappeared.
AI to aid forensic work in tackling sex crimes
Researchers from the Faculty of Engineering, Mahidol University, will introduce AI to improve forensic sciences for sex-related crimes.
Local souvenir development promoted on Samui
The National Research Council of Thailand (NRCT) has come up with a plan to support research targeting souvenirs sold in Koh Samui.
CAAT bids to lower carbon emissions
The Civil Aviation Authority of Thailand (CAAT) has joined hands with International Civil Aviation Organisation (ICAO) as they strive for lower carbon emissions from air travel.
BP in vogelvlucht
17 mei – Wat valt er verder nog te melden aan nieuws dat niet al hiervoor is genoemd? Dat kan nooit veel zijn gezien de lengte van Nieuwsflitsen.
Op de voorpagina staat een kadertje dat ik nog niet heb genoemd, met de opkomstpercentages van tien provincies. Lamphun scoorde als beste met 86,15 procent, gevolgd door Phatthalung (84,46 pct) en Chachoengsao (83,87 pt). Bangkok komt in het lijstje niet voor, wel Chiang Mai als hekkensluiter met 81,77 procent.
Pagina 2 bevat een achtergrondverhaal van drie kwart pagina getiteld Fighting Thailand's 'scamdemic'. Online-criminaliteit op industriële schaal in 'lawless' grensgebieden in buurlanden neemt toe in omvang en complexiteit. In het verhaal staat een vierkoloms foto met een development across the Moei River in Myanmar, south of Myawaddy and Mae Sot in 2022. Aangenomen wordt dat het complex voornamelijk uit slaapzalen bestaat waarvan de bewoners vermoedelijke oplichters zijn.
Van pagina 3 hoef ik alleen de opening te noemen want de overige drie berichten kent u al. De opening zegt We Watch calls for speedy vote count. De We Watch-groep heeft de Kiesraad (EC) opgeroepen om haast te maken met het tellen van de stemmen en de resultaten van de verkiezingen binnenkort officieel bekend te maken, zodat de nieuwe regering kan worden gevormd en snel aan de slag kan.
Snel aan de slag? Ik denk daarbij aan de uitdrukkingen Haastige spoed is nimmer goed en Rome en Aken zijn niet op één dag gebouwd. Volgens een eerder bericht wordt de nieuwe regering pas in augustus gevormd. En wie weet duurt het nog langer gezien de ruzie over de nieuwe premier.
---
Een nieuwe dag, een nieuwe krant
16 mei – Bangkok Post opent vandaag onder de paginabrede kop Historic win faces hurdles. De vorming van een coalitieregering, aangekondigd door Move Forward, gaat misschien niet van een leien dakje omdat een aantal senatoren duidelijk hebben gemaakt dat ze de premierskandidaat niet zullen steunen.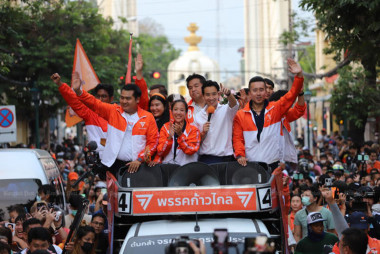 De opening beslaat de gehele voorpagina inclusief de infographic Unofficial tally en de vierkoloms foto Victory Parade met leden van Move Forward en partijeider Pita (de man in het midden), gemaakt op de Ratchadamnoen Avenue bij het Democracy Monument.
De infographic bevat de samenstelling van het Huis van Afgevaardigden met 18 partijen nadat 99 procent van de stemmen is geteld. Ik noem de eerste vijf: Move Forward (152 zetels), Pheu Thai (141), Bhumjaithai (70), Palang Pracharath (40) en United Thai Nation Party (36).
De Democraten staat met 25 zetels op 6. Het internetbericht Abhisit 'could be back' as Dem chief meldt dat het aftreden van Jurin Laksanawisit als leider van de Democraten zou kunnen leiden tot de terugkeer van voormalig premier Abhisit Vejjajiva om de oudste partij van het land te leiden, zegt een bron bij de Democraten.
Een tweede infographic geeft de Countdown to a new era aan. In augustus kiest het parlement een nieuwe premier en wordt een nieuw kabinet gevormd. Of de steun van de (door de junta benoemde) Senaat nodig is voor de verkiezing van de nieuwe premier, hangt af van het aantal stemmen in het Huis. Wordt in de opening allemaal uit de doeken gedaan. Lezen als het u interesseert.
Het Business katern opent met Victorious parties urged to move fast. Het bedrijfsleven roept op tot spoedige vorming van een nieuwe regering en tot overeenstemming over het beleid tussen de coalitiepartijen.
Life opent onder een foto van een halve pagina met Is weight-loss surgery worth it? Operaties zoals sleeve-gastrectomie kunnen in bepaalde scenario's helpen bij de behandeling van obesitas. Meer weten? Klik op de link. Kan de foto niet laten zien.
Het onderwerp interesseert me maar matig, want ik heb zelf geen last van zwaarlijvigheid – ben eerder te mager – maar het is wel degelijk een probleem. Met name veel kinderen zijn veel te dik, met dank aan de snack- en softdrink industrie.
De rubriek Nieuwsflitsen is vandaag erg lang. Moest de 'schade' inhalen van voorgaande incomplete afleveringen van Nieuws uit Thailand. Misschien behandel ik nog de binnenpagina's van het eerste katern, maar ga nu eerst ontbijten (09:12 uur).
Nieuwsflitsen 16 mei
Pita declares six-party coalition with 309 MPs
Move Forward leader Pita Limjaroenrat announces a six-party coalition to form the new government – with 309 MPs, himself as prime minister and no-one from the outgoing administration. Foto: Coalition declared
Cambodia poll body disqualifies sole opposition party from July election
Cambodia's election commission on Monday disqualified the sole opposition Candlelight Party from contesting elections in July over its failure to submit proper registration documents.
Baht gains as Move Forward leads vote, tycoon-linked stocks drop
The baht rallied after pro-democracy parties emerged as the biggest winners in Sunday's election, while stocks linked to some of the nation's billionaires fell on concern that a new government will introduce more industry competition.
Senators want pro-monarchy PM
Two senators have indicated they will not vote to support Move Forward Party leader Pita Limjaroenrat as the new prime minister, questioning his attitude towards the monarchy.
Thai economy grows 2.7% in first quarter
Thailand's economy grew 2.7% in the first quarter thanks to a steady tourism recovery and strong consumer confidence that offset sluggish exports, officials said Monday.
Covid on the rise
The Department of Disease Control on Monday warned the public that Covid-19 was again spreading and advised people to be serious about protecting themselves from the disease.
US looking forward to final election results
US ambassador Robert Godec on Monday issued the following statement regarding the May 14 general election. "As a longstanding friend and ally of Thailand, the United States looks forward to the final results," the statement said.
Election Commission approves power subsidy
The Election Commission on Monday allowed the caretaker cabinet of Prime Minister Prayut Chan-o-cha to spend 10.46 billion baht from its contingency fund to subsidise household power charges.
Malaysia seeks to decriminalise possession, use of small amounts of drugs
Malaysia wants to introduce a law to decriminalise the possession and use of small quantities of illicit drugs, its home affairs minister said on Monday, citing a need to reduce prison overcrowding.
Philippines seeks sugar imports of up to 150,000T to avert shortfall
Philippines President Ferdinand Marcos Jr on Monday approved imports of up to 150,000 tonnes of sugar to stabilise local prices as a domestic shortfall looms, his communications office said.
Pheu Thai Party agrees to Move Forward alliance plan
The Pheu Thai Party said on Monday it agreed to a proposal to form an opposition coalition with the Move Forward Party and had no plan to form any other government, after the two parties dominated a weekend election.
Myanmar port city cut off in Cyclone Mocha aftermath
The major Myanmar port city Kyauktaw remained cut off from contact on Monday after a cyclone tore through the west of the country and neighbouring Bangladesh where it spared sprawling refugee camps.
Election Commission says MFP won Sunday's election
The Election Commission concludes the counting of votes from Sunday's general election and announces the Move Forward Party's victory.
Army chief visiting US
Army chief Gen Narongphan Jitkaewtae left for Hawaii on Sunday night and will return late this month.
Two killed when pickup overturns and burns
A man and a woman were killed when the heavily laden pickup truck they were travelling in overturned and caught fire in Ban Lat district of Phetchaburi early on Monday, police said.
Thais vote overwhelmingly for democracy parties, reject military
Voters have delivered a clear rejection of nearly a decade of military-aligned rule, election results showed Monday, backing two pro-democracy opposition parties.
Thai opposition crush military parties in election
Thailand's opposition secured a stunning election win on Sunday (May 14) after trouncing parties allied with the military, setting the stage for a flurry of deal-making over forming a government in a bid to end nearly a decade of conservative, army-backed rule. – REUTERS
Q1 GDP grows 2.7% y/y, beats expectations
Thailand's economy expanded 2.7% in the first quarter from a year earlier, official data showed on Monday, faster than expectations, as private consumption and tourism rebounded.
Making travel available for everyone
Accessible tourism needs to be a consideration as the industry tries to become more resilient after the pandemic, according to the World Tourism Organization.
Asian businesses keen on expanding abroad
Southeast Asia and China have emerged as the two leading destinations for overseas expansion as 83% of businesses in Asia are keen to expand abroad, according to a recent report.
BCPG eyes Indonesian nickel investments
SET-listed BCPG, the power generation arm of energy conglomerate Bangchak Corporation, is looking for a new investment opportunity in Indonesia related to nickel, a key raw material for making electric vehicle (EV) batteries.
Title in War Elephants' sight
Thailand are "one step away" from grabbing their first men's football gold medal of the SEA Games since 2017.
Pheu Thai's Paetongtarn says party with most votes will lead next govt
The daughter of Thailand's former premier Thaksin Shinawatra said the biggest vote-winner in Sunday's election will get to lead the next government, after her Pheu Thai Party took a big lead alongside the progressive opposition Move Forward Party.
Earnings surge for main Thai airlines as tourists flock back
Thai Airways International (THAI) Public Company Limited and Bangkok Airways Public Company Limited reported a surge in first-quarter earnings as tourists flocked back to Thailand.
Gen Prawit tight-lipped on Move Forward Party's popularity
Deputy Prime Minister Prawit Wongsuwon, in his capacity as the leader of the Palang Pracharath Party, declined to answer when asked about the surprising popularity of the Move Forward Party in Sunday's general election.
Anutin admits Bhumjaithai Party will come in third, not second
Deputy Prime Minister Anutin Charnvirakul admits his Bhumjaithai Party will come in third in the race for House seats, not the second place he hoped for.
Bangkok sees 72% turnout for Sunday's general election
Bangkok voters flocked to polling stations during Sunday's general election, with turnout exceeding that of the last election in 2019.
Panipak stars as Thai taekwondo team hits goldmine
Thailand's taekwondo team, led by Tokyo Olympic champion Panipak Wongpattanakit, added three gold medals to the haul at the 32nd SEA Games in Cambodia on Sunday.
Police probe voters who tore ballot papers
Incidents of people tearing ballot papers were reported in several provinces, but violators – most elderly and with health issues – insisted they had no intention of destroying the ballot papers and acted out of misunderstanding.
Woman shoots, stabs husband with minor wife at polling station
A woman was detained after injuring her husband in a gun and knife attack near a polling station in Samut Prakan on Sunday, police said.
One killed as storm hits Chiang Rai
A landslide struck Mae Fah Luang district of Chiang Rai following heavy downpours on Saturday night, killing one person.
Body of missing Russian found floating off Phuket
The body of a Russian man who went missing after being swept into the sea by strong waves at the famous Cape Promthep in Muang district on Friday has been found floating in the sea off Kathu district of Phuket on Sunday.
Anutin casts vote in marijuana-print shirt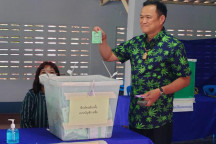 Public Health Minister and cannabis advocate Anutin Charnvirakul turned heads during Sunday's election as he arrived to cast his vote at a polling station wearing a dark shirt with bright green marijuana leaves.
Nine nabbed loading 1.6 tonnes of meth onto boat
Nine people have been arrested in Nakhon Si Thammarat and 1.6 tonnes of crystal methamphetamines seized as it was being loaded on a boat to be smuggled out of the country, the Office of Narcotics Control Board said on Sunday.
1 killed, 5 hurt in explosion and fire at house in Nonthaburi
One person was killed and five others injured in a fire and an explosion at a house in Bang Yai district of Nonthaburi late on Sunday morning. Six houses were damaged.
Voting goes smoothly despite rain: Election Commission
The general election on Sunday was proceeding smoothly, despite rain in some areas, with large numbers of people turning up to vote, Election Commission (EC) secretary-general Sawaeng Boonmee said.
Record temperatures, heatstroke cases engulf Southeast Asia
Southeast Asia continues to grapple with blistering heat amid reports of record temperatures and cases of heatstroke that further add to signs of extreme weather changes.
Singapore's temperature soars to 37C, highest in 4 decades
Singapore's already steamy heat revisited a 40-year record on Saturday, climbing to 37C (98.6F).
Philippines places buoys in parts of S. China Sea to assert sovereignty
The Philippines has placed navigational buoys within its exclusive economic zone (EEZ) to assert sovereignty over the disputed Spratly islands in the South China Sea, a coast guard spokesperson said on Sunday.
Category 5 Cyclone Mocha set to crash over Myanmar, Bangladesh
Cyclone Mocha intensified into a category five hurricane on Sunday, hours ahead of its predicted landfall in Myanmar and Bangladesh, where hundreds of thousands of people evacuated from the coasts were taking shelter.
Chartpattanakla to back party with most MPs to form govt
The Chartpattanakla Party will support the party that wins the most seats in the House of Representatives to lead the formation of the government after the election, party chairman Suwat Liptapanlop said on Sunday.
Vote-buying claims put police on alert
Police will be on the lookout for incidents of vote-buying on Sunday followings allegations of the election law malpractice in three highly competitive provinces.
BMA launches shuttle to ease school traffic

The Bangkok Metropolitan Administration (BMA) will provide free shuttle bus services linking Samsen Road to areas in Thon Buri, with the aim of easing traffic congestion when schools reopen on Monday.
All quiet on the Mekong front
Mekong civil society groups are urging the governments of Thailand and Cambodia to shift their Mekong River policy towards protecting ecosystems and promoting environmental justice.
Court speaks out on teen held for lese majeste
The Central Juvenile and Family Court has waded into the case of a 15-year-old girl who has spent over 40 days in a juvenile facility.
Na Ranong overpass to open next month after Covid delay
The construction of an overpass over the Na Ranong intersection in Klong Toey district is expected to be completed early next month, said Bangkok governor Chadchart Sittipunt.
Senators: PM votes unbiased and in country's best interest
A number of senators on Saturday sought to reassure the public that the vote for the next prime minister will be free from influence and there are mixed opinions as to the best choice among members of the upper House.
A handful of golds for Thai pugilists
Thai boxers ran rings around their opponents as they captured five out of six gold medals at the 32nd SEA Games in Cambodia on Saturday.
Coach takes blame for Chaba Kaew's shock loss
Thailand women's football coach Naruepol Kaenson says he is to blamed for Chaba Kaew's shock 4-2 semi-final loss to Myanmar in the 2023 SEA Games in Cambodia on Friday night.
Rattanon in driver's seat at Thailand Mixed Cup
Former Thailand Open victor Rattanon Wannasrichan carded his second straight 68 to take a two-stroke lead after round two of the 3.45-million-baht Thailand Mixed Cup at the par-73 St Andrews 2000 in Rayong on Saturday.
'Dark horse' wins 2 seats in Ubon Ratchathani
The Peu Thai Rumphalang Party was a dark horse that won two seats from 11 constituency MP candidates in Ubon Ratchathani.
Singapore eases egg-freezing rules as births hit record low
Singapore will further ease rules on egg freezing by increasing the age limit for women who wish to undergo the procedure.
Polish man arrested for murder of Ukrainian girlfriend
Police arrested a Polish man, 25, for allegedly murdering his Ukrainian girlfriend and trying to dismember the body at a highrise condominium in Bang Kolaem district, Bangkok.
UTN thanks Southern voters for poll support
Deputy leader of the United Thai Nation (UTN) Party, Thanakorn Wangboonkongchana, on Monday thanked the party's supporters for their votes in the election, saying the party will follow the election winners' lead when it comes to forming the next government.
---
Een nieuwe dag, een nieuwe krant
15 mei – Bangkok Post opent vandaag op een voorpagina zonder platte tekst (berichten, artikelen) maar alleen met twee grote 4-koloms foto's en vier Uitgelichte citaten plus de kolom Inside met de pagina's die verder verkiezingsnieuws bevatten. BP kopt paginabreed onder een infographic met de frontrunners nadat 80,5 procent van de stemmen is geteld MFP, PT triumph in poll.
Het artikel is in deze vorm nog niet geplaatst op de website, wel Thailand decides: Live vote count. Terwijl het aantal stemmen maandag in het hele land doorging, leidden twee voormalige oppositiepartijen – Pheu Thai en Move Forward – de race (Vote count underway).
Het Business katern opent paginagroot plus een overlees van een halve pagina met Practice what you preach. Als politici ervoor kiezen om populistische voorstellen uit te voeren, zal de financiering ervan een aantal moeilijke keuzes vergen.
Politieke partijen beloofden verschillende populistische toezeggingen voor de verkiezingen om kiezers te verleiden, waaronder een controversiële toelage van 10.000 baht via digitale portemonnees aan personen van 16 jaar en ouder; een verhoging van het minimumdagloon tot 600 baht; een verhoging van de maandelijkse minimumsalarissen voor universitair afgestudeerden tot 25.000 baht; schorsing van schulden voor boeren; een onmiddellijke verlaging van de elektriciteitstarieven; en een verhoging van de maandelijkse toelage voor mensen van 60 jaar en ouder tot 3.000-5.000 baht, omhoog van 600-1.000 baht.
Het Thailand Development Research Institute schatte onlangs dat er minstens 3 biljoen baht nodig zou zijn om 87 populistische beleidsmaatregelen te vervullen die door negen politieke partijen zijn beloofd. Veel kiezers zouden graag willen weten: waar komt dit duizelingwekkende bedrag vandaan om dit beleid te ondersteunen?
Life opent met A bitter farewell. Terwijl het robotgebouw aan de Sathon Road in Bangkok een make-over krijgt, moeten de houding en de wetten veranderen om culturele monumenten te behouden. Mag u zelf lezen. Ik kan me het gebouw niet voor de geest halen. Kan het ook niet op de foto aanwijzen.
Terug naar het eerste katern. Pagina 2 telt drie berichten en zes foto's van de hoofdrolspelers in het verkiezingscircus. De pagina opent met Pita: MFP, Pheu Thai can form government. Oppositiepartij Pheu Thai zal naar verwachting een coalitie vormen met de Move Forward Party (MFP), aangezien uit onofficiële verkiezingsuitslagen bleek dat ze nek aan nek waren in een spannende race. Pita is de partijleider van Move Forward.
Het meest opvallende bericht meldt Vote buys 'rampant' in Bangkok. De meeste berichten (163) over het kopen van stemmen die de Kiesraad (EC) zondag ontving, werden gemeld in Bangkok, dat de meeste kiesdistricten van alle provincies heeft. Bangkok had een opkomst van 72 procent.
Het derde bericht op de pagina meldt Political party leaders kick off nationwide vote. Partijleiders behoorden tot de Thaise kiezers die zondag in landelijke stembureaus verschenen om te stemmen voor een verkiezing die zal beslissen of Prayut na acht jaar aan de macht zal worden afgezet en vervangen als premier.
Gisteren schreef de krant Prayut to remain in politics as UTN party strategist. Prayut blijft in de politiek en zijn United Thai Nation Party zal de vorming van de nieuwe regering respecteren, aldus de partijleider.
Pagina 3 opent met New generation tires of old guard. Academici geloven dat de Move Forward Party (MFP) de handen ineen zal slaan met oppositiepartij Pheu Thai en kleine partijen om een regeringscoalitie te vormen.
---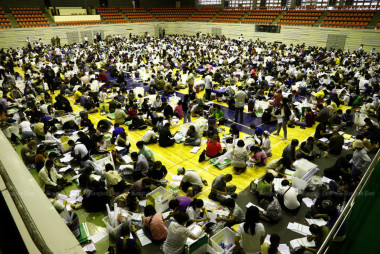 Een nieuwe dag, een nieuwe krant
14 mei – BP opent vandaag onder de vijfkoloms kop Decision day. Vijftig miljoen Thais hebben het recht om te beslissen over de toekomst van het land: verandert het land radicaal of wordt de status quo gehandhaafd?
De Kiesraad verwacht een opkomst van 85 procent, de onofficiële uitslag is na half zeven bekend en de verkiezing van een nieuwe premier vindt op een latere datum plaats. Naast de opening staat The naughty list, een zwart kader met vijftien dingen die volgens de Kiesraad niet zijn toegestaaan zoals een selfie nemen in het stembureau.
---
Een nieuwe dag, een nieuwe krant
13 mei – Zoals gebruikelijk op zatedag bestaat de krant uit twee katernen: Nieuws en Weekend Business. De krant opent Senators coy over PM pick vote. Senatoren wachten op de uitslag van de verkiezingen van zondag alvorens te beslissen om hun stem uit te brengen voor de volgende premier, zeggen ze. Maar ze zijn bereid om een kandidaat te steunen van welke partij dan ook die de meeste zetels in het Huis van Afgevaardigden wint.
Prominent bovenaan de voorpagina staat het fotobericht Rally Rousing met een foto van de laatste campagne van de United Thai Nation Partij in het QSN Convention Centre, waarop Prayut met zijn vingers een gebaar maakt dat 22 moet voorstellen, het nummer van zijn partijlijst.
Verder op de pagina drie berichten en de medal tally van de SEA Games, waarop Thailand nu op de gedeelde plaats met Cambodja staat (165 medailles).
De berichten melden THAI bullish on earnings, EC sees high poll turnout en Govt wants talks to continue.
• Thai Airways (THAI) zal dit jaar naar verwachting minstens 130 miljard baht aan inkomsten genereren nadat de nettowinst in het eerste kwartaal 12,5 miljard baht bereikte.
• De Kiesraad (EC) verwacht bij de verkiezingen van zondag een opkomst van 85% en heeft er alle vertrouwen in dat alles soepel zal verlopen ondanks enkele haperingen tijdens de vervroegde stemming afgelopen zondag.
• De regering zal haar beleid van vredesonderhandelingen in het diepe Zuiden voortzetten, ondanks de recente aankondiging van Barisan Revolusi Nasional Melayu-Patani (BRN) dat zij de vredesbesprekingen zal opschorten totdat er een nieuwe regering is gevormd.
Het katern Weekend Business opent met TAT makes move into the metaverse. De Tourism Authority of Thailand (TAT) is van plan om in het derde kwartaal van dit jaar haar eerste virtuele kantoor in de Bitkub Metaverse te openen, in een poging millennials en buitenlandse toeristen aan te trekken om de digitale economie van Thailand te versterken. Geen idee wat bedoeld wordt met Metaverse; misschien komt er nog eens moment waarop het digitale inzicht bij me doorbreekt.
Een nieuwe dag, een nieuwe krant
12 mei – Vaste lezers van Nieuws uit Thailand zllen zich inmiddels wel afgevraagd hebben of er iets met me aan de hand is. De combinatie chronische vermoeidheid, hitte, rugpijn en tot bovenmaat van ramp een kriebelhoest werd me te veel en gisteren maakte ik niet eens Nieuwsflitsen.

Of ik vandaag een complete NuT kan maken, kan ik op dit moment nog niet zeggen. Ik doe mijn best maar zoals de uitdrukking luidt: je kunt geen ijzer met handen breken.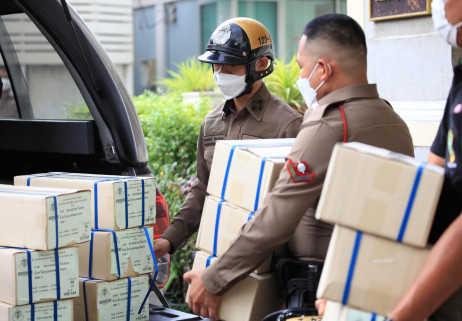 BP opent vandaag met 'Zero chance of a coup', een verhaal van een halve pagina inclusief twee infographics. Legerchef generaal Narongpan Jittkaewtae verzekerde donderdag dat er geen staatsgrepen worden gepleegd terwijl hij de leiding heeft. Hij zei dat het woord 'staatsgreep' in niemands vocabulaire zou moeten voorkomen. Hoe zero die kans is, moet ik nog zien. U kent toch ook de uitdrukking never say never.
Verder op de voorpagina twee berichten en de medal tally van de Asean Games in Cambodja. Thailand is inmiddels ingehaald door Vietnam (183) en Cambodja (155) en staat nu met 151 medailles op de derde plaats.
De berichten melden Senators urged to heed views of voters en Ex-pilot arrested for online sex shows (link niet beschikbaar). Een groep academici heeft een publiekscampagne gelanceerd die er bij senatoren op aandringt de politieke partij te steunen die de meerderheid van de zetels in het Huis van Afgevaardigden behaalt in de verkiezingen van zondag om de leiding te nemen bij de vorming van een nieuwe regering.
Het Business katern opent met Banks consider new fees to reflect expenses. De Thai Bankers' Association (TBA) overweegt een nieuwe tariefstructuur voor de sector, waarbij hogere servicekosten voor banken mogelijk worden doorberekend aan klanten.
Life is weer in de ban van horloges, ditmaal de Code 11.59 serie in sportieve materialen van Audemars Piguet (Steel yourself). Code 11.59 van Audemars Piguet heeft een achthoekig kastmidden als onderdeel van zijn complexe architectuur. De gecompliceerde kast is voornamelijk gemaakt van 18-karaats wit- of rozegoud, maar roestvrij staal schittert nu in de nieuwe collectie.
---
Een nieuwe dag, een nieuwe krant
11 mei – Nog drie nachtjes slapen en dan wordt de politieke toekomst van het land bepaald. Vandaag opent BP met Weighing in on the election en pagina 3 opent met Pheu Thai sure of Chiang Mai poll win.
Boven de opening waarin academici voorspellen hoeveel zetels in het Huis van Afgevaardigden elke partij zondag naar verwachting zal winnen, staan twee 2,5-koloms foto's met op een Prayut in Chumphon, een van de bolwerken van de United Thai Nation partij, en op de ander kandidaat-premier Srettha in Chiang Mai.
Bij de opening krant staat de infographic Never too old to vote met een 'taart' van drie stukken met de kiezers verdeeld naar generatie (leeftijd). De grootste generatie is de generatie X: 30,87 procent (42-57 jaar). De opening beslaat de halve voorpagina plus een overlees van een halve pagina op de 3. Zes academici proberen de toekomst te voorspellen.
Een nieuwe dag, een nieuwe krant
10 mei – Bangkok Post opent vandaag met 'Thaksin must go to prison'. Vice-premier Wissanu, de juridisch expert van het kabinet, legt uitgebreid en in detail uit in welke zaken Thaksin nog is betrokken en wat daarvoor de regels zijn. Huisarrest, waar Thaksin op hint, zodat hij zijn verjaardag met zijn kleinkinderen kan vieren, kan hij wel op zijn buik schrijven.
Verder bevat de voorpagina twee berichten waarvan het grootste City Hall admits blunder as UTN's laser stunt goes viral en Poll body sees voter turnout at above 80%. De pagina bevat ook een fotobericht met een foto waarop motorrijders een bord passeren met de countdown naar de verkiezingen dat door de gemeente Bangkok bij het Victory Monument is geplaatst, alsmede de medal tally van de SEA Games met Thailand op nummer 1 dankzij 213 medailles.
Pagina 2 telt vijf berichten en een fotobericht. De pagina opent met Cops nab 6 more in temple scandal. De bovenop meldt DJ Man and Baitoey indicted with 4 others. De overige twee berichten melden Chula Uni's dentistry faculty hits new high en Inspector Sua aide found hanged while in police custody.
• De faculteit Tandheelkunde van de Chulalongkorn University staat op de 70e plaats volgens de QS World University Rankings by Subject, wat haar agressieve pad bevestigt om een leider te zijn op het gebied van tandheelkunde, wetenschap en innovatie.
• De rechterhand van een politie-inspecteur die naar verluidt betrokken was bij online gokken, is zondagavond in hechtenis opgehangen aangetroffen.
Pagina 3, netto een 0,75 pagina, telt vier berichten en een fotobericht met een foto van gouverneur Supamit van Samut Prakan die een stembiljet (maar niet een echt) in een bus doet tijdens de campagne Big Day ter stimulering van de opkomst zondag.
De pagina telt 4 berichten, de opening meldt Pheu Thai lays down 3 rules. Het hoofd van de familie Pheu Thai en kandidaat-premier Paetongtarn 'Ung Ing' Shinawatra heeft drie voorwaarden aangekondigd voor de partij bij het vormen van een coalitieregering, waaronder dat Pheu Thai toezicht moet houden op alle grote ministeries.
De overige drie berichten melden Thai Sang Thai pans EEC as 'overly niche', EC urged to bar MFP leader Pita en Pig farmers picket over prices, imports.
• Het land profiteert nauwelijks van de Eastern Economic Corridor (EEC), een vlaggenschipproject van de huidige regering, omdat het volgens de Thai Sang Thai (TST) Party slechts toegankelijk is voor een paar kleine binnenlandse bedrijven.
• Een lijsttrekkerskandidaat van Palang Pracharath beschuldigde Pita Limjaroenrat, leider en kandidaat-premier van Move Forward, ervan aandelen te hebben in het mediabedrijf iTV Plc.
• Duizend varkensboeren verzamelden zich dinsdag buiten het Government House om actie te eisen tegen de gesmokkelde invoer van buitenlands varkensvlees en de hoge voerkosten, die beide volgens hen de varkensvleesprijzen hebben opgedreven.
Nieuwsflitsen 10 mei
Thaksin wants to come home, 'enter legal process'
Thaksin Shinawatra again says he wants to come home before his birthday in July, to care for his grandchildren – and says he "will enter the legal process". Foto: Homesick blues
Wissanu: Thaksin must serve prison time, not house arrest
Former prime minister Thaksin Shinawatra must serve his sentence in prison, not under house arrest, if he returns home, according to caretaker Deputy Prime Minister Wissanu Krea-ngam.
Party ordered to cease laser display on Rama 8 Bridge
City Hall orders the United Thai Nation Party to stop projecting a laser-lit campaign message on the giant pillar supporting Rama 8 Bridge, after the Election Commission drew its attention to the display.
Household debt in election focus
Kavita Wongyakasem runs a small business in Bangkok, owns a two-storey house in Nonthaburi, drives a pickup truck, and sends her two daughters to good schools.
More arrests, uncovered wealth in monk's embezzlement
Police have arrested five monks and a driver of a forest temple in Pak Chong for their alleged involvement in a 300-million-baht embezzlement scandal.
Celebrity couple indicted in Forex-3D Ponzi case
Prosecutors indict celebrity couple "DJ Man" and his singer-wife "Baitoey" for alleged fraud in the multi-billion-baht Forex-3D Ponzi case.
Asia rice output turns corner as farmers expand planting
Asia's rice output is set to climb this year as higher prices spur farmers to expand acreage and use more fertiliser, easing supply concerns after production suffered its first decline in seven years in 2022.
Chinese snap up homes in post-covid Thailand
Many Chinese, eager to offset risks after the pandemic, are snapping up second homes overseas and Thailand, with its good international schools and quality medical facilities, is proving an attractive investment.
First term spending to reach B57.8bn
People's spending ahead of the first term of school, which starts in the middle of this month, is expected to reach 57.8 billion baht, the highest since the survey was first conducted in 2010.
Yellow Line delay irks Dems

Representatives of the Democratic Party have urged the Mass Rapid Transit Authority of Thailand (MRTA) to speed up the opening of the Yellow Line service.
True sets out strategies for post-merger expansion
True Corporation is flexing its muscles by bolstering brand perception for all consumers' lifestyles through five strategies, amid intensifying competition in the market.
Phuket tourism set to take a bigger hit
Foreign arrivals to Phuket may plunge to a lower than expected level during the upcoming low season, due largely to the slowdown of the Chinese market and the bankruptcy of an Indian airline.
Lack of experience no hindrance: Pita
The Move Forward Party (MFP) has downplayed its lack of experience in government, saying it has proven itself during the last four years of working in the legislative branch.
Bangkok land price index surges in Q1
The land price index in Greater Bangkok rose in the first quarter of 2023 with a double-digit increase, driven by land price hikes on the outskirts of the capital.
Gold stays buoyant as Asian bourses rally
Gold prices bounced back and managed to stay buoyant on Monday as Asian stocks advanced while investors awaited key US inflation data due later this week.
Dept turns to dogs in narcotics battle
The Customs Department has adopted the use of sniffer dogs to detect narcotic drugs hidden in imported and exported goods, saying its practices are now fully upgraded to meet international standards.
Cops seek answers from industry chief
The chief of the Department of Industrial Works was invited to discuss regulations on cyanide importation after publicity surrounding an alleged serial killer's use of the chemical compound.
Bhumjaithai rejects high spender label
The Bhumjaithai Party is asking the Thailand Development Research Institute (TDRI) to clarify an article it released recently, which said the party's campaign promises would place the most burden on the state's coffers compared to other parties' pledges.
Bhumjaithai aims for seats in capital
The Bhumjaithai Party aims to make inroads in Bangkok in Sunday's election after failing to win a seat in the last general election in 2019 despite fielding 28 candidates in a total of 30 constituencies.
Virus curbs set to return to schools
The Education and Public Health ministries have been told to ramp up Covid-19 control measures in schools due to concerns over a potential spike in infections.
Smartphone sales down 20% in first quarter
Thailand's smartphone sales declined by 20% year-on-year in the first quarter, compared to a global fall of 14.6% in the same period.
Recovery unabated amid uncertainty
Asia and the Pacific remains a dynamic region despite the challenging year for the world economy.
Regulatory harmonisation to drive crypto adoption
Events in 2022 served to remind us of the importance of regulatory compliance when it comes to protecting users and maximising security and trust in the cryptocurrency industry.
DCT calls for National Board of Digital Transformation
The new government should establish a "National Board of Digital Transformation" to gear the country towards the Thailand 5.0 era.
Soraoat wins, Puripol's dream ends
Thai sprinter Soraoat Dapbang won the men's 200m title at the SEA Games in Cambodia on Monday as teammate Puripol Boonson's campaign ended prematurely due to injury.
EU cancels Israel reception over extremist minister's participation
The European Union said Monday it was cancelling its Europe Day reception in Tel Aviv after the extremist Israeli minister representing the government stood firm in his intention to participate.
Cabinet support for inter-Asean transactions in local currencies
The caretaker cabinet on Tuesday approved a draft declaration to promote use of local currencies in transactions between member states of the Association of Southeast Asian Nations.
Chinese monthly arrivals 'to reach 1m by October'
Chinese tourist arrivals are on course to hit 1 million a month from October, a level last seen before the pandemic, as travel is expected to gather momentum during the winter and long national holidays, says the Tourism Authority of Thailand.
Myanmar violence looms over Asean summit
Southeast Asian nations are at a "crossroad", a senior Indonesian minister warned on Tuesday, as escalating violence in junta-controlled Myanmar loomed over a regional summit.
B210m fine for falling expressway beam
The Expressway Authority of Thailand (Exat) has initially fined its contractor 210 million baht and suspended construction for seven days pending an investigation into a falling beam that killed one person and damaged four cars on Rama II Road on Sunday.
Man charged with promoting online gambling via TikTok
A man with multiple criminal convictions reported to the Cyber Crime Investigation Bureau (CCIB) on Tuesday and acknowledged a charge of persuading other people, directly or indirectly, to engage in illegal online betting.
Protests erupt after former Pakistan PM Khan arrested
Protests erupted across Pakistan on Tuesday after former prime minister Imran Khan was arrested during a court appearance in the capital for one of dozens of cases pending since he was ousted last year.
Boeing wins $40bn order from Ryanair
Boeing has secured a landmark order from one of its most important customers, with Ryanair agreeing to purchase as many as 300 of the company's largest 737 Max aircraft in a bet on the post-pandemic travel recovery.
---
Een nieuwe dag, een nieuwe krant
9 mei, 5:40 uur – Op Mono29 Election Debate met woordvoerders van drie partijen die geloven in de heilzame plannen van hun partij en hopen dat de kiezers op 14 mei op hun partij zullen stemmen. De verschillen tussen die partijen zijn marginaal. Ze willen allemaal de economie stimuleren, ze verschillen alleen over handhaving van de dienstplicht.
7:38 uur De verkiezingen domineren ook de krant die want die opent met EC vows poll will be error-free, een verhaal geplaatst over vijf kolommen tot over de vouw met bijgaande foto van CCTV beelden. Ze tonen functionarissen die in de stembureaus de advance stembiljetten sorteren. De biljetten worden opgeslagen tot de telling van de stemmen na de verkiezingen van 14 mei.
De Kiesraad (EC) heeft gezworen om fouten bij het afhandelen van de verkiezingen van zondag te voorkomen en accepteert tegelijkertijd kritiek over gebreken die zijn gemeld bij de advance stemming.
De overige twee berichten op de voorpagina 'lijden' ook aan het 'verkiezingsvirus': City Hall wary of Election Day flooding en UTN, MFP remain poles apart.
• Het stadhuis bereidt zich deze week voor op zomerstormen vanwege de bezorgdheid dat mogelijke overstromingen de stembureaus op de verkiezingsdag op zondag zouden kunnen beschadigen.
• Terwijl de United Thai Nation Party maandag het belang benadrukte van het beschermen van de monarchie tijdens het campagnetraject, bleef de Move Forward Party aandringen op radicale veranderingen in de politiek van Thailand.
Het Business katern opent met Power use surges to a record high. Het kokend hete weer in Thailand veroorzaakt een stijging van het elektriciteitsverbruik, wat op 6 mei leidde tot een recordhoogte van 34.826,5 megawatt.
Life opent paginagroot met A lingering problem dat de vraag stelt of verkorting van de periode waarin oogsten en oogstresten in brand mogen worden gestoken een oplossing biedt (Persistent air pollution begs the question – is shortening the crop burning period a solution?)
De foto toont Chiang Mai dat gisteren 's werelds vijfde ergste luchtverontreinigiing had met een index van 146 op de IQAir app. Maar Bangkok ligt ook onder een nevel van fijnstofdeeltjes, zoals ik zelf elke dag kan constateren wanneer ik naar het centrum ga.
Nieuwsflitsen 9 mei
Brutal heat continues to grip Asia in warning for the world
Asia remains in the grip of a blistering heat wave, chiming with predictions from climate scientists that 2023 could be the world's hottest year.
12 arrests, 650kg crystal meth seized
Police arrested 12 suspects and seized 650 kilogrammes of crystal methamphetamine after stopping a convoy of three trucks for a search in Saraburi province on Sunday.
Toyota suspends sales of Yaris model after safety test problem
Japanese carmaker Toyota Motor Corp has stopped sales of its Yaris Ativ, a senior official said on Monday, after its affiliate Daihatsu rigged part of the door in side-collision safety tests.
China's logistics activities slow in April, expectations unabated
China's logistics industry expanded at a slower pace in April but companies remain upbeat about the sector's outlook as a sustained economic recovery and holiday consumption is expected to boost logistics activities.
Storms warning for upper Thailand
Scattered thunderstorms with gusty winds, some hail and possible lightning strikes are likely in northern areas of Thailand from May 8-10, the Meteorological Department said on Monday.
High-profile monk's 'embezzlement' tally nears B300m
Investigators find a stash of money and bullion buried behind former Phra Ajarn Khom's temple, raising his alleged embezzlement of public donations to almost 300 million baht.
Fire guts big Korat electrical appliance store
A fire at a large electrical appliance store in downtown Korat city on Monday morning caused about 50 million baht in damage according to an initial estimate. No casualties were reported.
Thai women capture golf's International Crown
Thailand captured the LPGA International Crown on Sunday, blanking Australia 3-0 in the championship match to complete a near-perfect run in the global team event at Harding Park in San Francisco.
China tells International Olympic Committee of concerns about 'politicising' sport
China has expressed its concerns about the "politicisation of sports events" to the International Olympic Committee after a series of incidents that have alarmed Beijing, including a US-led diplomatic boycott of the Winter Games and recent anthem blunders involving Hong Kong teams.
Falling concrete slab kills worker on Rama 2 highway
One worker killed, four cars damaged as drivers swerve to avoid a slab of precast concrete falling onto the highway beneath the Rama 3-western Bangkok outer ringroad, still under construction.
Organisations concerned despite improvement in risk index
Corporate cyber-attack risks in Asia-Pacific dropped to a moderate level last year, in line with the global trend, yet 78% of surveyed organisations worldwide expect successful attacks to take place in 2023, according to a recent survey.
Tisco sees gloomy outlook for May
The investment atmosphere for Thai stocks is likely to remain downbeat this month following the recent US interest rate hike that could exacerbate the banking crisis in that nation, says Tisco Securities.
Fast-rising Teqball crashes Southeast Asian Games
As teqball continues its fast growth with its debut at the Southeast Asian Games, the young sport has drawn resentful glances from similar sports in the region that feel it is treading on their turf.
New Zealand avoid Pakistan whitewash despite Iftikhar run blitz
Henry Shipley and Rachin Ravindra shared six wickets as New Zealand beat Pakistan by 47 runs in the fifth and final one-day international in Karachi on Sunday.
Test Drive: Ranger Raptor rocks
Although Ford has recently launched a less powerful diesel version of its second-generation Ranger Raptor, it's the turbocharged V6 petrol variant that everyone wants.
Your job must be your laboratory
No one, irrespective of role or level, can afford to stop experimenting. If you are a CEO or front-line worker, this is doubly so when upskilling yourself for new challenges.
Cheaper power used to woo voters
Costly electricity bills are prompting political parties to pit their energy policies against their rivals in an effort to catch the attention of voters in next week's general election.
Excise requests extra B3bn for EV subsidy
The Excise Department plans to ask for an additional government budget of 3 billion baht to subsidise the use of electric vehicles (EVs) in the state EV subsidy scheme.
A golden day for Thais in Cambodia
Thailand moved up to second in the 2023 SEA Games medal standings after winning 10 gold medals in Cambodia on Sunday.
War Elephants take on Laos with semis on their mind
Thai men's football team geared up for their third Group B match of the 2023 SEA Games on Monday, but their coach Issara Sritaro admitted his mind was already on the knockout phase of the event.
Zoning shift for Natai Beach spurs hope
Based on its proximity to Phuket and its airport, Natai Beach is poised to become an international tourist destination, with several property developers ready to start their projects once a new town plan comes into effect.
Airports operator expects to turn profit next fiscal year
Airports of Thailand Plc expects to break even this fiscal year and return to profit the following year as air travel returns to pre-covid levels.
Convoy carrying Asean diplomats 'attacked' in Myanmar
A convoy of diplomats travelling in Myanmar came under fire from an unknown armed group, a military official and a diplomat said Monday. The convoy was carrying diplomats from the embassies of Indonesia and Singapore and officials coordinating humanitarian relief from the Association of Southeast Asian Nations (Asean) regional bloc. No casualties were reported.
Airstrikes rock Sudan as truce talks yield no breakthrough
Air strikes again shook Sudan's capital Khartoum Monday while the latest truce talks in Jeddah have yielded no progress, with a Saudi diplomat saying both sides consider themselves "capable of winning the battle".
Chinese militia boats cross Thai, other Asean warships in South China Sea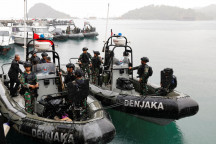 Boats belonging to a Chinese maritime militia approached an area where navies of India and Asean countries were taking part in drills in the South China Sea, two Indian sources said on Monday.
Foto: Indonesian Marine special forces of Jala Mangkara Detachment (Denjaka) prepare to patrol around the waters near the venue of the 42nd Asean Summit held in Labuan Bajo, East Nusa Tenggara province, Indonesia.
Spain suspends trading in NH Hoteles, Thai parent offers to buy shares
Spanish stock market regulator CNMV on Monday suspended the trading of shares in NH Hotel Group SA pending information from the company, just as its Thailand-based parent company offered to buy NH stocks in the market.
Vietnam to require social media users to verify identity
Vietnam is preparing to make it mandatory for social media users of both local and foreign platforms to verify their identity in a bid to rein in online scams, state media reported on Monday.
---
Een nieuwe dag, een nieuwe krant
8 mei – Het is maar goed dat de meeste Thais (bij)gelovig zijn anders zou een groot deel van de economie op zijn gat liggen. Alleen al de verkoop van amuletten moet goed zijn voor duizenden, zo niet miljoenen baht. Deze gedachte bekroop me vandaag alhoewel de krant geen enkel bijgelovig bericht bevat.
BP opent vandaag met Busy day as first votes cast inclusief een grote 4-koloms foto bijna tot de vouw. De foto toont kiezers in het Thai-Japanese Youth Centre, een van de stembureaus voor advance voting.
Verder bevat de voorpagina een lang 1-koloms bericht met Don't mess with lese majeste law: Prayut. Premier Prayut dringt er bij zowel politici als kiezers op aan om zich te onthouden van elke poging om de wetgeving met betrekking tot de monarchie te hervormen.
Pheu Thai closes door on PPRP tie-up en Supreme Patriarch to mark his 96th completeren de voorpagina.
• Paetongtarn 'Ung Ing' Shinawatra, de kandidaat-premier van Pheu Thai, benadrukte zondag dat de partij na de verkiezingen geen coalitieregering zal vormen met de huidige regeringspartij Palang Pracharath (PPRP).
• Ter herdenking van de achtste verjaardag van Zijne Heiligheid de Opperste Patriarch op 26 juni worden grote ceremoniële evenementen worden gehouden, heeft de regering aangekondigd.
Het Business katern opent met de paginagrote analyse The critical first 100 days plus overlees van een halve pagina op de 2. Bedrijfsleiders zijn begonnen na te denken over de vooruitzichten voor Thailand in de eerste 100 dagen onder een nieuwe regering, nu de verkiezingen over minder dan een week plaatsvinden.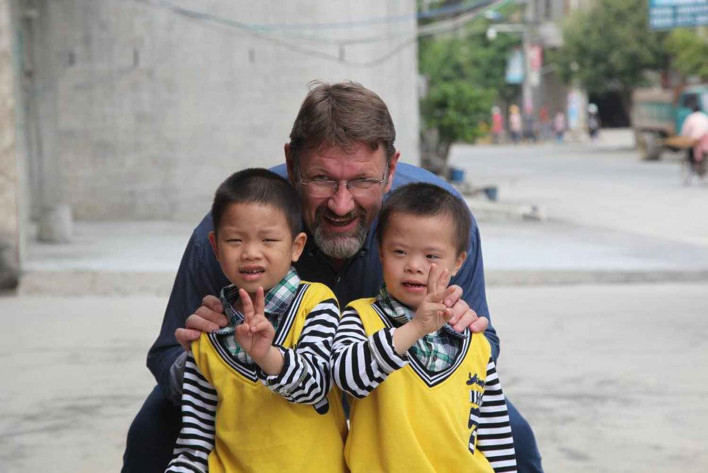 Life opent met Helping kids in need. Non-profit Care for Children werkt samen met de overheid om weeskinderen en kinderen die in de steek zijn gelaten een nieuw leven te geven. De foto die ik hierbij plaats, is niet  de dragende plaat van een halve pagina want die vind ik minder interessant. Hij toont een hartje dat wordt vastgehouden in een hand.
Terug naar het eerste katern. Pagina 2 telt drie berichten, waarvan twee lange, en de rubriek In Brief met drie kortjes. De pagina opent met Police on look-out for election crime. De politie voert haar inspanningen op om criminele activiteiten te onderdrukken, met name alle vormen van het kopen van stemmen en verkiezingsfraude, vooral in het Zuiden.
Het andere lange bericht met een vier- en driekoloms foto meldt PPRP pitches 'war on poverty' to reduce income gap. Verlaging van de energieprijs, herstructurering van schulden en het opbouwen van kleine bedrijven staan hoog op de campagneagenda van de regeringspartij Palang Pracharath (PPRP).
Het derde berichtje zegt Man nabbed for Trang hit. Een man die ervan wordt verdacht lid te zijn van een bende die eerder dit jaar een vader neerschoot in de provincie Trang, is gisteren gearresteerd, zegt commandant Pol Col Pongpanot Chukaew van subdivisie 6.
Ten slotte pagina 3, netto een halve pagina door een advertorial van de Mahidol universiteit die pocht Creating a world-class university by valuing people. Het uitgelicht citaat zegt: Mahidol University's focus on a quality culture has ceated a network of excellent work across various faculties and departments.
De pagina telt drie berichten en een fotobericht met als opening Former monk denies theft of temple funds. Een voormalige monnik, gearresteerd wegens vermeende verduistering van 180 miljoen baht uit Wat Pha Dhammakiri in Nakhon Ratchasima tijdens zijn verblijf daar, ontkent de aanklacht.
Van de overige twee berichten kent u al het bericht over de exit tax, een krankzinnig voorstel van het Revenue Department, maar die ontkent dat het een serieus voorstel was; het was een proefballonnetje.
Nieuw is het bericht Dino footprints found in Phetchabun. In het district Nam Nao van Phetchabun ia een reeks voetafdrukken van dinosaurussen ontdekt (foto), waarvan experts zeggen dat ze 225 miljoen jaar oud kunnen zijn, aldus het Department of Mineral Resources.
Tot zover het 'papieren' nieuws van vandaag. Meer nieuws in Nieuwsflitsen. Het is 10:20 uur. Over een uurtje of zo verkas ik naar het centrum.
Overpeinzing: Who Am I
8 mei – De film alleen nog gezien als preview op Mono29: Who Am I (Duits: Who Am I – Kein System ist sicher; Engels: "Who Am I: No System Is Safe"), een Duitse techno-thrillerfilm uit 2014, geregisseerd door Baran bo Odar.
De film is gecentreerd rond een groep computerhackers in Berlijn gericht op wereldwijde bekendheid. Benjamin, een computergenie, wordt uitgenodigd om lid te worden van FRI3NDS, een roemzoekende hackergroep. Wanneer zijn medewerkers echter worden vermoord door Russische gangsters, wordt hij ondervraagd door Europol.
Who Am I werd vertoond in de sectie Contemporary World Cinema op het Toronto International Film Festival 2014. De film is opgenomen in Berlijn en Rostock. Vanwege de verhaallijn en sommige elementen wordt de film vaak vergeleken met Fight Club en Mr. Robot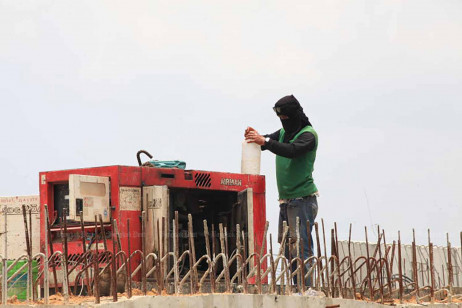 Nieuwsflitsen 9 mei
Dangerous heat levels expected in five areas on Sunday
The Meteorological Department expects heat indices to reach dangerous levels in five areas of the country on Sunday as at least 14 people faint at a polling station in Bangkok. Foto Extreme heat
Vietnam posts record high temperature: officials
Vietnam reported a record high temperature late Saturday with a north-central weather station measuring 44.1 degrees Celsius (111.38 degrees Fahrenheit), officials said, breaking a previous high set in 2019.
Alleged hired gunman arrested in Phatthalung
An alleged member of a gang of gunmen for hire was arrested on Sunday morning in the southern province of Phatthalung in a police crackdown on suspected criminals in the lead-up to the May 14 election, Crime Suppression Sub-division 6 commander Pol Col Pongpanot Chukaew said.
Vote-buying petition filed against Pheu Thai candidate
A group of villagers from a village in Muang district of Khon Kaen province filed a petition with the provincial election committee on Sunday morning, accusing a Pheu Thai Party candidate of vote-buying.
Departure tax just opinion survey, 'will not be imposed'
The controversy about a 1,000-baht departure tax on outbound Thais and foreign residents is only a legally obliged opinion survey and the tax will not be imposed, the Revenue Department said.
Myanmar crisis to dominate Asean leaders summit
The festering crisis in Myanmar will loom over talks between Southeast Asian leaders in Indonesia this week, as they renew calls for an end to the escalating violence.
Advance voters queue nationwide as temperatures soar
Advance voters queue under the blistering sun outside temples, shopping centres and schools to cast their early ballots on Sunday ahead of the election on May 14.
New species of Viola found in China's Guangdong
Chinese researchers have discovered a new Viola species, V. heyuanensis in south China's Guangdong Province. The findings were published in the international academic journal Nordic Journal of Botany on Wednesday.
Local officials tried to cover up scale of Chinese mine disaster by hiding bodies, report finds
Local officials in northern China moved the bodies of miners killed in a flood last year and produced a fake accident report to downplay the scale of the disaster, an official report has concluded.
Bangkok tame Muang Thong in close battle
Bangkok United defeated former champions Muang Thong United 2-0 in an evenly contested Thai League 1 tussle Saturday night.
Checkmate! Fabulous four land gold
Thailand picked up three more gold medals at the 2023 SEA Games following their success in men's quadruples 60-minute event of Chess Ouk Chaktrang, ju-jitsu and swimming.
War Elephants, Chaba Kaew triumph
Thailand posted impressive victories in the men and women's football competitions of the 2023 SEA Games to improve their chances of making it to the semi-finals of both events.
Rohingya reject Myanmar repatriation plan
Rohingya refugees in Bangladesh said on Saturday they would not return to Myanmar to "be confined in camps" after making their first return visit as part of efforts to encourage their voluntary repatriation.
23,000 flee violence in northeast India, army says
Some 23,000 people have fled ethnic violence in northeast India that has reportedly killed at least 54, the army said Sunday, although there was no new "major violence" overnight.
Tokyo and Seoul try to bury historical hatchet, hailing 'new future' for ties
Japan's Prime Minister Fumio Kishida said Sunday his "heart aches" for Koreans who suffered under colonialism, as Seoul and Tokyo seek a rapid reset of long-strained ties in the face of North Korean threats.
Kishida was in Seoul on the first official bilateral visit by a Japanese leader to South Korea in over a decade. He met President Yoon Suk Yeol, who has made improving testy relations with Japan a top priority for his administration.
Election Commission blamed for wrong data on used ballots
The Election Commission (EC) faced heavy criticism after officials at one advance voting station gave wrong details on constituencies and provinces of cast ballots on Sunday.
Advance voters queue nationwide
Advance voters queue under the blistering sun outside temples, shopping centres and schools to cast their early ballots on Sunday ahead of the election on May 14.
---
Een nieuwe dag, een nieuwe krant
7 mei, 01:41 uur – Wakker terwijl Mono29 documentaires vertoont in de serie World Voyage, onderbroken door previews van films met veel geweld. Op  dit moment een item over thee in Zuid-Afrika. Ik zou het vaker moeten drinken in plaats van de koffie waaraan ik verslaafd ben.
03:34 uur Wakker. Preview van Happy Birthday, een Indiase surrealistische misdaadkomediefilm uit 2022. Gevestigd in een fantasiewereld keurt vakbondsminister Rithwik Sodhi een nieuwe wapenwet goed in het parlement die de productie en verkoop van vuurwapens liberaliseert, wat leidt tot een toegenomen wapencultuur in het land. Chaos ontstaat wanneer een groep individuen samenkomt voor een feest in een luxe hotel en wordt geconfronteerd met de gevolgen van de pas aangenomen wapenwet.
05:51 De krant met de halve voorpagina tot over de vouw Charles III finally wears the crown inclusief een vierkoloms foto van de kroning en een tweekolommer van het Thais koningpaar.
Onder de vouw Conscription Blues met de infographic Unpopular lottery,  een achtergrondverhaal met een overlees op pagina 3 en Wissanu no fan of 'possible' minority govt. Vice-premier Wissanu Krea-ngam heeft ontkend de vorming van een minderheidsregering na de verkiezingen van 14 mei te steunen na zware kritiek van verschillende kanten.
Het achtergrondverhaal Conscription blues meldt dat de dienstplicht nationale aandacht heeft gekregen in de aanloop naar de verkiezingen van 14 mei. Verschillende partijen beloven er een einde aan te maken ten gunste van vrijwillige dienstplicht als ze als de volgende regering vormen. Mijn prognose: dat gaat dus nooit gebeuren.
Pagina 2 is een fotopagina met acht foto's van de kroning waarvan twee 4-koloms foto's. De mooiste toont Charles en Camilla in de Diamond Jubilee State Coach op weg naar Westminster Abbey. De andere toont de Household Cavalry Mounted Band. De King's Procession had een lengte van 2 km, van  Buckingham Palace naar Westminster Abbey.
Pagina 3 telt vier berichten en het fotobericht Push for city votes met een foto van Bhumjaithai partijleider Anutin en andere parlementskandidaten gisteren op de Wong Wian Yai kruising waar ze supporters ontmoetten.
De pagina opent met Capital 'ready' for advance voting. Vandaag wordt er vervroegd gestemd door meer dan 800.000 kiezers die zich hebben aangemeld voor advance voting In Bangkok. Bijna 3.000 veiligheidsagenten zijn ingezet om de orde te handhaven.
Het systeem is in het leven geroepen om Thais die in de hoofdstad werken en nog staan ingeschreven in hun geboortedorp, in de gelegenheid te stellen om een stem uit te brengen.
Van de andere berichten kent u er al twee, nieuw is MFP popularity is no surprise, says Pannikar. De toenemende populariteit van de Move Forward Party (MFP) is niet zomaar een trend, zegt woordvoerster van de Progressive Movement Pannikar Wanich. Wat haar die overtuiging geeft, mag u zelf lezen.
U bent nu op de hoogte van al het 'papieren' nieuws van vandaag. Meer nieuws in Nieuwsflitsen. Het is 8:36 uur, nog te vroeg om al naar het centrum te verkassen. Moet nog wel ontbijten. In de koelkast ligt een krab sandwich op me te wachten, een van mijn favoriete sandwiches die ik koop bij S&P.
Mono29 vertoont Boss Level , een Amerikaanse sciencefiction-actiefilm uit 2020. Een voormalige Special Forces-agent zit gevangen in een tijdlus en beleeft zijn dood keer op keer opnieuw. Om aan de vreselijke situatie te ontsnappen, moet hij de verantwoordelijken opsporen en stoppen. Geen belangstelling.
Nieuwsflitsen 7 mei
Charles III finally meets his destiny
Charles III finally meets his date with destiny after a lifetime as heir to his late mother, after being officially crowned king in the first coronation in Britain since 1953. Foto Destiny fulfilled
China's Hozon to make EVs in Thailand
Hozon New Energy Automobile Co of China is preparing to start production in Thailand, becoming the latest electric vehicle maker to begin building a supply chain in the region's top auto-manufacturing hub.
Pannika: Move Forward ready to be core of next government
Move Forward is ready to be the core party in a new government and its increasing popularity is not just a passing fad, says campaign adviser Pannika Wanich.
Philippines rescues over 1,000 trafficking victims
Philippine authorities have rescued over a thousand people from several Asian nations who were trafficked into the country, held captive and forced to run online scams, an official said on Saturday.
Vietnamese man held for fake land deals
Authorities have arrested a Vietnamese man accused of holding a fake Thai ID card and falsifying land documents to sell other people's plots via auction in three northeastern provinces.
Experts downplay spike in severe Covid cases in HK
The number of fatal and severe Covid-19 cases in Hong Kong last week was almost double the tally recorded in the previous seven days, health authorities have said.
Apple iPhone sales bolster Q1 results
Apple Inc's results beat expectations on Thursday, showing off the tech giant's resilience in a slowing global economy thanks to better-than-expected iPhone sales and notable inroads in India and other newer markets.
Agents seek tougher laws for scams
As repeated cases of fraud, with tour companies ditching their clients, continue to ravage outbound tour businesses, the Thai Travel Agents Association (TTAA) is calling for more effective laws to protect both businesses and consumers.
SCG Cement unit upbeat on growth in 2023
Construction materials producer SCG Cement-Building Materials expects cement consumption this year to grow by 1-2% year-on-year to more than 30 million tonnes, mainly attributed to the tourism recovery.
Sweden, Thailand improve to 4-0, US 3-1 at International Crown
Sweden swept China and Thailand held off South Korea to remain unbeaten at the Hanwha LifePlus International Crown on Friday in San Francisco, California.
Thai Union sees sales picking up
Thai Union Group (TU), one of the world's largest seafood processors, says it is seeing signs of a sales recovery after a first-quarter dip.
Tech firms offer tools ahead of poll
Google has launched new tools for the May 14 general election, while LINE Thailand suggests politicians use their "Official Accounts" to communicate with voters.
War Elephants face speedy Malaysians
The Thai U22 side take on arch-rivals Malaysia in their second Group B game of the men's football competition of the 2023 SEA Games in Cambodia on Saturday afternoon.
MFP vows deep-rooted reforms
The Move Forward Party (MFP) can simultaneously tackle economic problems and resolve "difficult" political and social issues if it forms the next government, according to Thanathorn Juangroongruangkit, the party's campaign assistant.
Pheu Thai puts faith in new slogan as polling day looms
The Pheu Thai Party on Friday ramped up its election campaign in a last-ditch attempt to convince the nation it will be able to bring immediate change to the country after the May 14 vote if it is trusted by the electorate to form the new government.
Police charge monk with embezzling B180 million
A former monk, Phra Ajarn Khom Abhivaro, has been arrested along with two others on charges of embezzling 180 million baht from Wat Pha Dhammakiri, where the monk was based, in Nakhon Ratchasima.
Govt defends power bill subsidy plan
Deputy Prime Minister Wissanu Krea-ngam on Saturday defended a plan to subsidise electricity bills this month, saying it is not an attempt to boost the government's popularity in the May 14 election.
'Aem Cyanide' accomplices sought
Police now believe that suspected serial killer Sararat "Aem" Rangsiwuthaporn had help when purchasing cyanide and they will seek arrest warrants for any accomplices, according to deputy national police chief Pol Gen Surachate Hakparn.
---
Een nieuwe dag, een nieuwe krant
6 mei, 6:29 uur – Wakker. De krant ligt klaar maar eerst een koffie en een peuk. De krant opent met Minority govt idea alarms onder een vierkoloms foto van de openingsceremonie, zeg maar spektakel, van de 32e Southeast Asian Games in Phnom Penh.
Politici en academici zijn sterk gekant tegen elke poging om na de verkiezingen van 14 mei een minderheidsregering te vormen, en waarschuwen dat dit zou kunnen leiden tot straatdemonstraties die uitmonden in een nieuwe staatsgreep.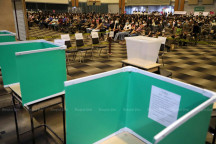 De foto bij het bericht toont tweede gemeentesecretaris Chalermpol die de Rama 2 Hall in Central Plaza Rama 2 inspecteert, een van de lokaties voor advance voting.
Ruim 32.000 personen hebben zich opgegeven om morgen te stemmen, een week voor de verkiezingen. Zeshonderd functionarissen staan klaar om een en ander in goede banen te leiden.
Op de voorpagina verder drie berichten: Ex of accused serial killer unsure how she paid off his debts, Chinese arrivals could soar in May en 20k turn up for Full Moon Party.
• De ex-echtgenoot van Sararat 'Aem' Rangsiwuthaporn gaf tegenover onderzoekers toe dat Sararat vier miljoen baht van zijn schulden had betaald, maar zei dat hij niet wist hoe ze aan het geld kwam, aldus Surachate Hakparn, adjunct-commissaris van de nationale politie.
• Volgens de Civil Aviation Authority of Thailand (CAAT) zullen Chinese luchtvaartmaatschappijen vanaf 1 juni naar verwachting het aantal vluchten naar Thailand verhogen tot 430 per week.
• Ruim 20.000 toeristen woonden donderdagavond een Full Moon Party bij op een bijna kilometer lang stuk strand op Koh Phangan.
Zoals gebruikelijk op zaterdag bestaat de krant uit twee katernen: Nieuws en Weekend Business. In BP in vogelvlucht vertel ik er meer over. Ga eerst nog wat rusten en ontbijten.
Overpeinzing 1: Security
6 mei – Gisteravond op Mono29 Security, een Amerikaanse actiethriller uit 2017, geregisseerd door Alain DesRochers en geschreven door Tony Mosher en John Sullivan, met in de hoodrollen Antonio Banderas, Gabriella Wright, Ben Kingsley (die Ghandi speelde in de gelijknamige film) en Chad Lindberg.
Eddie, gepeeld door Antonio Banderas, een voormalige marinekapitein die werkt als bewaker in een winkelcentrum, moet Jamie, een elfjarig meisje, beschermen tegen een bende die haar wil vermoorden.
De opnamen begonnen in november 2015 in Bulgarije en eindigden op 22 januari 2016. Alain DesRochers regisseerde de film met een budget van $ 15 miljoen voor Nu Image / Millennium Films.
Op 3 oktober 2017 kwam de film in verschillende landen beschikbaar om te streamen op Netflix. Op recensie-aggregator Rotten Tomatoes heeft de film een goedkeuringsscore van 34% op basis van 319 recensies (geen details).
Heb er nauwelijks naar gekeken, dus weet niet of er veel in gevochten werd. 'Vocht' zelf tegen de hitte in mijn kamer met een ventilator die weinig verkoeling bood.
Overpeinzing 2: Greenland
6 mei – Later naar Greenland gekeken, een Amerikaanse rampenfilm uit 2020, geregisseerd door Ric Roman Waugh en geschreven door Chris Sparling. De hoofdrollen worden vertolkt door Gerard Butler (die ook produceerde), Morena Baccarin, Roger Dale Floyd, Scott Glenn, David Denman en Hope Davis.
De film volgt John Garrity, zijn vervreemde vrouw en hun jonge zoon die aan een gevaarlijke reis beginnen om een toevluchtsoord te vinden terwijl een planeetdodende komeet naar de aarde raast.
Temidden van angstaanjagende verhalen over steden die met de grond gelijk worden gemaakt, ervaren de Garrity's het beste en slechtste in de mensheid. Terwijl het aftellen naar de wereldwijde apocalyps bijna nul nadert, culmineert hun ongelooflijke tocht in een wanhopige en last-minute vlucht naar een mogelijke veilige haven.
Oorspronkelijk gepland voor bioscooprelease in de Verenigde Staten, liep Greenland verschillende keren vertraging op vanwege de COVID-19-pandemie. De film werd in eigen land uitgebracht door STXfilms, via video on demand op 18 december 2020, en vervolgens voor streaming op HBO Max en Amazon Prime. Hij werd in de bioscoop uitgebracht in andere gebieden, te beginnen met België op 29 juli 2020.
De film kreeg over het algemeen positieve recensies van critici en bracht wereldwijd $ 52,3 miljoen op met een productiebudget van $ 35 miljoen.
Op recensie-aggregator Rotten Tomatoes heeft de film een goedkeuringsscore van 78% op basis van 160 recensies, met een gemiddelde score van 6,3/10. De consensus van de critici van de website luidt: 'Pas op, kometen van Greenland: Gerard Butler is hier om de aarde te beschermen – en het publiek een onwaarschijnlijk vermakelijke tijd te bezorgen.'
Richard Roeper (Chicago Sun-Times) zei: 'In tegenstelling tot de typische, met effecten beladen, komeet-bedreigt-de-planeet B-film, is Greenland meer in de stijl van Steven Spielbergs War of the Worlds, met de scènes van chaos en vernietiging die als achtergrond dienen voor het verhaal van de wanhopige zoektocht van een familie om te overleven – zelfs wanneer de omstandigheden hen uit elkaar hebben gescheurd.'
David Ehrlich (IndieWire) zei: 'Door spektakel te mijden en zich te concentreren op de menselijke schaal van een crisis, wordt Greenland de zeldzame rampenfilm die realistisch aanvoelt.'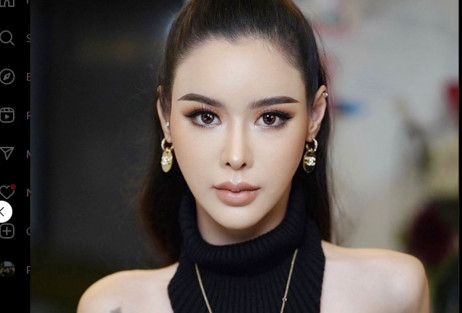 Nieuwsflitsen 6 mei
Actress bought cyanide 'to repel pests'
Actress Preechaya "Ice" Pongthananikorn says she bought cyanide to repel monitor lizards that had been threatening her dogs, and her case has nothing to do with accused serial poisoner "Aem Cyanide". Foto: Poison 'for pests'
Full Moon Party draws 20,000 tourists to Koh Phangan
About 20,000 tourists attended the popular Full Moon Party on Koh Phangan on Thursday night, and it is estimated that the holiday will generate tens of millions of baht for the southern island.
China factories tap brakes on recovery
China's factory activity unexpectedly contracted in April as orders fell and poor domestic demand dragged on the sprawling manufacturing sector, a private survey showed on Thursday, imperilling the broader economic outlook for the second quarter.
Indonesia quietly engaging key stakeholders in Myanmar crisis
Indonesia has for months been quietly engaging Myanmar's pro-democracy shadow government, its ruling junta and ethnic minority armies, its foreign minister said, in an effort to kick-start a peace process as violence intensifies.
Australia, Thailand, Sweden start strong at International Crown
Australia pulled off two victories against defending champion South Korea, as Sweden and Thailand also turned in 2-0 performances to kick off the Hanwha LifePlus International Crown on Thursday.
Philippine bases not to be used by US to target China: Marcos
Philippine President Ferdinand Marcos Jr made it clear Thursday the additional military bases in his country that he recently granted the United States access to will not be used to target China or any other country.
Depa unveils drone project for farmers
The Digital Economy Promotion Agency (Depa) plans to launch Thailand's first project offering large drones to communities and training them in drone maintenance in an effort to push smart farming development.
Parties pitch policies for tourism
Political parties are vowing to make Thailand more competitive in tourism by pitching a variety of related policies.
Home building costs up 3.5%
Sanitaryware price hikes led to a 3.5% increase in the standard home construction price index in the first quarter of 2023 amid higher fuel costs.
PPRP vows to stimulate economic growth
The Palang Pracharath Party pledged to spur the country's economic growth with various projects, including injecting money into its old village fund.
MFP revises election targets as poll nears
The Move Forward Party sets its sights on winning 160 House seats as it seeks to be a core party in a coalition government and nominate its leader as the next prime minister.
Unusual disciplines at Cambodia event
Southeast Asian athletes will vie for dominance in more than 30 sports at the 32nd SEA Games, which officially open on Friday and end on May 17, in everything from athletics and football to jet ski and obstacle race.
Ju-jitsu stars deliver first gold
The Thai contingent at the 2023 SEA Games in Cambodia welcomed their first gold of the biennial multisport tournament with ju-jitsu exponents.
Fruit exports to China to grow 10%
Fresh fruit exports to China are anticipated to increase by at least 10% this year based on better land transport flow as cross-border trade facilitation improves.
Overseas voting almost done
More than 80% of eligible Thai voters living abroad have showed up to cast their votes ahead of the May 14 general election.
Airbnb upbeat as tourism rebounds
Airbnb closed 2022 with an impressive turnaround as the pandemic-hit business reported its first annual profit on revenue growth of 40% to US$8.4 billion, with net income of $1.9 billion.
EC asks Srisuwan for more details on Pheu Thai petition
The Election Commission has asked activist lawyer Srisuwan Janya for more details to support the complaint he has submitted about the Pheu Thai Party's policy of a 10,000-baht digital handout everyone aged 16 and over.
EC explains why it needs 5m 'extra' ballots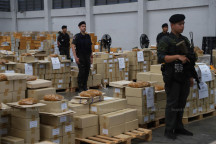 The Election Commission (EC) on Friday offered an explanation for why it needs nearly 5 million extra ballots, saying that ballots are normally distributed in bound sets of 20, which inflates the total required. Foto
'Pretty' may have tipped robbers about Chinese victims
Police are looking into reports that a "pretty" hired to entertain three Chinese nationals at a house in Pattaya supplied information to the gang that robbed them.
Election Day storms in the wind
Two storms are forecast to hit Thailand next week, potentially affecting Election Day on May 14, according to the Climate Change and Disaster Centre at Rangsit University.
WHO declares Covid emergency over
Covid-19 is no longer a global health emergency, the World Health Organization said on Friday, three years after the novel coronavirus began sweeping across the world.
BP in vogelvlucht
6 mei – Het eerste katern van BP bestaat uit bruto drie maar netto 2,625 binnenland pagina's met elf nieuwsberichten en -verhalen en de rubriek In Brief met drie kortjes.
Vandaag wordt de geboortedag in 1923 herdacht van prinses Galyani Vadhana Krom Luang Naradhiwas Rajanagarindra. Ik zag al beelden van haar op Mono29. Leek me een sympathieke vrouw.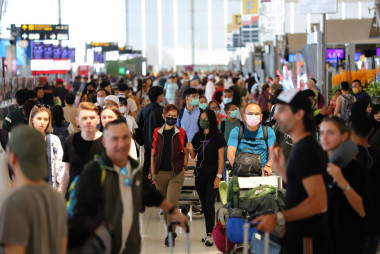 Het Weekend Business katern opent met Departure tax proposed. Thais die naar het buitenland reizen en buitenlandse permanente inwoners van Thailand is gevraagd naar hun mening over een vertrekbelasting van de overheid van 1.000 baht. Die belasting zou moeten voorkomen dat de bevolking buitensporige uitgaven in het buitenland doet. De belastingdienst heeft deze week online openbare hoorzittingen aangekondigd.
Terug naar het eerste katern. De voorpagina biedt geen verrassingen meer. Op naar pagina 2 met vier berichten, In Brief met drie kortjes en twee infographics, waarvan een de plannen toont voor de Pink en Yellow (metro) Line. Het bijbehorende bericht meldt 'Testing' holding up Yellow Line trials. De proefrit en de commerciële lancering van het gele monorailsysteem zijn nog niet afgerond omdat de systeemtests nog niet zijn voltooid, zegt de Mass Rapid Transit Authority of Thailand (MRTA).
De pagina opent met Jobless numbers decline, says NSO. De Thaise arbeidsmarkt verbeterde in het eerste kwartaal met een daling tot 420.000 werklozen, zegt het National Statistical Office (NSO).
De overige twee berichten over de pretty in de berovingszaak en de kans op storm op de verkiezingsdag kent u al uit Nieuwsflitsen.
Ten slotte pagina 3 met vier berichten en een fotobericht. De pagina opent met Pheu Thai puts faith in new slogan as polling day looms. Pheu Thai voerde vrijdag haar verkiezingscampagne op in een laatste wanhopige poging om de natie ervan te overtuigen dat ze in staat zal zijn om onmiddellijk verandering in het land te brengen na de stemming van 14 mei, als de kiezers erop vertrouwen dat de huidige oppositiepartij de nieuwe regering zal vormen.
Twee berichten kent u al, nieuw is UTN video looks to portray prime minister's 'gentle side'. De United Thai Nation Party (UTN) heeft een video uitgebracht waarin premier Prayut opgroeit als zoon van een nogal strenge militaire functionaris en die andere persoonlijke levensverhalen vertelt in een poging zijn zachtaardige kant te laten zien.
Einde Nieuws uit Thailand om 10:23 uur. Mono29 vertoont Jumanji waarin twee kinderen een magisch bordspel tegenkomen. Terwijl ze het spelen, ontmoeten ze Alan, een man die vastzat in het spel, en proberen ze hem te bevrijden terwijl ze met verschillende soorten gevaar worden geconfronteerd.
De rol van Alan wordt gespeeld door Robin Williams, een acteur die schitterde in Good morning Vietnam en Dead poet's society. Tragisch aan het einde gekomen door suïcide.
---
Een nieuwe dag, een nieuwe krant
5 mei – Bevrijdingsdag. In het hele land zijn bevrijdingsfestivals, maar kan me niet herinneren er ooit één bezocht te hebben. Hoe mijn ouders de oorlog hebben overleefd, weet ik niet. Ze praatten er nooit over. Weet alleen dat mijn vader door de Arbeidseinsatz in Duitsland heeft moeten werken en in 1944 bij een boer in Noord-Brabant heeft gelogeerd toen de provincies ten zuiden van de grote rivieren al bevrijd waren. Hoe lang zouden ze elkaar niet gezien hebben?
Mijn twee broers waren al kleuters toen ik op 8 januari 1947 werd geboren. Ben nu de enige overlevende van het gezin. Mijn jongste broer stierf als laatste in Thailand. Hij heeft een huis laten bouwen in Kalasin. De laatste keer dat ik er was vertoonde het al tekenen van verval. Ik zou er kunnen wonen, maar het platteland is me te saai. Ik ben een grotestadsmens, opgegroeid in Rotterdam.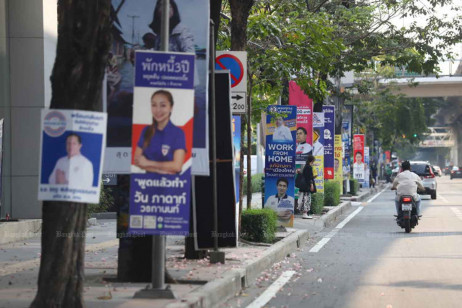 6:37 uur De krant met als opening Populist plans under fire, en verder op de voorpagina een 4-koloms foto van het koningspaar in het Landmark London Hotel, de infographic Stepping towards poll outcome en de berichten NACC will release some watch files en Actress to be questioned over cyanide purchase.
RTP adjunct-hoofdcommissaris Surachate Hakparn werkt aan een dagvaarding voor het verhoor van een actrice die cyanide kocht uit dezelfde partij als die van de vermoedelijke seriemoordenares Sararat 'Aem' Rangsiwuthaporn. Surachate zegt: Financial problems were the motive for carrying out the cyanide murders. Ja beste mensen, de affaire wordt steeds interessanter (en rijp voor een spannende Krimi).
De opening meldt dat de National Anti-Corruption Commission diepe bezorgdheid heeft geuit over de waarschijnlijkheid van corruptiezaken als gevolg van het streven naar onrealistisch populistisch beleid door partijen. Het horlogebericht hoef ik niet toe te lichten; daar is al zoveel over geschreven.
Tot zover een eerste kennismaking met het 'papieren' nieuws van vandaag. Meer nieuws in Nieuwsflitsen en BP in vogelvlucht.
Overpeinzing: Misfire
5 mei – Wakker om 1:12 uur, terwijl Mono29 Misfire vertoont, een Amerikaanse actiefilm uit 2014, geproduceerd en geregisseerd door R. Ellis Frazier met Gary Daniels en Vannessa Vasquez in de hoofdrollen. De film is in oktober 2014 op dvd uitgebracht.
De film draait om een doorgewinterde Drug Enforcement Administration-agent Cole (Daniels), die afdaalt naar de onderwereld van de Tijuana-drugsmaffia op zoek naar zijn ex-vrouw, een journaliste, die volgens hem is ontvoerd door een charismatische baas van het drugskartel met aspiraties voor een openbaar ambt.
Eoin Friel van de Action Elite-website schreef dat 'Over het algemeen, ondanks een trage start, Misfire een boeiende actiethriller is met een eersteklas optreden van Gary Daniels en er is genoeg actie om genrefans te plezieren' . Friel prees in het bijzonder de rol van Vasquez als Gracie en merkte op dat ze 'verbluffend mooi en ongelooflijk sympathiek is …; ze slaagde erin stoer en sympathiek te zijn, wat niet gemakkelijk is om voor elkaar te krijgen'.
James Simpson van Infernal Cinema schreef: 'Vermakelijk en opwindend op sommige plaatsen vanwege de actiescènes, is Misfire een korte en zoete aangelegenheid'. Simpson merkte op dat 'Misfire onderdeel lijkt te zijn van een nieuwe golf van actie- en thrillerfilms die zijn opgedoken sinds The Bourne Identity'.
Nieuwsflitsen, 5 mei
All 15 reported victims of 'Aem Cyanide' poisoned
Money was the main motive for the killings committed by 'Aem Cyanide', according to police, who say that all 15 known victims — 14 of whom died and one who survived — were poisoned. Foto: All poisoned
Chinese tourists tied up and robbed in Pattaya
One of three men who broke into a house in Pattaya and tied up three Chinese nationals and robbed them of cash, a car and other valuables has been arrested in Rayong.
Covid rise tests Malaysian hospitals
Rising Covid-19 cases are threatening to overstrain Malaysia's crowded hospitals and the Philippines has reopened its coronavirus treatment wards amid a surge in Southeast Asia, underscoring the need for governments to adjust to the disease's ebb and flow in a world now living with the virus.
Asian stocks shrug off latest Fed hike
Asian stocks and US futures edged higher on Thursday as investors brushed aside US Federal Reserve comments that interest rates won't fall this year and instead looked ahead to eventual policy easing.
Biden likely to veto renewal of tariffs on Asean solar panels
The US Senate on Wednesday voted to repeal President Joe Biden's suspension of tariffs on solar panels from four Southeast Asian countries including Thailand, a measure aimed at supporting the small domestic manufacturing industry.
Thailand ramps up shift to renewables
The fallout from the global energy crisis is pushing Thailand to accelerate its shift to renewables after dragging its feet for years, the latest country to embrace wind and solar in order to reduce dependence on imported fuel.
DES Ministry, 16 banks fend off scams
The Digital Economy and Society (DES) Ministry is joining forces with 16 banks to notify people about online scams and fake news on their banking apps.
Shot Lao activist confirmed to be still alive
News of the shooting death of Lao political activist Anousa "Jack" Luangsuphom went viral this week, but it now emerges that he is still alive. His family apparently reported him dead for fear of reprisals. Foto
PTTEP set to miss sales target
PTT Exploration and Production expects its oil and gas sales in 2023 to tally 456 kilo-barrels of oil equivalent per day, down from a target of 470 KBOED.
US approves world's first RSV vaccine
The United States on Wednesday approved GSK's Arexy vaccine against Respiratory Syncytial Virus (RSV), which can cause severe pneumonia and bronchiolitis in infants and the elderly.
Heating oceans a climate 'time bomb'
With sea surface temperatures swelling to new highs in recent weeks, scientists warn that humanity's carbon pollution has the potential to turn oceans into a global warming "time bomb".
Ex-husband of 'Aem Cyanide' granted bail
The ex-husband of accused serial killer Sararat "Aem" Rangsiwuthaporn has been granted bail, after the court said police had not yet found evidence to link him to the murders his ex-wife is said to have committed.
BP in vogelvlucht
5 mei – De voorpagina van het eerste katern kent u al, op naar het Business katern dat opent met Ministry sets targets for tax reform. Het ministerie van Financiën heeft vier doelstellingen voor belastinghervorming vastgesteld, met als doel de inkomsten te verhogen om de kosten te dekken en toekomstige economische onzekerheden het hoofd te bieden. Welke dat zijn, mag u zelf lezen wanneer u belasting betaalt in Thailand.
Verder op de pagina Online voting registration heralded. In aanmerking komende burgers toestaan zich te registreren voor online stemmen bij de komende algemene verkiezingen is volgens adviseurs een goed begin nu Thailand op weg is naar e-overheid.
En als derde Private sector highlights six-pronged strategy. De Joint Standing Committee on Commerce, Industry and Banking (JSCCIB) wil dat politieke partijen die meedoen aan de algemene verkiezingen gehoor geven aan haar zesledige strategie die volgens haar een cruciale rol moet spelen bij het aandrijven van de economie in de komende vier jaar.
Life opent met het paginagrote verhaal Perpetual drive. Oprichter en CEO Titouan Bernicot van Rolex zegt dat 2022 een cruciaal jaar was voor Coral Gardeners, aangezien zijn jongensdroom was overgegaan in een van de meest ambitieuze reizen in het behoud van de oceaan.
Het verhaal staat onder bijgaande foto van een halve pagina met een luchtfoto van het Coral Gardeners team in een coral nursery in Mo'orea, Frans Polynesië. Geen erg duidelijke foto, de overige – maar die kan ik niet laten zien – zijn duidelijker wat het team nu precies doet. Dus wat let u om even op de link te klikken.
Terug naar het eerste katern dat bruto vier maar netto 3,275 binnenland pagina's telt. De 2 opent met een verhaal van meer dan een halve pagina getiteld S Korea targets greater global role. Het streven van Zuid-Korea om een mondiale spilstaat (GPS) te worden, zal landen in de Indo-Pacifische regio helpen bij het aanpakken van crises, vertelde staatssecretaris Buitenlandse Zaken van de Oost-Aziatische natie, Choi Youngsam, aan de media in Seoul.
Verder bevat de pagina een fotobericht en twee berichten: 2 held for 'robbing tourists' in Pattaya en Glove procurement cases take shape.
• Twee van de vijf mannen die naar verluidt hebben ingebroken in een huis in Pattaya, drie Chinese staatsburgers hebben vastgebonden en geld, een auto en andere kostbaarheden hebben beroofd, zijn gearresteerd, zei de politie gisteren.
• De Public Warehouse Organization (PWO) werkt samen met de National Anti-Corruption Commission (NACC) en het Anti-Money Laundering Office (Amlo) om rechtszaken aan te spannen tegen degenen die betrokken zijn bij corruptie bij de aanschaf van 500 miljoen dozen rubberen handschoenen ter waarde van 112 miljard baht in 2020.
Pagina 3 telt vier berichten en een fotobericht. De pagina opent met PPRP vows to stimulate economic growth. De zogeheten bovenop zegt MFP revises election targets as poll nears met bijgaande 4-koloms foto waarop partijleider Pita is te zien die een hartvormig teken met zijn handen maakt te midden van supporters tijdens een rall bij Victory Monument in Bangkok.
Voorts Overseas voting almost done en New documentary showcases Paetongtarn's political career.
Paetongtarn 'Ung Ing' Shinawatra, een premierskandidaat van Pheu Thai, heeft bekend gemaakt dat een documentaire over haar politieke reis vanaf zaterdag via sociale media kan worden bekeken.
Ten slotte pagina 4 met drie berichten en een fotobericht. De pagina opent met US agrees to boost energy cooperation. De Verenigde Staten en Thailand zijn overeengekomen om de energiesamenwerking te bevorderen tijdens recente besprekingen in Washington, DC.
Actie is reactie blijkt vaak een kenmerk van nieuws, zoals vandaag het bericht Protest over order to settle Karen in forest. Het besluit van de regering om 150 Karen-dorpelingen naar Kaeng Krachan National Park te sturen, heeft geleid tot publieke verontwaardiging van lokale bewoners.
Het protest kwam nadat de premier op 30 april een bevel had uitgevaardigd waarin de dorpelingen van Karen werd toegstaan terug te keren naar akkerland diep in het bos van Bang Kloy Bon in het nationale park. Het bevel veroorzaakte een enorme terugslag die zich uitbreidde tot mensen en organisaties in de provincie die zich bezighielden met het behoud van natuurgebieden en landerijen.
Het laatste bericht meldt 'Safe' threshold cut 25%. Het Pollution Control Department zegt dat het de richtlijnen van de Wereldgezondheidsorganisatie WHO zal volgen en het veilige niveau voor ultrafijne deeltjes (PM2,5) zal herclassificeren van 50 microgram per kubieke meter (µg/m3) naar 37,5 µg/m3 in een poging stofvervuiling tegen te gaan. Snap ik niet, want eerdere berichten noemden 25 µg/m3 als veiligheidsgrens.
---
Een nieuwe dag, een nieuwe krant
4 mei, Dodenherdenking – Vandaag herdenken we de de slachtoffers van de Tweede Wereldoorlog. Als ik in Vlaardingen was, zou ik me aangesloten hebben bij de stille tocht naar het Verploegh Chasséplein waar kransen werden gelegd door het gemeentebestuur, organisaties en nabestaanden.
De verleiding is groot om een derde overpeinzing te wijden aan de film Colonia, waarvan ik vannacht het einde zag, maar ik zal het kort houden. De film is gebaseerd op Colonia Dignidad ('Waardigheidskolonie'), een geïsoleerde Duitse kolonie, gesticht in het Chili van na de Tweede Wereldoorlog door Duitse emigranten.
De kolonie werd berucht vanwege de internering, marteling en moord op dissidenten tijdens de militaire dictatuur van generaal Augusto Pinochet in de jaren zeventig. De kolonie werd geleid door de Duitse emigrantenprediker Paul Schäfer, die evenals leden van de kolonie, diep religieus was en de leer van William Branham volgde. De belangrijkste legale economische activiteit van de kolonie was landbouw; in verschillende periodes was ze ook de thuisbasis van een school, een ziekenhuis, twee landingsbanen, een restaurant en een elektriciteitscentrale.
In de film gaat Lina, een jonge vrouw, gespeeld door Emma Watson, op een gevaarlijke missie om haar vriend, gespeeld door Daniel Brühl, te redden. Brühl was een West-Duitse activist die in Chili werkte als journalist en werd ontvoerd door de geheime politie DINA van Pinochet. Op het nippertje kunnen ze ontsnappen met een vliegtuig van Lufthansa.
Holocaust, Colonia: de overeenkomst is treffend afgezien van de aantallen doden.
6:19 uur Wakker. De krant ligt klaar op mijn bed. Good morning Thailand, het journaal van Mono29, is net live begonnen. De temperatuur bedraagt 29° bij een overwegend zonnige hemel. Deze maand zou het kwik naar beneden moeten, maar daar merk ik nog weinig van.
De krant opent onder de vouw over vier kolommen met Wissanu expels poll party deadlock fears. Vice-premier Wissanu Krea-ngam verwierp woensdag de mogelijkheid van een politiek vacuüm of impasse na de verkiezingen van 14 mei.
Pal erboven een vierkoloms foto van een portret van de koning bij het ministerie van Defensie ter gelegenheid van Coronation Day. De illustratie doet me denken aan een altaarstuk, een kunstwerk zoals een schilderij, beeldhouwwerk of reliëf dat een religieus onderwerp voorstelt, gemaakt om achter of achter het altaar van een rooms-katholieke kerk te plaatsen (Wikipedia).
Ernaast een berichtje dat het koningspaar vandaag naar Engeland vertrekt voor de kroning van Charles III en aan de andere kant het bericht Cop ex-husband faces charges. Een politieofficier, de ex-echtgenoot van de vermoedelijke seriemoordenaar 'Aem Cyanide', is ontslagen bij het korps, gearresteerd en beschuldigd van aanverwante misdaden.
Onder de vouw MFP closing gap with Pheu Thai: Nida met ernaast de infographic Picking sides. Move Forward (MFP) loopt achter op Pheu Thai voor kiesdistrict en parlementsleden op de partijlijst, maar haar populariteit neemt toe naarmate de verkiezingen naderen, aldus een nieuwe pre-electorale peiling van de National Institute of Development Administration (Nida).
PT scoort 47 procent, MFP 35 procent en de partij van Prayut, United Thai Nation, 12 procent. MFP partijleider Pita Limjaroenrat geniet de voorkeur van 35 procent voor de post van premier, gevolgd door Paetongtarn Shinawatra met 29 procent.
Tot zover een eerste kennismaking met het 'papieren'  nieuws van vandaag. Wordt vervolgd in BP in vogelvlucht.
Overpeinzing 1: The Peacemaker
4 mei – Keek gisteravond redelijk geboeid naar The Peacemaker, een Amerikaanse politieke actiethriller uit 1997 met in de hoofdrollen onder anderen George Clooney en Nicole Kidman. Hoewel het verhaal zich over de hele wereld afspeelt, is het voornamelijk in Slowakije opgenomen en zijn enkele sequenties gefilmd in New York City en Philadelphia. De basis voor de film was het boek One Point Safe uit 1997, over de staat van het Russische nucleaire arsenaal.
De film volgt Thomas Devoe, een kolonel van het Amerikaanse leger, en Julia Kelly, een nucleair expert, die verwoed zoeken naar een set Russische kernwapens waarvan wordt aangenomen dat ze zijn gestolen door Tsjetsjeense terroristen.
Op recensie-aggregator Rotten Tomatoes heeft de film een goedkeuringsscore van 46% op basis van 37 recensies, met een gemiddelde score van 6/10. Op Metacritic heeft de film een score van 43 van de 100, gebaseerd op 20 critici, wat duidt op 'gemengde of gemiddelde beoordelingen'. Het door CinemaScore ondervraagde publiek gaf de film een gemiddeld cijfer van B+ op een A+ tot F-schaal.
Janet Maslin van The New York Times prees Clooney en Kidman voor het uitbeelden van een 'charmante schurk' en het uitdrukken van 'vrouwelijke professionaliteit als felle, vijandige strengheid' in hun respectievelijke rollen en regisseur Leder's regie van de actiescènes van de film, waarmee hij de climax in Manhattan benadrukte omdat ze 'scherpe economie en furieuze energie' benadrukten.
Marc Savlov van The Austin Chronicle zei dat ondanks de 'altijd aanwezige plotgaten en gelijkvloerse  karakterbogen' door het hele verhaal en de schurken van de film, hij Leder's regievaardigheden prees omdat hij de zaken gedurende de looptijd fris hield en 'slimme branie' aan de actiescènes toevoegde.'
Roger Ebert prees de 'technische credits' en zowel Clooney als Kidman voor het vakkundig vervullen van hun rollen, maar vond dat de rest van de film gevuld was met 'vernieuwde' en 'kant-en-klare' thrillerclichés en werd afgesloten met een onschadelijke gemaakte bom waarin de 'echte eindes met karakterontwikkelingen en verrassingen ontbraken'.
Owen Gleiberman van Entertainment Weekly prees Leder's regie voor het ensceneren van scènes met 'scherpe nauwkeurigheid [en met] een aangename flair voor ritmische visuele details' en het toevoegen van 'elegante en volleerde' sfeer. maar concludeerde dat in de 'The Peacemaker niets ontsnapt aan de smet van cliché'. Hij concludeert: 'The Peacemaker is niet veel beter of slechter dan de gemiddelde James Bond-film , behalve natuurlijk dat het niet de auto's, de gadgets, de meisjes of Bond zelf heeft. Er is een zekere aantrekkingskracht door het uitgangspunt, maar de uitvoering is ongelijk. De film zal waarschijnlijk de aandacht van het publiek vasthouden, maar het is het soort film dat snel wordt vergeten.'
En dat geldt voor mij want toen ik zocht naar foto's, bleek ik die al eerder te hebben opgeslagen, dus moet de film al eens gezien hebben.
Overpeinzing 2: The Warriors Gate
4 mei – Keek ook naar The Warriors Gate (Chinees:勇士之門, ook uitgebracht als Enter the Warriors Gate), een Chinees-Franse actie-avonturen-fantasiefilm uit 2016, want ben gek op Chinese films vanwege de fraaie locaties, interieurs en costuums.
De film volgt Jack Bronson, een tiener die bedreven is in gamen, en op magische wijze naar China wordt getransporteerd, waar hij de prinses moet redden en vele obstakels moet overwinnen met zijn nieuwe kungfu-vaardigheden.
De film had een budget van ¥ 300 miljoen RMB. Opnamen begonnen op 4 mei 2015, op locatie in de Hengdian World Studios in Jinhua, China en in British Columbia, Canada.
The Hollywood Reporter vergeleek de film met The Last Starfighter. Bij het bespreken van de regisseur merkte de recensent op dat 'Hoene de dingen bekwaam houdt in plaats van creatief, en weinig laat zien van de flair die hij had in Cockneys vs Zombies' en dat het verhaal waart op 'bekend terrein' dat een jong volwassen publiek kan aantrekken, publiek dat zwaar in de jaren tachtig zit'.
Nieuwsflitsen 4 mei
Aem Cyanide's police husband arrested
A police lieutenant colonel who is the ex-husband of suspected serial killer "Aem Cyanide" has been fired from the force, arrested and charged with related crimes.
New mum Paetongtarn 'ready' to campaign again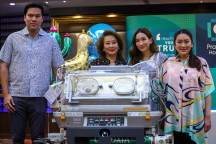 Paetongtarn Shinawatra hails her newborn son as her "secret power" and says she's ready to return to the election campaign trail for the Pheu Thai Party as soon as possible.
Jack Ma returns to public life with professorships
Jack Ma, the face of Chinese entrepreneurship and the founder of Alibaba Group Holding, has assumed professorships in at least four schools outside mainland China, as he keeps an arm's length from the business empire he created.
Press freedoms shrink, journalists being targeted
Press freedom is under attack in every corner of the globe, with journalists continually harassed, jailed and killed, UN officials and media outlets warned on Tuesday.
Thailand moves up press freedom table
Thailand has improved its standing in the World Press Freedom Index this year but still ranks 106th out of 180 countries surveyed.
Ex-Yala governor jailed in bogus bomb detector case
Former Yala governor Teera Mintrasak has been sentenced to eight years in prison for malfeasance in the purchase of bogus GT200 bomb detectors from 2007-2009.
Flu vaccine stockpile to be boosted
The National Health Security Office is preparing to order an additional 860,000 influenza vaccine doses, bringing the stockpile to 5.26 million doses to immunise vulnerable groups.
Cambodia poised for SEA Games with Chinese flavour
Cambodia will welcome thousands of athletes from across the region when the Southeast Asian Games begin on Friday with an opening ceremony at a new stadium built and paid for by China.
Alcohol sales ban for Sunday's advance voting
Alcohol sales will be banned nationwide from 6pm on Saturday until 6pm on Sunday for advance voting for the general election.
Lao activist shot dead in Vientiane
A Lao human rights activist who posted articles critical of the government was shot and killed in Vientiane by an unidentified gunman, according to Radio Free Asia (RFA).
BoI woos Chinese EV battery giant
Thai authorities are in talks with China-based CATL, the world's biggest electric vehicle battery maker, and others to build production facilities in the country to fuel its EV production hub ambitions, according to the head of the Board of Investment (BoI)
Indian tourists back at pre-covid levels
At least 600,000 Indian tourists are expected in Pattaya beach town this year, similar to before the pandemic, according to the Tourism Authority of Thailand (TAT).
GDP growth outlook maintained at 3.0-3.5%
Thailand's economy is expected to grow 3.0% to 3.5% this year, a leading joint business group said on Wednesday, unchanged from a previous forecast as the tourism sector gathers steam and exports remain weak.
Drug seizures in Chiang Rai
Large quantities of drugs were seized and four suspects arrested in two actions in Chiang Rai province during April, Pol Lt Gen Piya Tawichai, the Provincial Police Region 5 commissioner, said on Wednesday.
Spectacular 'tossing' ordination parade in Chaiyaphum
Men entering the monkhood repeatedly were tossed into the air during a spectacular, unique northeastern ordination parade. Foto
Headline CPI up 2.67%, slowest in 16 months
Thailand's headline inflation dropped to its lowest in 16 months in April, coming in close to expectations owing to lower energy and food prices and a high base in 2022, the Commerce Ministry said on Wednesday.
Myanmar pardons 2,153 prisoners jailed for dissent
Myanmar's junta had pardoned more than 2,000 prisoners jailed under a law used widely in its crackdown on dissent since seizing power more than two years ago.
Executives upbeat on gem and jewellery export outlook
Exports of gems and jewellery (excluding gold) are expected to grow by 10% this year as demand in the high-end segment remains strong.
Chaba Kaew ready for Singapore opener
Thailand women's football team coach Naruepol Kaenson has said the Chaba Kaew would have to be at their best in their opening Group B game of the 2023 SEA Games against Singapore on Wednesday afternoon.
May Day tourism in China reaches pre-Covid levels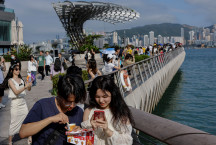 Tourism in China during the May Day holiday rebounded to pre-Covid levels, as the number of domestic trips rose by 70.8% from a year earlier, government data showed on Wednesday. Foto: Tourists from mainland China walk in front of the skyline at Tsim Sha Tsui in Hong Kong on Tuesday.
Analysing the push for sustainable jet fuel
Some companies are testing production feasibility, while airlines are eager to cut their carbon footprint.
Galaxy of stars all set to dazzle in Thailand Open
Some of the world's top shuttlers will compete in the 2023 Toyota Gazoo Racing Thailand Open from May 30-June 4 at Indoor Stadium, Hua Mark.
Selling pressure set to rise this month
Trinity Securities cautioned investors to be wary of selling pressure in May, especially during the week after the general election, as the market may fluctuate ahead of the meeting of the Bank of Thailand's Monetary Policy Committee (MPC) at the end of the month.
Car sales expected to grow between April and May
Domestic car sales are expected to increase between April and May as automakers deliver cars to customers following enthusiastic bookings at the Bangkok International Motor Show.
Mayor, public works director charged with demanding bribes
The mayor of Khlong Luang municipality in Pathum Thani and the director of the municipal public works division have been charged with collusion in demanding and receiving bribes.
Democrats to push rail travel if elected
The Democrat Party says it will push for inter-provincial railways and high-speed rail line expansion if it joins a coalition government after the election.
BP in vogelvlucht
4 mei, 8:20 uur – Eerst koffie en een peuk, daarna neem ik een duik in het nieuws dat u nog niet kent en naar ik aanneem graag wil weten. De voorpagina kan ik overslaan want die kent u al uit Een nieuwe dag.
Het Business katern opent met Industry urges drought measures. Het Joint Standing Committee on Commerce, Industry and Banking (JSCCIB) is van plan premier Prayut te vragen zich schrap te zetten voor droogte en mogelijke watertekorten die bedrijven zullen treffen, waardoor ze de prijzen van goederen weer zullen moeten verhogen.
Life opent met Gems of the Northeast, een reisverhaal over Surin en Si Sa Ket dat de voorpagina en twee halve pagina's beslaat met zeventien illustraties waaronder een foto van een halve pagina van de Satom Organic Farm. De boerderij biedt een reeks rijstvariëteiten, een homestay programma en rijstwijn proeverijen.
Pattarawadee Saenghmanee schrijft: Toen de zomerhitte in Surin toenam, gingen we naar Satom Organic Farm in het Chom Phra-district. Het is gelegen tussen uitgestrekte biologische velden die in het naoogstseizoen tijdelijk bedekt zijn met gele zonnehennep. Deze boerderij is van Sutaen Sukjit, die het kantoorwerk in Bangkok opgaf en naar huis terugkeerde met een toewijding aan duurzaam leven.
De velden met zonnehennep kan ik niet laten zien, wel een andere foto met Sutaen.
Terug naar het eerste katern. Pagina 2, netto een halve pagina, telt drie berichten en een fotobericht van (weer) de koning nu bij de Bangkok City Pillar Shrine. De pagina opent met 500K Indians to hit Pattaya in 2023: TAT (link nog niet beschikbaar).
Verder Navy backs B50m drones. De marine verdedigde woensdag de aanschaf van een trainingsdrone ter waarde van bijna 50 miljoen baht nadat critici vragen hadden gesteld over de transparantie van het project.
Het derde bericht Teera gets 8 years over GT200 fiasco kan ik ook niet vinden, maar staat wel als Ex-Yala governor jailed in bogus bomb detector case op de website. Destijds besteedde de krant ruime aandacht aan de apparaten. Een expert zei toen dat een wichelroede effectiever is om bommen te detecteren.
Ten slotte pagina 3 met vijf berichten, de rubriek In Brief met vier kortjes en een fotobericht met een foto waarop premier Prayut zijn arm om de schouders van de stationschef slaat die een 75-jarige vrouw redde toen ze dreigde te worden geraakt door een trein.
De pagina opent met EC petitioned over WhatsApp chat. Politiek activist Srisuwan Janya diende woensdag een klacht in bij de Kiesraad (EC) nadat senator Somchai Swangkarn screenshots had geplaatst van een WhatsApp-chat waarbij de voortvluchtige voormalige premier Thaksin Shinawatra betrokken zou zijn.
De meeste ruimte wordt in beslag genomen door Chartthaipattana plans major rally, een verhaal met drie foto's die activiteiten van andere partijen tonen.
De overige berichten melden BJT calls for Pheu Thai's dissolution, Democrats to push rail travel if elected en 24-hour booze ban for advance voting. Soms denk ik dat Thaise politici lange tenen hebben.
Zo heeft Bhumjaithai zich geërgerd aan een uitspraak van Srettha Tavisin, premier-kandidaat van Pheu Thai. Hij heeft gezegd dat BJT een beleid had om cannabis volledig te liberaliseren wat had geleid tot misbruik door jongeren. 'This is false', zegt BJT. Ik zou in dit geval mijn schouders ophalen.
Einde Nieuws uit Thailand om 9:47 uur maar nog te vroeg om naar het centrum te verkassen voor ontspanning en de warme maaltijd.
---
Een nieuwe dag, een nieuwe krant
3 mei – Wakker om 5:05. Goed geslapen en lang genoeg om de accu op te laden. Mono29 toont de twee presentatoren van Election debate 2023. Heb ik nog niets over gelezen. Een man neemt plaats achter een katheder, hij vertegenwoordigt de Klong Thai Party. Zou het land in goede handen zijn als deze (vrij onbekende) partij aan de macht komt?
7:05 uur De krant is naar mijn kamer gebracht met als opening een interview met premier Prayut onder de kop 'We will triumph'. Prayut babbelt uitgebreid over populariteitspeilingen, de kansen van de United Thai Nation partij, politieke allianties, dienstplicht en nog meer. Hij zegt dat hij na de verkiezingen van 14 mei geen deel wil uitmaken van een minderheidsregering, ondanks dat dit volgens de grondwet mogelijk is.
Het Life katern trekt alle registers illustratief weer open met het verhaal The artists of tomorrow over de groepstentoonsteling Rise in River City Bangkok, de derde editie van het Mango Art Festival. Het festival, schrijft Suwitcha Chaiyong, keert van nu tot en met zondag terug om diversiteit, een nieuw begin en ontdekkingen door middel van kunst te vieren.
Het thema suggereert groei, uitbreiding en vooruitzichten voor partnerschappen, evenals eindeloze mogelijkheden. En het belicht  ook de volgende generatie opkomende kunstenaars en ontwerpers door hen de kans te geven hun recente werk te exposeren.
Kan de mooiste illustratie helaas niet laten zien, een schilderij van een naakte jongeling die me doet denken aan Griekse beelden uit de oudheid, dus volsta met Tawipope, een samenwerking tussen designmerken PDM en AGAL.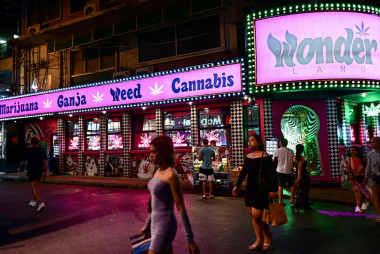 Het Business katern opent met Cannabis issue still causing jitters (kriebels). Sinds de regering cannabis op 9 juni 2022 legaliseerde door de plant van de lijst met verboden verdovende middelen te schrappen, werd verwacht dat de toerismesector een meevaller zou oogsten, aangezien Thailand het eerste land in Azië was dat hennepconsumptie toestond voor bepaalde doeleinden, anders dan recreatief gebruik.
Een maand na de decriminalisering publiceerde de Tourism Authority of Thailand (TAT) regels en voorschriften met betrekking tot het gebruik van cannabis en hennep in het land, in een poging toeristen te informeren en te waarschuwen voor rookverboden in het openbaar. De publicatie volgde op een aantal meldingen over buitenlandse toeristen die cannabis bezaten of consumeerden zonder te weten dat ze zware straffen konden krijgen.
Tot zover een eerste kennismaking met het 'papieren'  nieuws van vandaag. Meer nieuws in Nieuwsflitsen en BP in vogelvlucht.
Overpeinzing Brahms: The boy II
3 mei – Vannacht op Mono29 Brahms: The Boy II, een Amerikaanse bovennatuurlijke horrorfilm uit 2020 met in de hoofdrollen Katie Holmes, Ralph Ineson, Christopher Convery en Owain Yeoman. De film, een vervolg op de film The Boy uit 2016, volgt een jonge jongen die, nadat hij na een traumatiserend incident met zijn ouders naar een landhuis is verhuisd, een levensechte pop vindt waaraan hij gehecht raakt.
De film werd op 21 februari 2020 in de Verenigde Staten en werd afgekamd door critici, van wie velen hem inferieur vonden aan zijn voorganger. De film was ook een financiële teleurstelling, met een brutowinst van $ 20 miljoen wereldwijd tegen een budget van $ 10 miljoen plus advertentiekosten, minder dan een derde van de bruto van de eerste film.
De opnamen begonnen in januari 2019 en eindigde in maart. Delen zijn gefilmd in Victoria op Vancouver Island, gelegen in British Columbia, Canada.
Op Rotten Tomatoes heeft de film een goedkeuringsscore van 11% op basis van 57 recensies, met een gemiddelde score van 3,6/10. De consensus van de critici van de site luidt: 'Brahhms: The Boy II veroorzaakt eerder verveling dan een snellere hartslag, en is vooral eng vanwege de manier waarop het de effectiviteit van zijn bovengemiddelde voorganger ondermijnt.'
Op Metacritic heeft de film een gewogen gemiddelde score van 29 van de 100, gebaseerd op 13 critici, wat duidt op 'over het algemeen ongunstige recensies'. Het door CinemaScore ondervraagde publiek gaf de film een gemiddeld cijfer van C op een A+ tot F-schaal, en PostTrak meldde dat hij gemiddeld 1 op 5 sterren kreeg van kijkers die ze ondervroegen, waarbij 24% van de mensen zei dat ze hem zeker zouden aanbevelen.
Benjamin Lee (The Guardian) beschreef de film als 'zo bestraffend saai om naar te kijken, gevuld met droge, oppervlakkige dialogen uit Stacey Menears consistent oninventieve script en opgenomen zonder zelfs maar een sprankje stijl', eraan toevoegend dat 'zelfs na een stevige 86 minuten het voelt als eindeloze marteling' met een finale 'die bezwijkt onder het gewicht van zijn eigen domheid'.
Katie Holmes, die de moeder speelt, werd bij de Golden Raspberry Awards genomineerd als Slechtste Actrice voor haar optreden en ook in The Secret: Dare to Dream.
Nieuwsflitsen 3 mei
Their Majesties to attend King Charles' coronation

Their Majesties the King and Queen will pay a Royal Visit to the United Kingdom from May 4 to 7, at the invitation of His Majesty King Charles III, to attend the Coronation of Their Majesties King Charles III and Queen Camilla at Westminster Abbey in London, the Bureau of the Royal Household has announced.
During the visit, Their Majesties will attend a reception hosted by King Charles for the invited heads of state and overseas representatives at Buckingham Palace on Friday, and then attend the coronation ceremony at Westminster Abbey (foto) on Saturday.
Dutch village calls off hunt for Nazi loot
A Dutch village that became the centre of a frenzy among treasure hunters seeking Nazi loot rumoured to be buried there said on Tuesday the search was over and nothing was found.
800,000 moved to other provinces in Q4 of 2022
About 809,000 people migrated to other provinces, mainly for work, between October and December of last year, according to the National Statistical Office of Thailand.
New centre to help kids with heart disease
A centre for percutaneous pulmonary valve implantation (PPVI) has been established through an alliance of seven medical institutes, to make the treatment more efficient and lower the mortality rate among children with congenital heart disease, the Public Health Ministry said.
Push to reduce premature births begins
The Interior Ministry aims to reduce the rate of premature births by 50% and also cut down teenage pregnancies through promotion of preventive measures from the grassroots level.
Reduced B10bn power subsidy needs EC approval
The caretaker cabinet will ask the Election Commission to approve a reduced 10.4 billion baht subsidy on household power bills, 648 million baht less than the one rejected by the regulator last week.
Pheu Thai candidates advised to target city intersections
Bangkok candidates of the Pheu Thai Party are being urged to campaign at major intersections to get the attention of commuters travelling to and from work.
Covid cases, deaths on the rise
Thailand registered 1,811 Covid-19 inpatients last week, as related deaths doubled over the same period. The figures are expected to rise during the rainy season.
Exports seen up 1% this year, say shippers
Thailand's exports are likely to rise 1% in 2023 and should pick up later in the year, owing to a recovery in China's economy, the Thai National Shippers' Council (TNSC) said on Tuesday.
Evidence implicates police officer in 'Aem Cyanide' case
Investigators have evidence linking a police officer to offences committed by accused cyanide killer Sararat "Aem" Rangsiwuthaporn, and a search at the chemical company from which she allegedly bought the poison. Foto: Officer implicated
Hong Kong embraces crowds of tourists during Workers' Day holiday
Outside the Peak Tram ticket office at Central in downtown Hong Kong, was a stream of tourists queuing for tickets to the Peak, one of Hong Kong's top attractions.
UN warns Sudan crisis could force 800,000 to flee
The United Nations warned on Monday that 800,000 people may flee Sudan as rival military factions battled in the capital despite a supposed ceasefire.
'Worst is over', Citi official says as bank looks to increase staff in Hong Kong
Citigroup, the biggest foreign lender in Hong Kong, will increase staff at its commercial banking unit in the city by 100 to tap growing opportunities in the Greater Bay Area, according to a senior executive.
North Asia's factories stuck in decline
North Asia's export powerhouses continued to stutter in April amid sluggish global trade and a patchy economic recovery in China, according to new data that amplified concerns about the risk of a global recession.
Terminally ill man run over by train
A man in the final stage of tracheal cancer was run over and killed by a train after lying down on the tracks near a railway station in Kanchanaburi on Monday afternoon.
Transition finance to drive a greener future
The choking smog that has smothered Thailand this year underscores the growing urgency for tackling climate change in Southeast Asia as the region sets out to achieve a low-carbon, climate-resilient economy.
Large armed gang robs botanical garden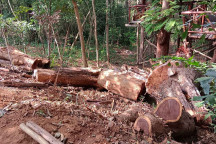 A large gang of armed men forced their way into a botanical garden in Roi Et province on Sunday night and stole seven blocks of precious payung wood that had earlier been seized from timber poachers.
Scorcher powers air conditioner sales
LG Electronics (Thailand) Co, the distributor of LG air conditioning products, has reworked its marketing strategies after experiencing a surge in sales attributed to the scorching heat.
Wealthy tourists unfazed by pricey trips
Increased hotel room prices and living expenses in Japan will not significantly affect tourists with high purchasing power as they usually demand premium services.
Egat to spend B300bn on solar development
The Electricity Generating Authority of Thailand will increase its power generation capacity from floating solar farms at nine hydropower plants to 10 gigawatts by 2037.
More Thais making online gold purchases
The value of gold savings owned by Thais on online platforms rose 60-70% in the first quarter of 2023 from a year earlier.
BoT zeroes in on cash transaction fees
As digital payments increase, the Bank of Thailand is focusing on cash users by adjusting banks' fee structures.
Executives fret over greenwashing
More than half of executives surveyed in Thailand admitted their organisations have overstated or inaccurately represented the impact of their sustainability initiatives, which could potentially stall progress on sustainability, according to a recent report.
Late goals help Rabbits rally past 9-man Ratchaburi
BG Pathum United recovered from a one-goal deficit to defeat nine-man Ratchaburi 4-2 in a Thai League 1 encounter on Sunday night.
Coach Issara rues missed opportunities
Thailand national U22 team coach Issara Sritaro is happy with the way his team collected three points from their opening Group B match of the 2023 SEA Games in Phnom Penh on Sunday but still rued the opportunities missed by his men.
BIW unveils smart blinds in bid for luxury market
BIW Products, a manufacturer of curtains and blinds, has launched motion blinds connected to smart home systems to target the upper end of the market, aiming for sales growth of 65% to 200 million baht this year.
Herbs promoted for use in modern medicine
A campaign is under way to promote use of herbal plants in modern medicine to boost their value by at least 90 to 100 billion baht by 2027.
Fed begins talks that could herald end of rate hikes
The US Federal Reserve on Tuesday opened a two-day meeting to decide whether to raise its benchmark lending rate for a 10th — and possibly final — time to tackle rising prices.
Chinese foreign minister meets Myanmar junta chief
China's foreign minister met Myanmar's junta chief on Tuesday, the military said, the highest-ranking Chinese official to meet the country's top general since a coup more than two years ago.
BP in vogelvlucht
3 mei – Wat biedt BP nog meer aan nieuws dat niet al hiervoor is genoemd? Op de voorpagina kent u al de opening en New evidence implicates police officer, nieuw is Power subsidy request slashed. De regering zal een nieuw voorstel aan de Kiesraad voorleggen voor een subsidie van 10,464 miljard baht om de elektriciteitsrekening van gezinnen te steunen, 648 miljoen baht minder dan het vorige voorstel dat werd afgewezen door de Kiesraad.
Pagina 2 telt twee berichten, een fotobericht en de overlees van de voorpaginaopening. De pagina opent met 'Little ghosts' back to old tricks, een verhaal van een halve pagina over Thais die illegaal in Zuid-Korea werken en little ghosts worden genoemd. BP schrijft dat de waarborgen om Thais te helpen die worden bedrogen door Koreaanse werkgevers, falen.
Het tweede bericht meldt PPRP to upskill cardholders. Regeringspartij Palang Pracharath (PPRP) heeft aangeboden om houders van haar Pracharath-welzijnskaarten bij te scholen om hen te helpen uit de armoedeval te ontsnappen.
De foto in het fotobericht toont Jit Arsa vrijwilligers die waterhyacint verwijderen uit de Klong Lum Bua in het district Lat Krabang. De grote schoonmaak vond plaats in het kader van Doing Good by Heart, een initiatief ter gelegenheid van Coronation Day op 4 mei.
Pagina 3, netto een halve pagina door een advertorial over de Poolse Constitution Day, telt drie berichten. De pagina opent met EC urged to take action over Amnat Charoen 'vote buying'. De Kiesraad is gevraagd onderzoek te doen naar het vermoeden van het kopen van stemmen, waaronder het scannen van identiteitskaarten van kiezers tijdens een bijeenkomst in Amnat Charoen onlangs.
De twee overige berichten melden Thaksin talk of return still tantalises en Anutin hits back at Pheu Thai's claim.
• De laatste tweet van de voortvluchtige voormalige premier Thaksin Shinawatra, waarin hij zijn gelofte herhaalt om kort na jaren in zelfopgelegde ballingschap terug te keren naar Thailand, blijft gemengde reacties van politieke partijen opleveren.
• Bhumjaithai partijleider Anutin Charnvirakul heeft kritiek geuit op de recente opmerkingen van Srettha Thavisin, een van de drie premierkandidaten van oppositiepartij Pheu Thai-partij. Hij noemt ze een lastercampagne tegen de partij.
---
Een nieuwe dag, een nieuwe krant
2 mei – Wakker om 5:22 uur bij een temperatuur van 28° en een overwegend heldere hemel. Mono29 toont een spotje van lijst 25 in het kader van de zendtijd voor politieke partijen. Het logo van de partij bevat een korenaar dus de partij zal wel fraaie plannen hebben voor de boerenbevolking. Daarna presenteren andere partijen zich, waaronder de Power Party (lijst 9) met een spreker die iets voorleest.
6:03 uur De nachtwaker brengt de krant naar mijn kamer. Wilde net een dutje doen, maar dat moet maar even wachten. De krant opent met Thaksin's tweet sparks debate. Academici menen dat een recente tweet van de voortvluchtige voormalige premier Thaksin Shinawatra bedoeld was als een politieke gok om steun te krijgen voor Pheu Thai. De oppositiepartij dreigt zo voorspellen opiniepeilers  namelijk vóór 14 mei stemmen te verliezen aan de steeds populairder wordende Move Forward Party (MFP).
Boven de opening staat een grote 4-koloms foto met een demonstratie van werkers geleid door de State Enterprises Worker's Relation Confederation en andere arbeidsgroepen. De groepen marcheerden gisteren op de Dag van de Arbeid van het Democracy Monument naar het Government House om hun eis kracht bij te zetten voor een eind aan de schendingen van arbeidersrechten en verhoging van het minimumdagloon. Het bijbehorende bericht kopt Workers march to demand higher pay.
Verder bevat de voorpagina onder de vouw het bericht Mum of '15th poison victim' speaks with police, het bericht TDRI questions party stimulus plans en het fotobericht Vote wisely. De moeder van het vermoedelijke 15e slachtoffer van 'Aem Cyanide', oftewel Sararat Rangsiwuthaporn, had gisteren een ontmoeting met de onderzoekers van de Crime Suppression Division (CSD) nadat ze was opgeroepen om meer informatie te verstrekken over de dood van haar dochter.
Het andere bericht meldt dat het Thailand Development Research Institute (TDRI) grote politieke partijen heeft gewaarschuwd dat hun belangrijkste verkiezingscampagneprojecten misschien niet nodig zijn als stimulans, aangezien de economie niet in een recessie verkeert. Het fotobericht bevat een foto van de campagne van de gemeente Bangkok om kiezers te stimuleren te gaan stemmen op 14 mei. De campagne ging gisteren van start bij winkelcentrum Seacon Square.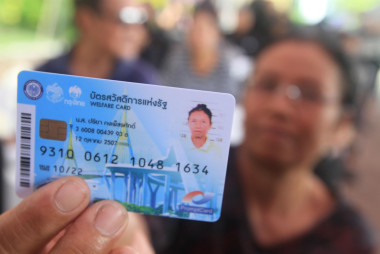 Het Business katern opent met Targeted approach utilised for aid. Het ministerie van Financiën is doorgegaan met het handhaven van zijn gerichte fiscale beleid, inclusief het rechtstreeks verstrekken van financiële hulp aan specifieke groepen, waardoor het land kan besparen op begrotingsuitgaven, zegt directeur-generaal van het Fiscal Policy Office (FPO), Pornchai Thiraveja.
Hij zei dat de regering na de pandemie een beperkt budget had. Een aanpak gericht op gerichte fiscale uitgaven stelde de regering in staat om financiële steun aan specifieke groepen tijdig te verstrekken, wat resulteerde in effectieve uitgaven met een beperkt budget, aldus Pornchai.
Life stapt in de wereld van Vincent van Gogh met het paginagroot verhaal plus overlees, inclusief zes foto's Step into Van Gogh's world. Bij Iconsiam sieren digitale levensgrote reproducties van schilderijen van de Hollandse meester de muren. De expositie 'Van Gogh alive Bangkok' duurt tot 31 juli.
Tot zover een eerste kennismaking met het 'papieren' nieuws van vandaag. Meer in Nieuwsflitsen en BP in vogelvlucht.
Overpeinzing 1: Last knights
2 mei – Interessante film gisteravond op Mono29 Last Knights, een actiedrama uit 2015, losjes gebaseerd op (en grotendeels verwesterd) de Japanse legende van de zevenenveertig rōnin (a wandering samurai who had no lord or master). Keek geboeid met name naar de prachtige interieurs, zoals een ridderzaal, en de costumering.
Het verhaal draait om een bende krijgers die het verlies van hun meester door toedoen van een corrupte minister willen wreken. Morgan Freeman, die ik in tal van andere films heb gezien, en Clive Owen vertolken de hoofdrollen.
Op Rotten Tomatoes heeft de film een goedkeuringsscore van 16% op basis van 31 recensies, met een gemiddelde score van 3,3/10. De kritische consensus van de site luidt: 'Last Knights, even fantasieloos als de titel, keert terug naar versleten zwaard-en-sandaal-verhalen zonder iets nieuws – of interessants – aan het genre toe te voegen.'
Manohla Dargis van The New York Times zei dat de film 'net zo vierkant en flauw mannelijk blijkt te zijn als een oude strip van Prince Valiant'. Justin Chang van Variety schreef: 'Last Knights is een tamelijk belachelijk mysterie en een matige actiefilm, maar hij is desalniettemin gebouwd met oprechte aandacht voor detail dat niet als vanzelfsprekend mag worden beschouwd en goed spel van Clive Owen en Morgan Freeman.'
Overpeinzing 2: Minority report
2 mei – Keek ook zo nu en dan naar Minority Report, een Amerikaanse sciencefiction-actiefilm uit 2002, geregisseerd door Steven Spielberg, losjes gebaseerd op de novelle "The Minority Report" uit 1956 van Philip K. Dick.
De film speelt zich af in Washington, DC en Noord-Virginia in het jaar 2054, waar Precrime, een gespecialiseerde politie-afdeling, criminelen arresteert met behulp van voorkennis van drie paranormaal begaafden genaamd 'precogs'.
In de hoofdrollen speelt Tom Cruise Precrime Chief John Anderton, Colin Farrell is Department of Justice-agent Danny Witwer, Samantha Morton precog Agatha Lively en Max von Sydow Precrime-regisseur Lamar Burgess.
De film combineert elementen uit de genres tech noir, whodunit, thriller en sciencefiction, evenals een traditionele achtervolgingsfilm, aangezien de hoofdrolspeler wordt beschuldigd van een misdaad die hij niet heeft begaan en een voortvluchtige wordt. Spielberg typeerde het verhaal als 'vijftig procent karakter en vijftig procent zeer gecompliceerde verhalen met lagen en lagen moordmysterie en plot'.
Op de recensie-aggregator Rotten Tomatoes ontving Minority Report 90% positieve recensies op basis van 254 critici en een gemiddelde beoordeling van 8,20/10. De kritische consensus van de site is: 'Steven Spielberg is tot nadenken stemmend en visceraal en combineert met succes high-conceptideeën en actie met een hoog octaangehalte in deze snelle en koortsachtige scifi-thriller.' De website noemde het een van de best beoordeelde films van 2002. Het door CinemaScore ondervraagde publiek gaf de film een gemiddeld cijfer van B+ op een A+ tot F-schaal.
De meeste critici gaven positieve recensies over de manier waarop de film omgaat met het centrale thema (vrije wil versus determinisme), en velen noemden het de belangrijkste kracht van de film. Andere recensenten waren van mening dat Spielberg de door hem aan de orde gestelde problemen niet adequaat aanpakte.
De film heeft discussie en analyse geïnspireerd, waarvan de reikwijdte is vergeleken met de voortdurende analyse van Blade Runner. Deze discussie is het domein van de standaard filmkritiek gepasseerd. De Sloveense filosoof Slavoj Žižek had kritiek op de Cheney-doctrine door de methodologie voor preventieve aanvallen te vergelijken met die van het PreCrime-systeem van de film.
De Cheney-doctrine (ook wel One Percent-doctrine genoemd) werd gecreëerd in november 2001 tijdens een briefing van de toenmalige CIA-directeur George Tenet en een niet nader genoemde briefer aan de Amerikaanse vice-president Dick Cheney en de toenmalige nationale veiligheidsadviseur Condoleezza Rice.
Aanleiding was de vrees dat een Pakistaanse wetenschapper na de terroristische aanslag van 11 september 2001 kernwapenexpertise aan Al Qaeda zou aanbieden. Reagerend op de gedachte dat Al Qaeda misschien een kernwapen zou willen verwerven, merkte Cheney op dat de VS het hoofd moest bieden aan een nieuw type dreiging, een 'gebeurtenis met een lage waarschijnlijkheid en een grote impact', zoals hij het beschreef.
Nieuwsflitsen 2 mei
Thaksin says he'll be back soon after Paetongtarn gives birth
Ex-PM Thaksin seeks to return after daughter and Pheu Thai PM candidate Paetongtarn Shinawatra gives birth to his seventh grandchild.
Philippines won't become military staging post: Marcos
President Ferdinand Marcos said his government would not allow the Philippines to become a "staging post" for military action ahead of a meeting with US President Joe Biden on Monday.
Bitcoin sags after its longest streak of monthly gains since 2021
Bitcoin slipped back Monday after climbing for four consecutive months through April in the longest such winning run since 2021.
Power outage hits Philippine airport, some flights cancelled
A power outage hit the Philippines' main airport on Monday, leading to flight delays and cancellations when an influx of passengers are expected after a long holiday weekend.
Station master praised for saving elderly woman's life
Members of the public have heaped praise on the station master of Ban Song railway station in Wiang Sa district of Surat Thani for saving the life of a 75-year-old woman with impaired hearing as she was about to be hit by a train on Sunday.
Car saleswoman raped, brutally murdered
A used car saleswoman was lured by a suspected repeat rapist who pretended to be a potential customer but then proceeded to rape and brutally murder her at a motel in Chiang Mai.
Germany hopes to help climate with discount travel card
Germany launches on Monday a new flat-rate public transport ticket valid across the country, but the 49-euro ($54) price point has raised doubts about the pass's potential impact.
80 Indian gamblers arrested in Pattaya hotel raid
Eighty Indian gamblers were among people rounded up by police in a raid on a luxury hotel in Pattaya in the small hours on Monday.
Parties announce IT pitches to the public
Political parties' campaign platforms concerning IT policies should focus more on human resource development, equipping people with future skills and gearing the country for a digital economy.
Funds sought for salvage op
The Royal Thai Navy will reallocate its budget to find a way to pay the cost of salvaging HTMS Sukhothai, after the Budget Bureau said it could only put up 70 million baht towards the 130-million-baht cost, a source in the navy said
Too early to discuss BJT deal: Srettha
The Pheu Thai Party on Sunday announced it does not support cannabis liberalisation — the flagship policy the of Bhumjaithai Party (BJT)
G Steel, Nippon pact to reduce imports
A partnership between Thai manufacturer G Steel Group and Nippon Steel Corporation is expected to enable Thailand to be less dependent on imports.
Lamborghini celebrates 60 glorious years
Lamborghini is celebrating its 60th anniversary with the launch of limited-edition models of the Huracan STO, Huracan Tecnica and Huracan EVO Spyder.
New champs Buriram suffer shock home defeat to Port
Buriram United's dream of impressing their fans in their first home game since sealing the Thai League 1 title last weekend was shattered by a 3-2 defeat at the hands of visiting Port Sunday night.
Thais outclass Singapore with ease
Thailand kicked off their campaign for the coveted men's football crown of the 2023 SEA Games with a convincing 3-1 victory over Singapore at Phnom Penh's Prince Stadium on Sunday.
More than four-legged friends
High-spending pet owners fuel massive growth of a new economic sector.
VMO eyes rapid growth in customers
The Thai unit of Vietnamese IT outsourcing firm VMO Holdings aims to grow its corporate customers to more than 100 by 2025 amid increasing demand for high-tech industry workers in Thailand and Southeast Asia.
Mother of alleged 15th victim of 'Aem Cyanide' meets investigators
The mother of a woman who died in Bangkok seven years ago and is suspected to be the 15th victim of "Aem Cyanide" (foto) meets police.
Health officials to hand out seasonal boosters
The Public Health Ministry wants this year to be the first in which people are given annual Covid-19 booster shots, similar to the seasonal flu vaccine.
Vaccine researchers team up with US
Thailand's National Vaccine Institute (NVI) has joined hands with the US Vaccine Research Centre (VRC) for vaccines against tuberculosis, including Messenger RNA (mRNA) technology.
EC could take week to rule on bill subsidy
The Election Commission (EC) is expected to spend a week considering an 11-billion-baht subsidy on household electricity bills proposed by the government, Deputy Prime Minister Wissanu Krea-ngam said.
Government must 'walk the talk' on ending malfeasance – JFCCT chairwoman
Of primary importance is doing away with the mindset that 'a little malfeasance is acceptable'.
BP in vogelvlucht
2 mei – Om 09:07 uur pik ik de draad weer op van het 'papieren'  nieuws. Pagina 2, netto een halve pagina, telt drie berichten en een fotobericht. De pagina opent met 80 Indians gamblers held in raid. Tachtig Indiase gokkers, zes Thais en vier personen uit Myanmar zijn gisteren in de vroege uurtjes door de politie opgepakt bij een inval in het  luxe Asia Pattaya hotel in Pattaya. Ze speelden er baccarat en black jack.
De twee overige berichten noemde ik al in Nieuwsflitsen, het fotobericht Dazzling display toont een foto met toeschouwers van een multimedia voorstelling boven de Chao Phraya. De show maakte deel uit van de Multimedia Water Features bij winkelcentrum Iconsiam, dat tot donderdag duurt.
Pagina 3, ook een halve pagina, telt twee berichten. De pagina opent met MFP vows it won't join 'inter-bloc' govt. Move Forward Party (MFP) zal zich na de komende verkiezingen niet aansluiten bij een 'interblok'-coalitieregering, zegt Piyabutr Saengkanokkul, de campagneassistent van de partij.
Het andere bericht met foto van agenten die in een loods van Thailand Post op wacht staan bij stembussen meldt EC to send out ballot papers. De Kiesraad (EC) werkt samen met drie bureaus om stembiljetten te verspreiden onder alle 400 kiesdistricten, voorafgaand aan de vervroegde stemming op 7 mei en de algemene stemming op 14 mei.
Pagina 4, netto een 0,875 pagina, valt op door het het fotobericht Fighting for improved welfare, een kop geplaatst in een zwarte balk. De vijf foto's tonen beelden van de demonstratie, genoemd in Workers march to demand higher pay.
De pagina opent met Thai, US vaccine agencies team up. Het Thaise National Vaccine Institute (NVI) heeft de handen ineen geslagen met het US Vaccine Research Center (VRC) om nieuwe vaccins tegen tuberculose en Messenger RNA (mRNA) te ontwikkelen.
Van de twee overige berichten kent u al het bericht over de Kiesraad die nog een week nodig heeft voor een besluit over de regeringssubsidie van 11 miljard baht. Nieuw is Uni rolls out novel treatment. De Mahidol University heeft chimere antigeenreceptor (CAR)-gemodificeerde T-celtherapie geïntroduceerd om B-celleukemie te behandelen, waardoor Thailand de eerste in ASEAN is die deze geavanceerde techniek toepast.
---
Een nieuwe dag, een nieuwe krant
1 mei, Dag van de Arbeid – Vandaag wordt een dag als alle andere dagen en breng ik u op de hoogte van het belangrijkste nieuws, althans volgens Bangkok Post. Ben in blijde verwachting van de krant die nu om 4:47 uur nog niet bezorgd is. BP zal wel weer veel politiek nieuws bevatten, niet bepaald nieuws dat mijn journalistieke bloed sneller laat stromen. Feestvieren omdat 1 mei de Dag van de Arbeid is, is er niet bij.
6:14 uur Wakker, het sufferdje was naar mijn kamer gebracht of zoals een lezer hem noemt de Fabeltjeskrant. De krant opent onder de paginabrede kop Wage hike pledges slammed. Terwijl het land vandaag de Dag van de Arbeid viert, hebben activisten hun bezorgdheid geuit over campagnebeloften van partijen om het minimumdagloon abrupt te verhogen tot niveaus die volgens hen onrealistisch zijn. Het verhaal beslaat de halve voorpagina tot de vouw.
Onder de vouw een infographic van drie kolommen tot onderaan de pagina getiteld Nakhon Sawan picks met de portretjes van politici die volgens bewoners van deze provincie de voorkeur genieten voor de post van premier, wanneer na de verkiezingen een nieuw kabinet wordt gevormd.
Aan top met 34 procent Paetongtarn Shinawatra van oppositiepartij Pheu Thai, maar landelijk is Anutin Charnvirakul, partijleider van Bhumjathai, het lieverdje van de kiezers (22 procent). Paetongtarn staat op vier met 16 procent en Prayut op de vijfde plaats met 11 procent.
Afijn, nog veertien dagen en dan weten we of de peiling het bij het rechte eind heeft. Ik vrees dat dankzij de slaafse steun van de door de junta benoemde Senaat het land blijft 'genieten' van de omhoog gevallen soldaat, die maar dit terzijde geen enkele oorlogservaring heeft.
Ten slotte, ook onder vouw, het bericht Multiple charges for 'Aem Cyanide'. Een zwangere vrouw die door netizens 'Aem Cyanide' wordt genoemd vanwege haar vermoedelijke rol in de dood van meer dan een dozijn mensen, wordt nu geconfronteerd met ten minste tien aanklachten, meestal voor moord met voorbedachten rade, terwijl de politie haar onderzoek naar de zaak voortzet. Anek Taosuparp, deputy commander van de Crime Suppression Division, zegt: So far, there is no indication Sararat had accomplices.
Het Business katern opent met de analyse Working our way back to health. Beleid ter verbetering van het dagelijkse minimumloon voor plattelandsarbeiders wordt fel bediscussieerd in de aanloop naar elke verkiezing, met dit jaar geen uitzondering voorafgaand aan de eerste algemene verkiezingen van het land in vier jaar op 14 mei.
Life is weer een juweeltje met een illustratie van een halve pagina tot de vouw boven de opening Temperatures soar, headaches rise. Net als andere vroege vogels, gaat Dao Dul (35) bij het eerste ochtendgloren op pad. Voor haar is tijd letterlijk geld. Haar kantoor is geen goed gebouwde weerbestendige wolkenkrabber. Het is een geïmproviseerde kar die honderden inwoners van de gemeenschap van zonsopgang tot zonsondergang betaalbare gerechten biedt. Ze zegt: 'Sometimes it is like an oven.'
In het artikel komen ook enkele andere straatverkopers aan het woord die leden onder de extreme temperaturen van de warmste maand van het jaar. Maar inmidels is het regenseizoen begonnen en dalen de temperaturen.
Tot zover een eerste kennismaking met het 'papieren' nieuws van vandaag. Meer in Nieuwsflitsen en BP in vogelvlucht.
Overpeinzing: Port of Call
1 mei – Vannacht op Mono29 Port of Call, een Hongkong misdaadthrillerfilm uit 2015, geschreven, gemonteerd en geregisseerd door Philip Yung en met Aaron Kwok in de hoofdrol als een doorgewinterde rechercheur bij de politie die een moordmysterie oplost met ongebruikelijke methoden om zijn geloof in deugdzaamheid in de menselijke natuur te bewijzen.
De film is gebaseerd op een echte moordzaak waarbij in 2008 in Hong Kong een uiteengereten lijk van een vermoorde 16-jarige vrouwelijke prostituee werd gevonden.
Port of Call (aanloophaven) was de slotfilm op het 39e Hong Kong International Film Festival op 6 april 2015. De film werd op 3 december 2015 in de bioscoop uitgebracht in Hong Kong. De film won zeven prijzen bij de 35e Hong Kong Film Awards, waaronder acteerprijzen voor Beste Acteur voor Kwok, Beste Actrice voor Jessie Li, Beste vrouwelijke bijrol voor Elaine Jin, Beste Mannelijke Bijrol en Best New Performer, beide voor Michael Ning, evenals Best Screenplay en Best Cinematography, terwijl hij ook genomineerd werd voor zes andere prijzen.
De film won ook vele andere prijzen en nominaties bij de Golden Horse Awards, Hong Kong Film Critics Society Awards en Asian Film Awards. Hij werd geselecteerd als de Hong Kong-inzending voor de beste niet-Engelstalige film bij de 89e Academy Awards, maar het werd niet genomineerd.
Opnamen begonnen op 1 september 2014 in Hong Kong en eindigden op 26 september. Om zich voor te bereiden op zijn rol als grijze veteraan rechercheur bij de politie, liet Aaron Kwok een snor en baard groeien, die samen met zijn haar grijs geverfd werden, en hij moest ook zijn trainingsroutines in de sportschool verminderen.
Nieuwsflitsen 1 mei
Diving instructor cursed for killing titan triggerfish
The minister of natural resources and environment lashed out at a diving instructor who killed a titan triggerfish (trekkervis of Balistidae) and wrote it deserved to die after it had bitten him.
CP Group denies supporting slash-and-burn farming
The Charoen Pokphand Group, Thailand's largest conglomerate, on Sunday issued a statement, saying it has never had a policy of supporting slash-and-burn agriculture, be it in the country or abroad.
Park ranger shot dead on Ko Phangan
A ranger in the Namtok Than Sadet National Park on Ko Phangan island was found shot dead in a house for park rangers on Saturday, police said.
Investments, inheritance leave Charles III sitting on a fortune

Through inheritance, royal estates and shrewd investing while a prince, Charles III will be crowned on May 6 with a considerable fortune to his name.
Clashes rock Sudan despite truce as ex-PM warns of 'nightmare'
Heavy fighting again rocked Sudan's capital Sunday as tens of thousands have fled the bloody turmoil and a former prime minister warned of a full-scale civil war.
Philippine leader travels to US to bolster ties amid China tensions
Philippine President Ferdinand Marcos left Manila on Sunday for a visit to the United States as he seeks to bolster ties with Washington amid growing tensions with China in the disputed South China Sea.
G7 should adopt 'risk-based' AI regulation, ministers say
Group of Seven advanced nations should adopt "risk-based" regulation on artificial intelligence, their digital ministers agreed on Sunday, as European lawmakers hurry to introduce an AI Act to enforce rules on emerging tools such as ChatGPT.
Tens of thousands gather for pope's mass in Hungary
Tens of thousands thronged a central Budapest square on Sunday for Pope Francis' open-air mass on his third and final day in Hungary in a visit dominated by the war in neighbouring Ukraine.
Pregnant 'Am Cyanide' faces mulitiple murder charges
A detained pregnant woman dubbed "Aem Cyanide" is facing 10 charges, mostly for premeditated murder.
132 Thais arrive home from Sudan
The second group of 132 Thais arrived home from Sudan on a Royal Thai Air Force (RTAF) Airbus A340-500 that landed at Don Mueang's military airport at about 11pm on Saturday night.
I call it being seasoned': Biden laughs off age gags at comedy roast
US President Joe Biden took it on the chin Saturday at the White House Correspondents' Association dinner as he laughed gamely through sharp jokes about his age, and hit back with a few of his own.
Paetongtarn top choice for PM among Nakhon Sawan voters: poll
Paetongtarn "Ung Ing" Shinawatra of the Pheu Thai Party is the top choice for the post of prime minister among voters in the upper Central province of Nakhon Sawan, followed by Pita Limjaroenrat of the Move Forward Party, according to an opinion survey by the National Institute of Development Administration, or Nida Poll.
Thais begin bid for glory
Thailand kick off their quest to reclaim the coveted men's football crown at the 2023 SEA Games against Singapore on Sunday afternoon.
Korean Jeong grabs 2 as Police dominate Khon Kaen with ease
A first-half brace by Jeong Woo-Geun guided Police Tero to an impressive 3-0 victory over Khon Kaen United in a Thai League 1 battle Saturday night.
Health officials to hand out seasonal boosters
The Public Health Ministry wants this year to be the first in which people are given annual Covid-19 booster shots, similar to the seasonal flu vaccine.
BP in vogelvlucht
1 mei – Pik de draad weer op om 10:26 uur op pagina 2, netto een halve pagina met één verhaal: Activists tout harm reduction initiatives. Thaise netwerken beschermen de gezondheid van drugsgebruikers door hen diensten aan te bieden zoals 'Mobile Methadon Therapy', dat nu wordt geïntroduceerd bij een internationaal publiek.
Pagina 3 telt zes berichten en twee fotoberichten. De pagina opent met Sudarat latest to take aim at ending 'rifts'. Khunying Sudarat Keyuraphan, leider van de Thai Sang Thai (TST)-partij, zei zondag tegen de kiezers in Chiang Rai dat haar partij perfect geschikt is om langdurige politieke verdeeldheid op te lossen.
Persoonlijke noot: Ze is niet de eerste die oproept tot eenheid. Maar wat is er mis met politieke verdeeldheid? Politieke eenheid is een utopie in een democratie. Niets mis mee. Kwestie van onderhandelen om het eens te worden.
Van de overige berichten noem ik alleen Consensus on need to support farmers. Er is brede politieke overeenstemming over het belang van duurzame landbouw, voedselveiligheid en -zekerheid, en de noodzaak om armoede onder boeren aan te pakken, zo is onlangs overeengekomen op een 11-partijenforum over landbouw en voedselzekerheid.
Ten slotte pagina 4, netto een halve pagina, met drie beichten en een fotobericht. De pagina opent met Govt, EU, UN trumpet SDG cooperation. De Europese Unie, het ministerie van Binnenlandse Zaken (MOI) en het Ontwikkelingsprogramma van de Verenigde Naties (UNDP) hebben de lancering aangekondigd van het project 'Strengthening SDG Localization in Thailand'. SDG staat voor Duurzame ontwikkelingsdoelen.
Met de EU-financiering heeft het initiatief tot doel de toewijding van Thailand aan de Agenda 2030 te versnellen door samen te werken met overheids- en niet-overheidsactoren, te beginnen in 15 geselecteerde provincies in heel Thailand, met plannen om uit te breiden naar andere regio's.
De twee overige berichten zijn Karen villagers can return to forest, rules committee en Thai Union signs pledge to reduce ocean bycatch.
• Een onafhankelijke commissie die een landgeschil tussen de Karen dorpelingen en de autoriteiten onderzoekt, heeft toestemming gegeven aan de dorpelingen om terug te keren naar Bang Kloy Bon als ze dat willen.
• De Thai Union Group, een van 's werelds grootste vis-, schaal- en schelpdierenbedrijven, is het eerste bedrijf dat een Sustainable Fisheries Partnership's Protecting Ocean Wildlife-belofte ondertekent.